GE said in January that it will relocate its headquarters from Connecticut to Boston. The company had a significant presence in the city even before the move — GE businesses ranging from Aviation and Current to Digital and Healthcare employ almost 5,000 people in the city and surrounding area. But GE's Boston roots go to the very beginning of the company. Our video and also our photo essay tell that story.




[embed]https://www.youtube.com/watch?v=UQKm7D48rZY&feature=youtu.be[/embed]

GE came to be in 1892, when New York financier J.P. Morgan organized a merger of equals between Thomas Edison's Edison General Electric Company and Elihu Thomson's Thomson-Houston Electric Company. Thomson-Houston's first headquarters were at 131 Devonshire Street, just steps from the Old State House.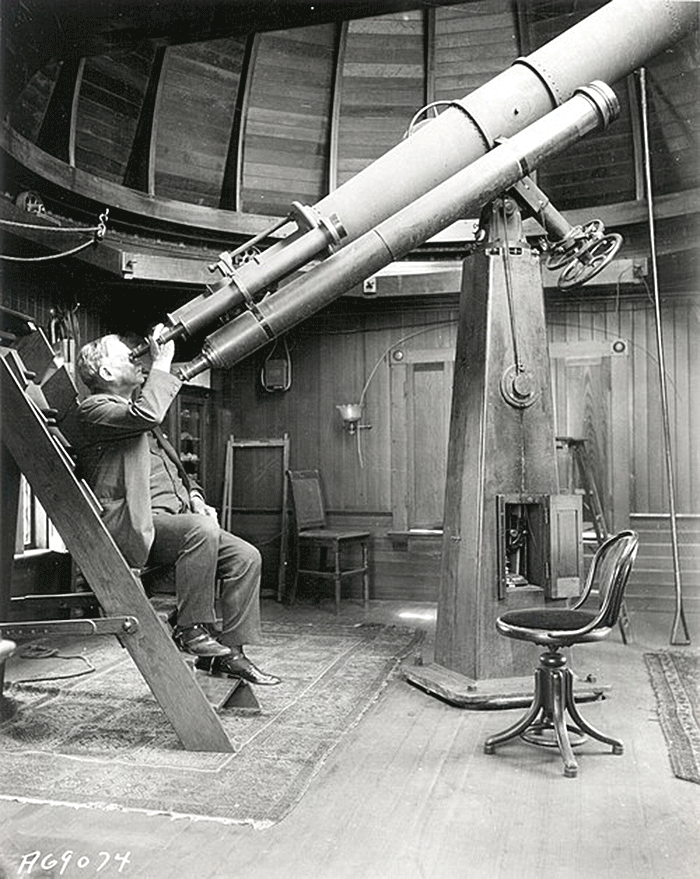 Top GIF: Thomas Edison in his laboratory. Above: Elihu Thomson inside his private observatory in Swampscott, Massachusetts. GIFs credit: FluxMachine and Museum Innovation and Science Schenectady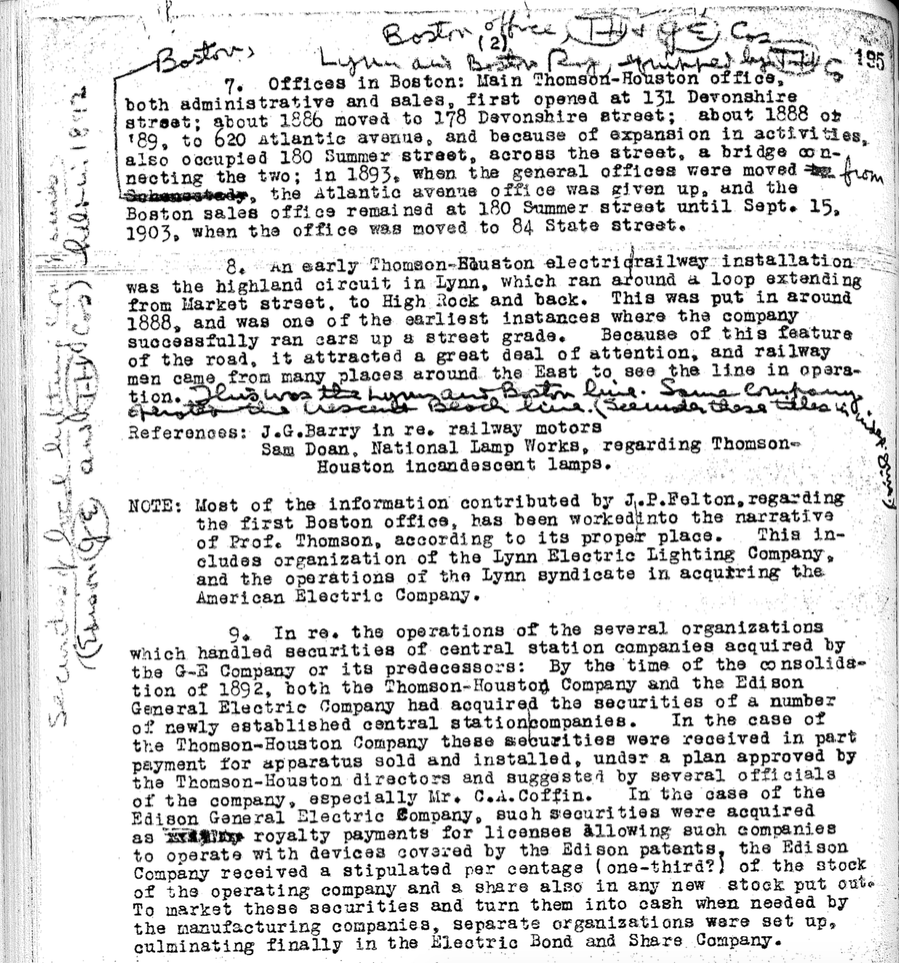 GE's early history in Boston. Image credit: Museum Innovation and Science Schenectady

Thomson-Houston's top executive, Charles A. Coffin, became GE's first president after the merger. Under Coffin's leadership, Thomson-Houston electrified Boston's West End Railway, making it the first fully electric public railway line in the country. In the 1890s, U.S. Supreme Court Associate Justice Oliver Wendell Holmes Jr., whose father coined the term Boston Brahmin, immortalized the feat in a poem called "The Broomstick Train; or, The Return of the Witches":

"… Often you've looked on a rushing train

But just what moved it was not so plain

It couldn't be those wires above,

For they could neither pull nor shove.

Where was the motor that made it go,

You couldn't guess, but now you know;

Remember the rhymes when you ride again

On the rattling rail by the broomstick train."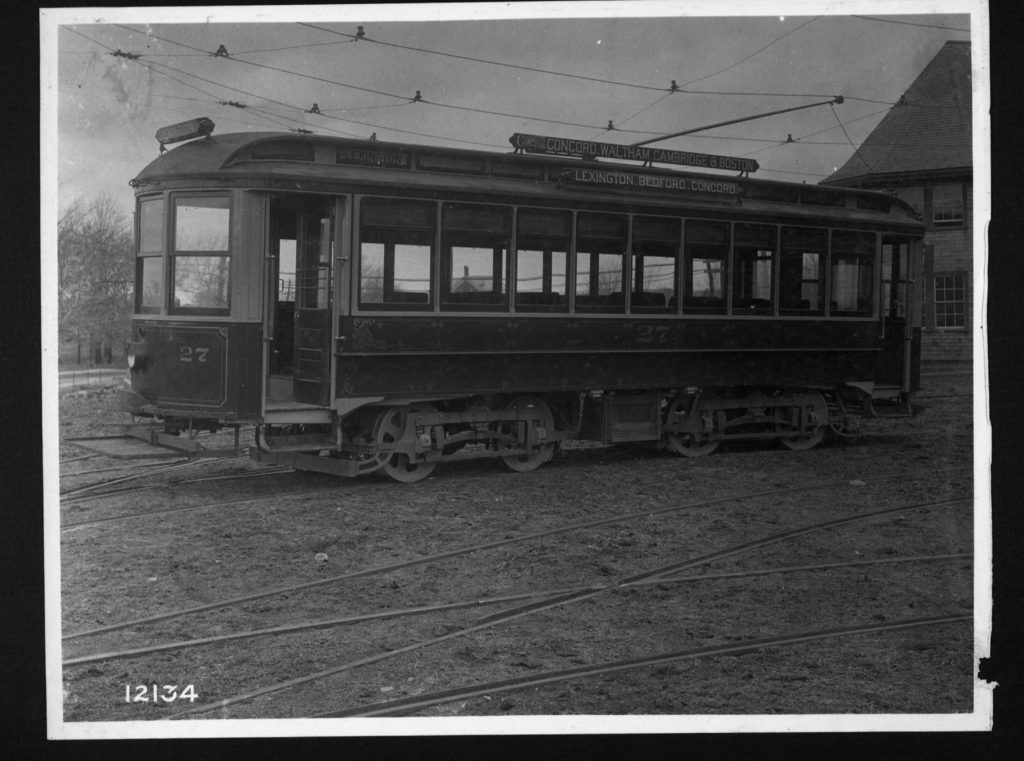 This "broomstick train" ran from Boston as far as Concord. Image credit: Museum of Innovation and Science Schenectady


The poem isn't the only literary tie GE has to Boston. GE employed writer Kurt Vonnegut Jr. as a PR man in the 1950s. Vonnegut's publisher, Seymour Lawrence, who bought the manuscript for "Slaughterhouse-Five," the book that turned Vonnegut into a literary superstar, lived at 90 Beacon Street in Chestnut Hill. Vonnegut, who wrote many of his books in a house on Cape Cod, left GE in 1953, but his brother, Bernard, had a long career as a weather scientist at GE Global Research.


Kurt Vonnegut, third from left, is taking notes during a VIP tour of GE's Schenectady plant. The photo was preserved by Mary Robinson. Her father, Ollie M. Lyon Jr., was Vonnegut's close friend and colleague in the GE PR department. He is the man in the center in the three-piece suit. Image credit: Mary Robinson

Across the street from South Station — the epicenter of Boston public transportation — is the temporary headquarters of Current, a GE startup developing solutions that offer "energy as a service." For example, Current's LED streetlights, embedded with sensors and connected to the Internet, are already helping Jacksonville and San Diego optimize parking and save electricity. They can also be used to improve traffic flow and fight crime. Current is also developing energy storage for wind farms and many other potentially groundbreaking products.


Light fixtures like this LED street lamp will be a key component of the "intelligent city." The lamp has cameras to monitor traffic and parking and a rugged microphone to detect potential crimes. Image credit: GE Reports

One of the core GE business tenets is the GE Store — the idea that one technology can have different and unexpected applications across a number of businesses. The GE Store goes a long way back. In the 1920s, GE lighting engineers converted GE high-wattage rail yard lamps into stadium lights and helped invent night baseball. The first permanent installation was at the GE Athletic Field in Lynn, just outside of Boston. In June 1927, the Boston Red Sox came out to Lynn to see an early night game. In 1935, the GE lights illuminated the first Major League Baseball night game in history between the Cincinnati Reds and Philadelphia Phillies. After that, GE installed lights in Fenway Park, Wrigley Field and many other famous ballparks and sports venues, including stadiums for the 2016 Olympics in Rio de Janeiro.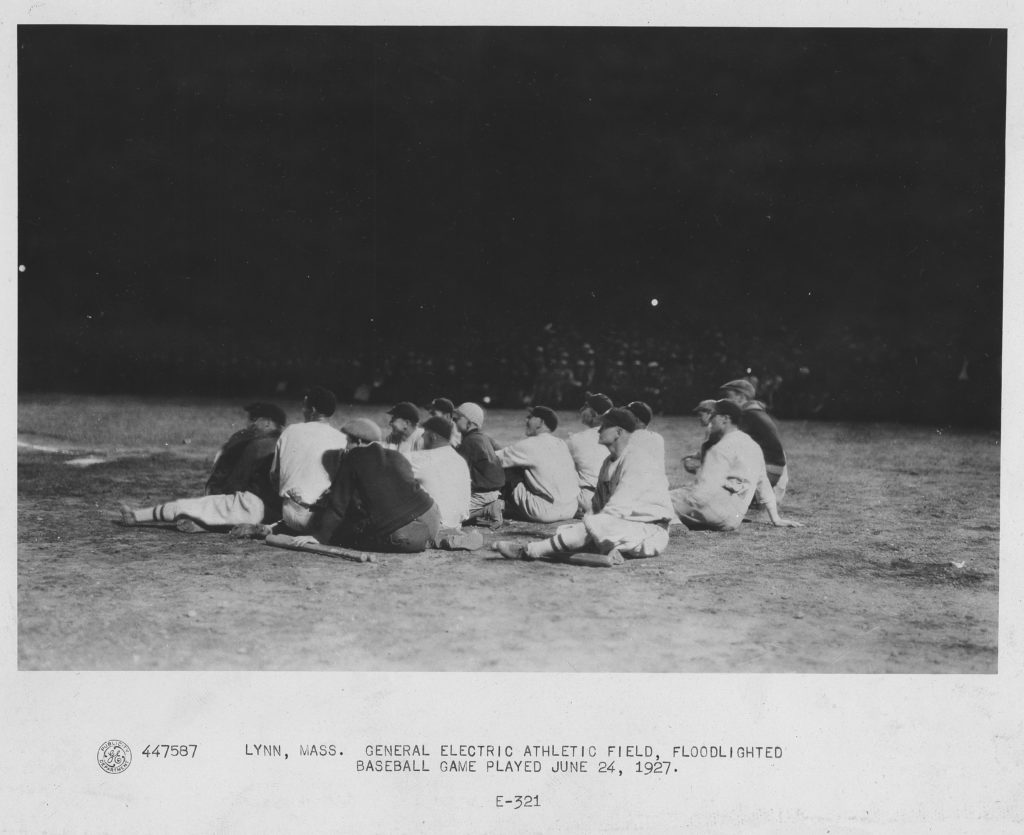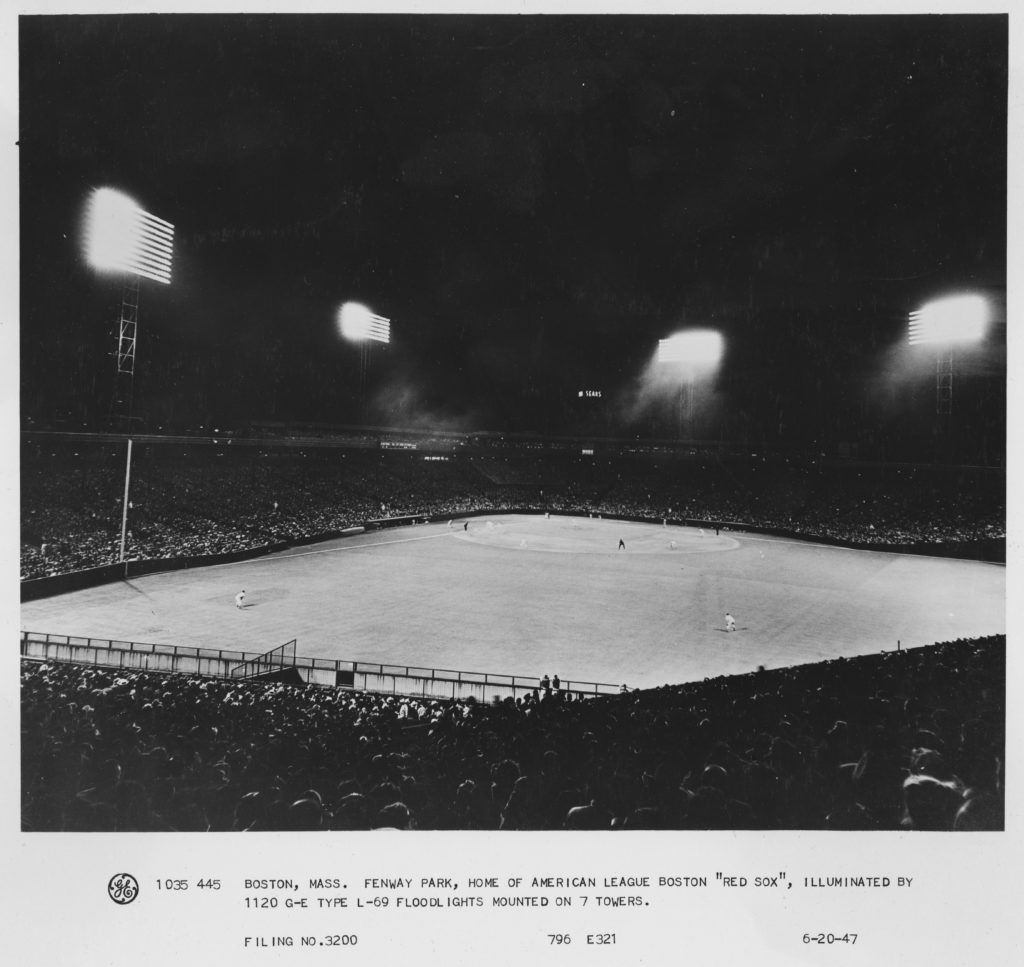 In 1941, across the street at Lynn River Works, a team of GE engineers built the first American jet engine and effectively launched the jet age in the U.S. GE still makes jet engines in Lynn, including for Black Hawk helicopters and F/A-18 fighter jets. GE Aviation is a $25 billion business. A jet engine with GE technology takes off every two seconds somewhere in the world.

[embed]https://www.youtube.com/watch?v=2j2wnbKEE-o[/embed]


Today, a jet engine with GE technology inside takes off every two seconds somewhere in the world. The latest engines like the GEnx are connected to the Industrial Internet via Predix, GE's cloud-based software platform. A pair of them can generate 2 terabytes of data per day. GIF credit: GE Aviation.

The city of Marlborough, just west of Boston, is the home of GE Healthcare Life Sciences. Scientists there are working with GE bioreactors and developing bioprocess technologies for the latest generation of drugs, called "biologics."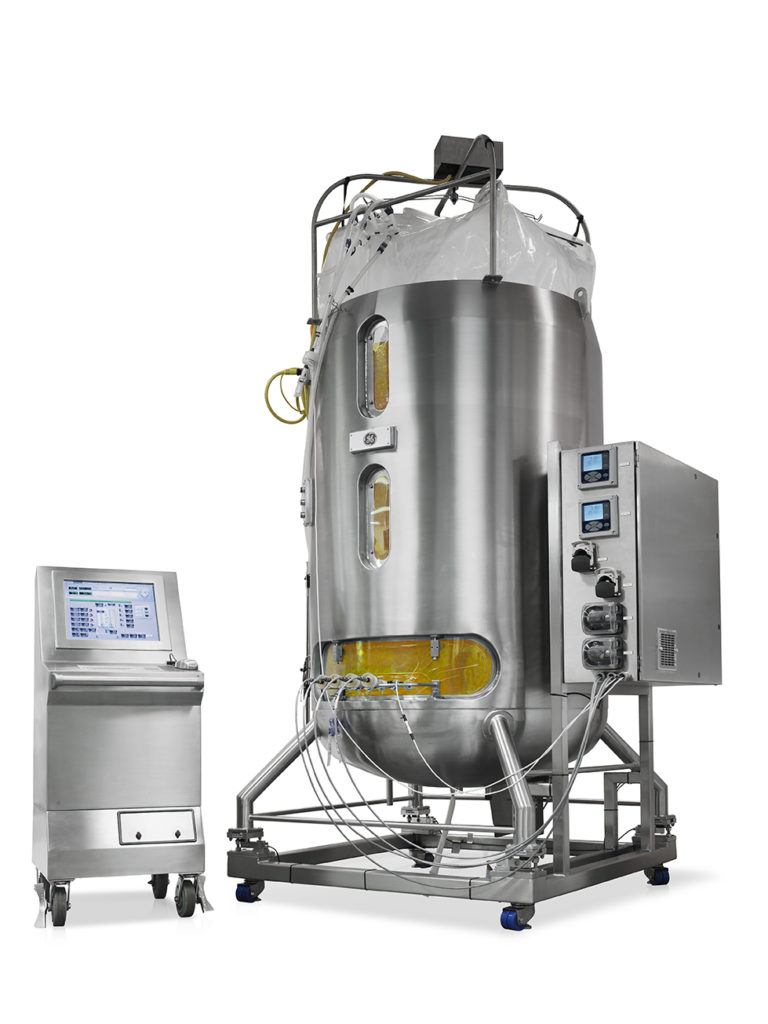 A GE bioreactor. Image credit: GE Healthcare Life Sciences

Boston's Brigham and Women's Hospital is located back in the city. In the 1990s, GE engineer Trifon Laskaris designed a one-of-a-kind "Hula-Hoop" magnetic resonance machine that allowed a Harvard neuroscientist, Ferenc Jolesz, to see inside the skull during surgery and zap brain tumors with a laser. The hospital used the ingenious machine for more than 3,500 surgeries, including 1,400 craniotomies, brain biopsies and other neurosurgery procedures.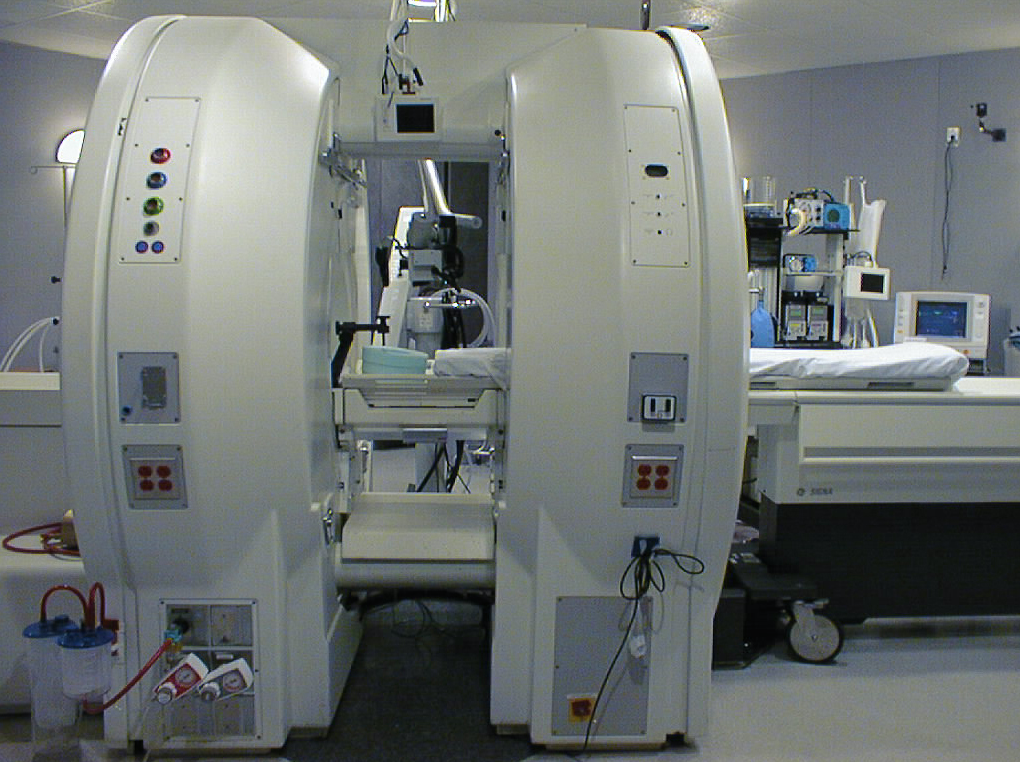 GE engineer Trifon Laskaris sliced the MRI machine in half so brain surgeon Ferenc Jolesz could operate on his patients inside the machine. Image credit: Brigham and Women's Hospital/Harvard University


Rethink Robotics is one of several Boston startups in which GE has invested. The company, whose headquarters are just a stone's throw from GE's future new home in the Seaport District, makes collaborative robots that can work safely alongside humans in factories and complement their work. There are 1,000 of Rethink Robotics' Baxter and Sawyer robots working in 35 countries. They also work in many GE factories. "Advanced manufacturing is an important area of focus for GE, both as an investor and a manufacturer," says GE Ventures CEO Sue Siegel. "Rethink Robotics is paving the way for a new era of manufacturing in which robots work safely with humans and help companies to improve their production."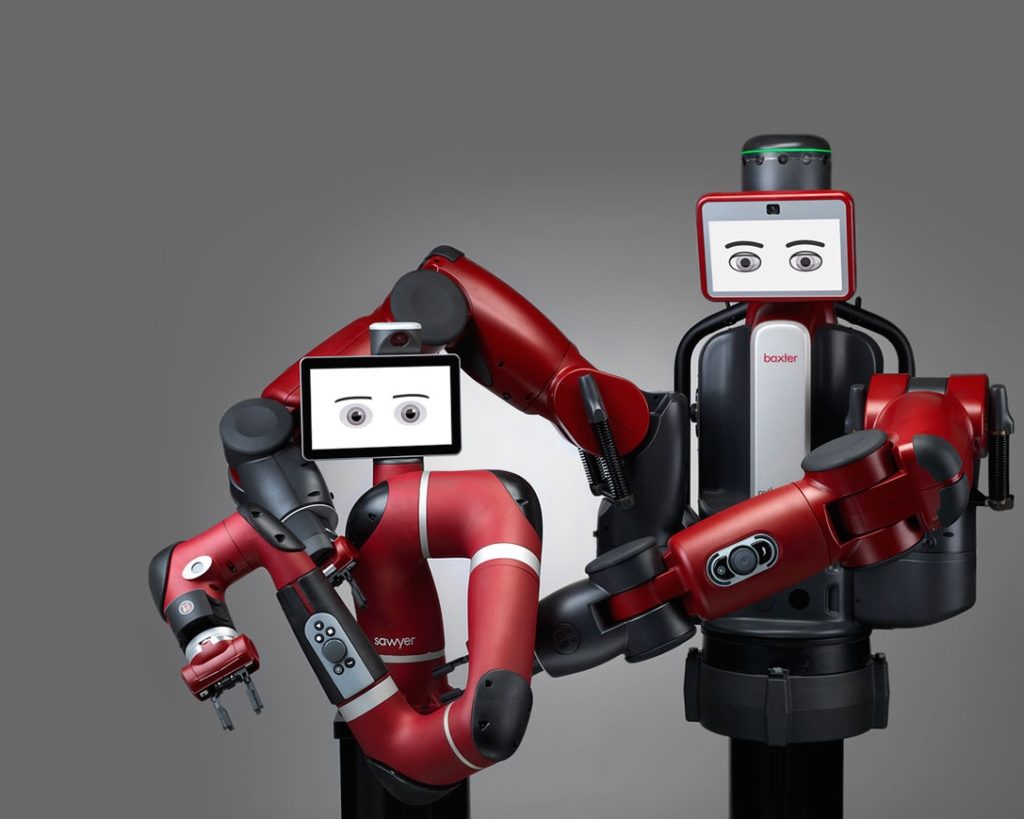 Meet Sawyer (left) and Baxter (right). Image credit: Rethink Robotics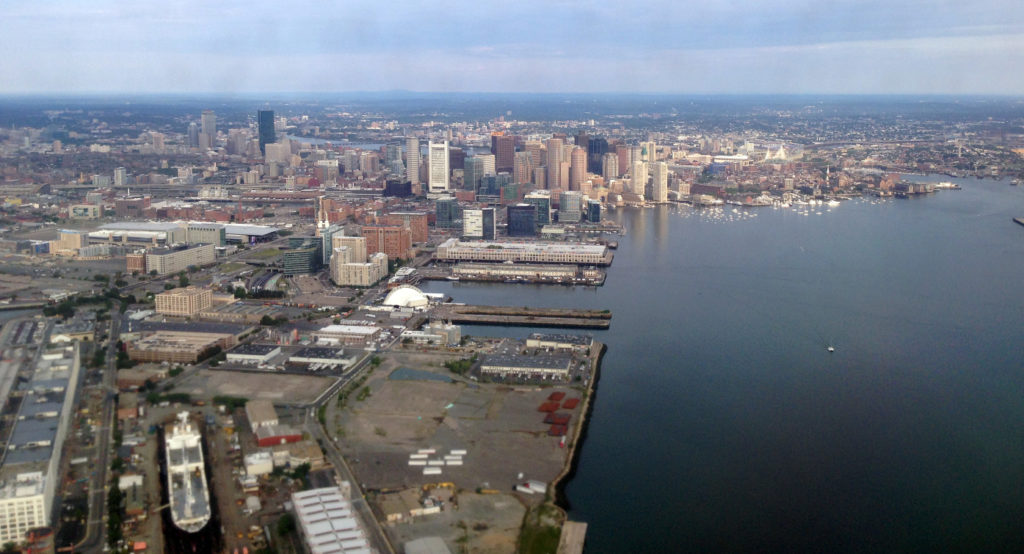 GE will build its new headquarters in Boston's Seaport District. Image credit: Getty Images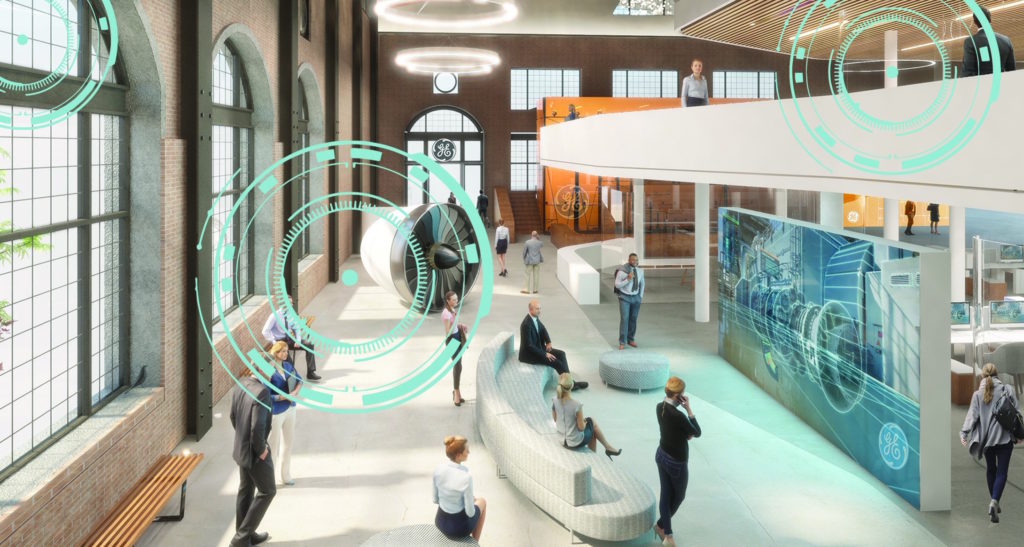 An artist's rendition of the new GE headquarters. Image credit: GE Reports
Categories
tags