One week before she was due to give birth, Doria Wiezman Marely felt a sudden need to get an ultrasound. Instead of going to the hospital, Marely did the ultrasound herself, at home — but not because she's a doctor. Her insurer, Israel's Clalit Health Services, had subsidized an at-home ultrasound system that beamed her scans to her doctor that day.
Marely's intuition had been right: Her doctor called to tell her she had too little amniotic fluid and to get to the emergency room, where her daughter was born a few hours later. "Every minute was critical at that point, and this really saved us," Marely said of the ability to perform her own scan.
The affordable, at-home fetal ultrasound system that Marely used is made by Pulsenmore, an Israeli firm that has worked with that nation's largest HMO to make these devices available to thousands of patients there. GE Healthcare recently announced an investment of up to $50 million in the company to help Pulsenmore to expand to other countries. GE Healthcare also plans to partner with Pulsenmore to distribute its existing products and develop new ones that take advantage of the growing demand for at-home care.
"Healthcare providers today are predicting a significant shift of care services from traditional facilities to the home by 2025, which will require an increase in the level of quality and access," said Roland Rott, CEO of GE Healthcare Ultrasound. "This is precisely why we are investing in Pulsenmore and innovative home-care ultrasound technology."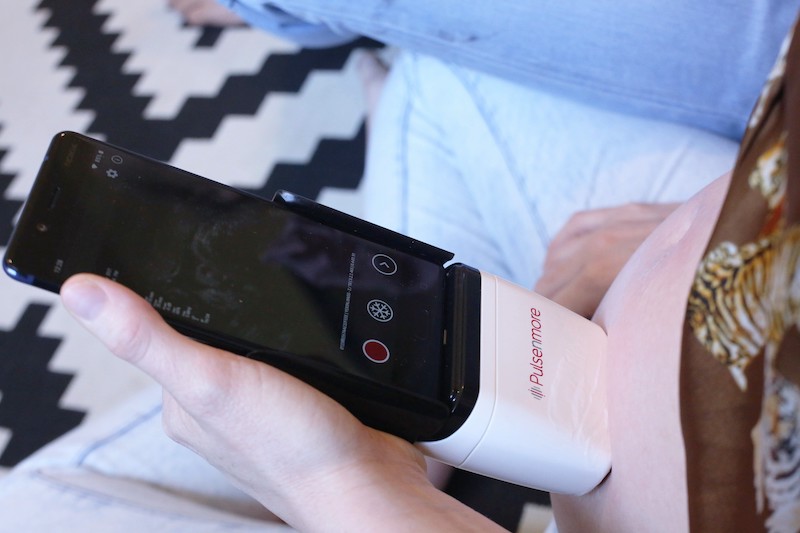 Pulsenmore's at-home ultrasound combines technology similar to that used in traditional ultrasound systems found in hospitals but simplified and miniaturized for non-professional users. It's also taking advantage of cloud computing. For example, Pulsenmore's mobile app shows pregnant women how to use the ultrasound cradle to perform scans, which are then automatically uploaded to the cloud and reviewed by Clalit's clinicians. Results are sent back to the patient's phone, and doctors follow up with a call if needed.
Healthcare professionals are excited by the technology both because it can help make life easier for patients who are concerned about their pregnancy and because it gives doctors a better way to monitor pregnancies with a higher risk for complications, said Dr. Elazar Sonnenschein, Pulsenmore's founder and CEO. At Chaim Sheba Medical Center, in Tel HaShomer, Israel, for example, the doctors utilize the system to monitor high-risk pregnancies through scheduled tele-ultrasound sessions. Doctors guide the patients and view the scan results in real time and even adjust the settings on the scanner remotely.
One recent use case: Pregnant refugees at the Ukraine border have used Pulsenmore's devices to perform scans so that doctors at Sheba hospital can read them.[1] The effort is part of a "virtual hospital" that allows Israeli medical staff to care for people injured or displaced by the conflict using telehealth technologies.
Pulsenmore got its start after Dr. Sonnenschein heard from a relative who was anxious about her pregnancy. She hadn't felt her baby move for a while and wanted the doctor's advice on whether to go to the hospital for an ultrasound.
"I began asking myself why ultrasound couldn't be turned into a home monitoring device to help mothers everywhere connect with healthcare providers who could review their scans remotely," Dr. Sonnenschein said.
He tinkered with existing ultrasound machines and eventually redesigned most components to create an inexpensive device that produces high-quality images and is easy to use. "Our agreement with GE Healthcare is a resounding vote of confidence in our ultrasound technology and our company," Dr. Sonnenschein added. "With GE Healthcare's market leadership position and reach, we are one step closer to achieving our vision of making home ultrasound universally accessible for remote and reliable care, ultimately improving maternal health across the globe."
Dr. Sonnenschein thinks that telehealth services that reproduce in patients' homes the same level of care found in doctors' offices and hospitals will only grow. The COVID-19 pandemic spurred the trend[2] toward telehealth for obvious reasons — like the need to prevent infections — and less obvious ones, such as the burnout many doctors have experienced,[3] brought on by higher patient loads and tedious manual processes.
Pulsenmore's device allows physicians to better monitor those pregnancies that need a higher level of attention, but it also reduces the need for unscheduled visits to the ER. Patients report lower levels of anxiety and more control over their pregnancies.
Additional applications — including follicular monitoring for women undergoing in-vitro fertilization (IVF) and remote monitoring for chronic heart failure (CHF) and end-stage renal disease (ESRD) — are currently under development by Pulsenmore.
"COVID-19 taught us all about the importance of having such reliable, remote solutions in hand as part of various options to deliver care," Dr. Sonnenschein said.
Categories
tags