On January 4, 2023, GE Healthcare is expected to become a standalone, publicly traded company. The spin is a significant milestone in GE Healthcare's journey and a catalyst moment that will have a positive impact for patients and customers.
We spoke with Elie Chaillot, President & CEO of GE Healthcare's Intercontinental region about improving access and efficiency in healthcare, collaboration, precision care and what the spin really means for customers.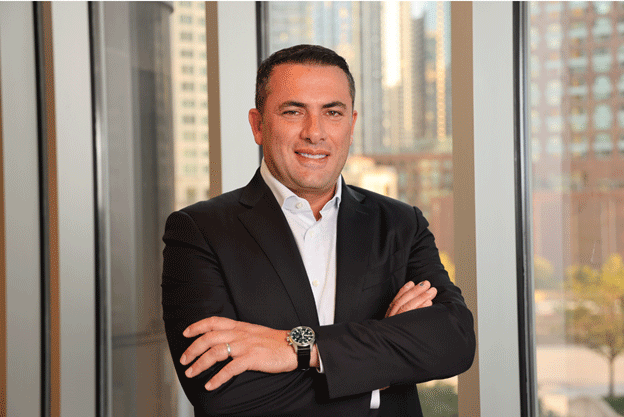 What makes the Intercontinental region so unique?
Intercontinental (Japan, Korea, ASEAN, Australia & New Zealand, South Asia, Latin America) is a region that quite literally never sleeps. With more than 60 countries and 20 time zones across the geographies, this region is home to 50 percent of the world's population. It has a burgeoning middle class and is an equal mix of emerging and mature markets.
More than 10,000 GE Healthcare Intercontinental employees work around the clock to develop products and services critical to helping improve outcomes for patients and productivity for healthcare providers. We are one of the most diverse and fastest-growing regions in our global business.
It is this diversity that shapes the way we innovate. We are constantly looking at new ways to address common market themes and customer needs – and there is best practice from every team, every market, that can be applied in areas like academic & research advancement, digital health, and clinical excellence.
Diversity also drives talent development. Intercontinental is a huge career 'playing field' in which employees can grow and develop, gain experience in different markets, and immerse themselves in the cultures of a truly global region.
What are some of the healthcare challenges in the region?
There are several healthcare trends common even in a region as diverse as ours. Ageing populations, the prevalence of chronic conditions, shrinking healthcare workforces, economic disparities, and access to healthcare – are challenges everywhere.
In ASEAN, for example, government budgets are stretched coming out of the COVID-19 pandemic. This combined with rapid population growth is fueling demand for quality healthcare services and treatment.
In Latin America, there are countries like Mexico where only a very small portion of the population can afford private healthcare, and publicly funded institutions are operating beyond capacity. A simple diagnostic test like an ultrasound can take months to schedule. We see this too in many emerging markets such as South Asia.
In countries like Japan, Korea, and Singapore, ageing populations and shrinking healthcare workforces have healthcare providers focused on enhancing care efficiency.
How is GE Healthcare working to address these challenges? How do you replicate what works in one country to another with similar needs?
Collaboration is key. As an industry it's important that we rally around a common mission: to develop innovative technology and solutions that help solve healthcare challenges, putting the patient at the center of care. Across the region, we have tremendous opportunity to partner with customers to deliver better patient outcomes—by improving access to healthcare in emerging markets and improving healthcare system efficiency in mature markets.
In Indonesia, a highly populous, geographically diverse country, the Puskesmas (community health centers) primary care network is where most patients are treated. In close partnership with the government, we supply our Vscan handheld ultrasound units and offer screening protocols and education tools so that GPs at the Puskesmas can purchase and use these life-saving devices at the point of care. There is potential to deploy a range of mobile diagnostic devices in Indonesia and other markets in the region with similar rural access challenges.
In Japan, we helped launch the country's first capacity command center (CCC) system at the Omi Medical Center (OMC), a medical hub in Konan. The CCC enables stakeholders to share, adopt and apply medical knowledge in real time, enabling improved care, accelerated workflows, streamlined business processes and a better balance of resources with demand. The efficiencies OMC were able to gain—particularly during the pandemic—have driven them to expand the system across Konan. In mature markets where healthcare system efficiency is a priority, introducing the CCC can have significant impact.
How is GE Healthcare enabling precision care?
One of the biggest dilemmas for healthcare providers is improving outcomes and customizing care to specific patients, while balancing costs and productivity. Done the right way, you can have both: better outcomes for the patient, while increasing provider productivity because it removes unnecessary procedures, waste and time, while getting the right diagnosis and therapy sooner. This is precision care.
In today's environment, this is not easy to achieve with the disparate systems, devices and data that exists in unstructured form, throughout the care model. As genomics and other highly personal factors take a greater role in each patient journey, medicine and data science are no longer adjacent disciplines. The key is the patient's longitudinal data, synthesized to enable insights about the best path forward for them.
Our approach to enabling precision care is built off our devices—all four million of them in hospitals and clinics around the world—all aligned to disease states and enabled by our digital capabilities. Smart devices are a rapidly increasing portion of our installed base of equipment: digitally enabled, connected and many AI powered.
Continuing to innovate across our product portfolio of equipment is our priority—and continuing to invest in our digital platform so that we can harness data and leverage AI to recognize patterns, improve diagnosis and treatment options, all while enhancing provider workflow.
How will the spin-off change the future of GE HealthCare and what does it mean for customers in the Intercontinental region?
Healthcare is first out of the gate as GE transforms into three independent companies – and we are excited about what the future holds for us as a standalone company.
We recently unveiled our purpose: to create a world where healthcare has no limits. It is bold— but I think that we are one of the few companies, working with our customers and partners, that can make a significant difference in how healthcare is delivered more effectively in the future.
We develop products and services critical to helping improve outcomes for patients and productivity for healthcare providers. In a region as diverse and fast-growing as Intercontinental, being a standalone healthcare company will allow us to retain the focus and agility we need to respond faster to our customers and market needs.
Categories