Earlier this year, engineer Taylor Dawson visited his brother in Arizona after a business trip. Dawson, a GE Appliances product manager, had just signed on with FirstBuild, GE's collaboration with open-source innovator Local Motors that aims to create innovative new refrigerators and other appliances and bring them to market quickly. His brother had never heard of it, but said, "I've got to show you something."
Dawson's brother took him to the refrigerator, which has an industrial power supply on top. Two wires ran from the power source inside the fridge and into a little heater in the dairy bin.
"He says, 'This is my butter conditioner. It keeps my butter at the perfect temperature for spreading,'" Dawson recalled. "He took the butter out and he spread some for me just to show me how perfect it was."
That episode convinced Dawson that people were ready to be adventurous with their appliances. Now, just months after FirstBuild launched with a microfactory in Louisville and an online community that can share and build digitally, the collaboration has already rolled out its first product, the Smart Pitcher. The pitcher solves a small but annoying problem that bedevils households across America: how do you keep your water pitcher filled and your water cold.
The pitcher is equipped with two magnets, Dawson explained. The first tells a magnetic switch in the fridge whether the pitcher is there. When the switch closes, the fridge begins to fill the pitcher with water until a second, floating, magnet reaches the top and closes a second switch, which stops the water.
Perhaps even more impressive than the Smart Pitcher was how the FirstBuild team reduced the product cycle from years to a matter of months. A typical cycle involves a "concepting period" lasting between one and two years, where business leaders talk about market opportunities and needs. If management buys in, the team builds a prototype that proves the design, then builds multiple versions of it to solve engineering problems, and finally sends the device out for field tests. It makes for great products, Dawson said, but it's difficult to change course once you're a few years in. "We wanted to do something for the least amount of money in the least amount of time," Dawson said.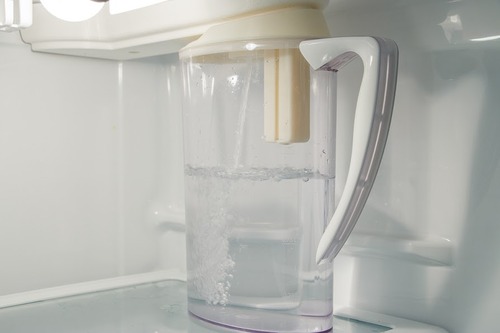 With the Smart Pitcher, the team simplified the development by purchasing a pitcher off the shelf, instead of creating a new one. Then they used consumer-grade 3D printers to speed up prototyping. Finally, they saved time by opting for finishes that could be accommodated on a drastically shortened schedule on the theory that the maker community, which is pitching in ideas on how to improve the pitcher, would embrace finishes and parts made through rapid manufacturing techniques. "A lot of the rigor that [ordinarily] goes into those processes is making sure that every single spec is adhered to the Nth degree," Dawson said. "Our community embraces the aesthetics of parts made through rapid prototyping."
Another bonus: the team won't have to put the pitcher in refrigerators. Makers can install it themselves in GE's GTH18GC, an 18-cubic-foot model that's already in millions of homes.
Next up for FirstBuild: a USB hub for refrigerators that will allow people to create hacks like Dawson's brother, without using an industrial power supply. The Smart Pitcher will be available in early October.
Categories
tags