Khalid Salem has spent his entire GE career — all 16 years — selling power generation equipment to customers all over the Gulf. But last fall the Jordan native found himself in a Catch-22.
Aluminium Bahrain (Alba) was planning to build the world's largest single-site aluminum smelter. Powering these smelters uses enormous amounts of electricity — the new plant required 800 megawatts — to heat the metal to nearly 1,000 degrees Celsius, and Alba needed a power plant to go with it. Salem thought he had just the right machine: GE's HA-turbine, which set a world record for efficiency. But the technology was also brand-new. Alba would only consider buying turbine models that had been in operation at least 8,000 hours, or just under a year.

"The HA is a proven design, but it had not had the number of operating hours that a smelter typically looks for, and there were no HAs in service in the region, which has environmental conditions that are the toughest of anywhere in the globe," says Salem, a sales manager at GE Power.




Alba is one of the largest aluminum producers in the world. Its smelters yield material for products as varied as windows, door frames and Audi cars. Reliable electricity is a big factor for a smelter since a power outage can leave thousands of smelting pots full of molten metal to set, potentially closing down operations for months.

In Bahrain, the stakes are especially high. The first power plant opened in the island kingdom only 50 years ago, and the quickly growing country's voracious appetite for electrons has caused large outages. The island's main power distribution system is connected directly to Alba's grid in order to share electricity. An island-wide disturbance can cause problems for Alba.

But Salem had an ace up his sleeve — a software and analytics suite that GE calls the Digital Power Plant, or DPP. Built on Predix, GE's software platform for the Industrial Internet, the DPP collects data from GE machines including the HA and builds a digital twin which engineers can use to anticipate maintenance needs and outages, measure performance and test different scenarios.

The software gave Salem an opening. The first HA has been running at an energy plant in Bouchain, France, since December. He was able to use its digital twin and 100 million hours of virtual power-plant data it generated to show how the turbines would react to different situations that might occur in Bahrain. "We were able to demonstrate that if Alba's turbines shut down, the effect on Bahrain's national grid should be minimal and vice versa," Salem says.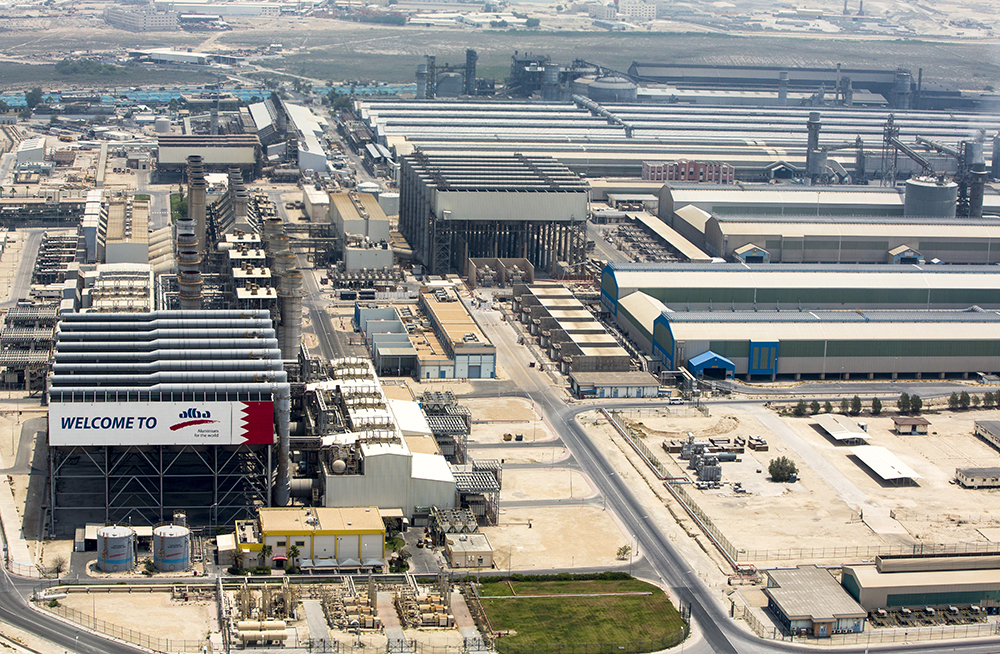 Above: An HA-class gas turbine during assembly at GE Power's plant in Greenville, South Carolina. Image credit: GE Power. Top: HA turbines will power the world's largest aluminum smelter in Bahrain. Image credit: Aluminium Bahrain

Salem used the digital twin to show Alba representatives how the software inside the turbines allowed them to power up or down during a grid disturbance and considerably reduce the impact of an outage. Then, using a model of a part of the French grid that can be unstable, the GE team replicated conditions similar to what the HAs would be dealing with in Bahrain and showed how the turbines kept the electricity flowing. "The digital twin helped us show that the HA should continue to operate as planned, even in the most challenging conditions," Salem says.

Executives at Alba liked what they saw. In August, the company signed a multimillion-dollar deal for three 9HA turbines as well as three GE steam turbines and three heat-recovery steam generators capable of producing more than twice the amount of power originally planned — 1,792 megawatts. The facility will also use the Digital Power Plant technology, which could save it an estimated $230 million in maintenance costs over its lifetime. It also enables Alba to build its own digital twin to continue to make the new plant work as efficiently as possible. Alba's Chairman Shaikh Daij Bin Salman Bin Daij Al Khalifa says the end result will be "the most efficient power station in Bahrain."

This is the first time that an HA will be deployed in the Gulf and is also the the first use of H-class turbines in the aluminum smelting industry. That's hot stuff.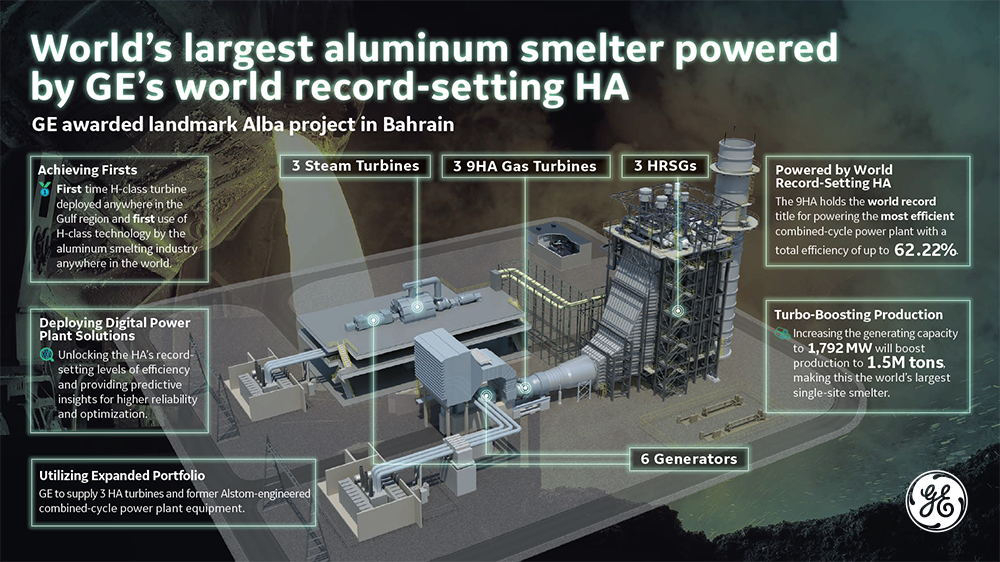 Categories
tags