The Swedish town of Uppsala has been a center of medical innovation for the past 350 years. In 1663, the University of Uppsala opened an anatomical theatre built into the cupola of the Gustavianum, the main building on the Uppsala University campus. Inside, future doctors and also the paying public watched from narrow, tiered, octagonal balconies as professors dissected executed criminals and animals. "Often the dissection took longer than a week and so winter was the preferred season because it was colder and the nauseating stench that rose through the theater was reduced," writes Brian Silver in his book "The Ascent of Science."
But it was these cold winter days and nights that brought about the spring of modern medicine and helped turn Uppsala into a world-class biotech and medical research hub—so much so that now the Swedish government and GE Healthcare are investing in the futuristic field of personalized medicine with a new hub in Uppsala.

The BioProcess Innovation Hub will be located a short ride from the Gustavianum, inside GE Healthcare Life Science's plant on the edge of the city. GE has had a long presence in Uppsala, making specialized equipment for producing biologics, the fastest-growing class of drugs used to treat a wide spectrum of disease stretching from autoimmune disorders to cancer and diabetes.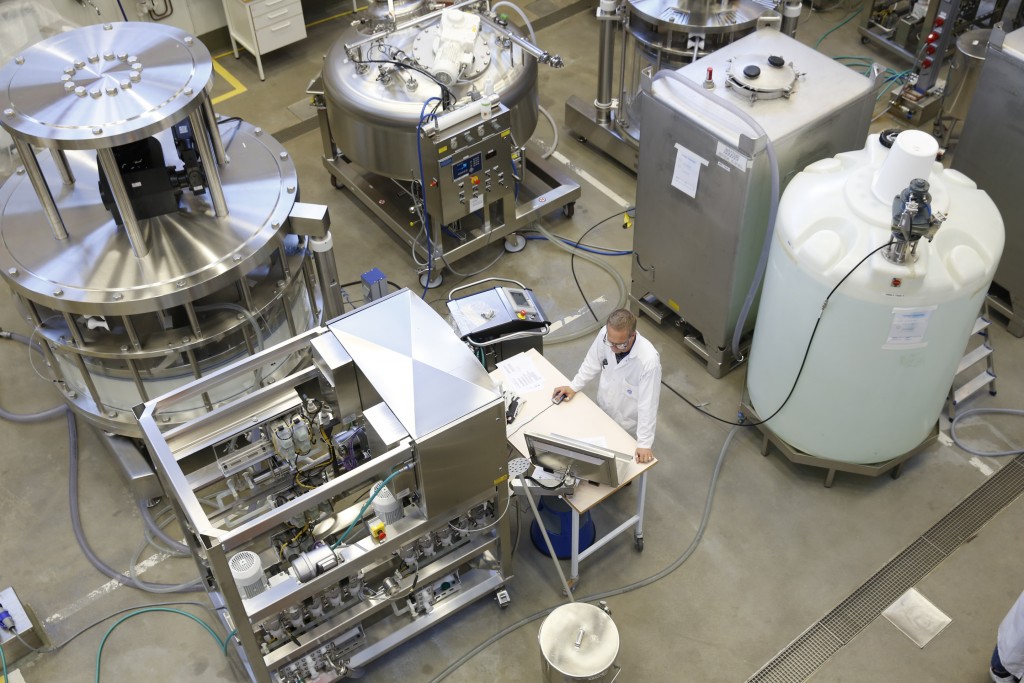 Above: Chromatography columns at the GE plant in Uppsala. Image credit: GE Healthcare Life Sciences Top: In 1663, the University of Uppsala opened an anatomical theatre built into the cupola of the Gustavianum. Image credit: Shutterstock

Biologics, also called biopharmaceuticals, are created from strings of complex proteins made by colonies of living cells is high-tech vats called bioreactors. Researchers at the hub will now focus on taking the tech used to make these drugs a step further. "We want to create an open environment that builds a bridge between the research and industrial production of biopharmaceuticals," says Swedish Minister for Enterprise and Innovation Mikael Damberg.

Sweden's Ministry of Enterprise and Innovation will invest $15 million in the new research center, while GE will invest $100 million in the existing plant.

The hub will be a fully equipped biotech facility scheduled to open in 2018 where researchers will have access to GE's biologics manufacturing equipment and take new therapies out of the lab. The idea is to give scientists a practical, hands-on feel for what it takes to move their ideas from the laboratory to the factory. By bringing researchers and manufacturers together, GE and the government hope they will be able to get new biologics to market faster. "This is an opportunity for researchers to come and work to develop their capabilities in developing biopharmaceutical drugs," says Jan Erneberg, operations general manager, GE Healthcare in Sweden.

The hub follows the same open-innovation philosophy GE Healthcare applied at its Innovation Village in Cardiff, Wales, which focuses on life sciences, and its Health Innovation Village in Helsinki, a startup incubator that helps local companies develop products tied to healthcare and medicine.

GE Healthcare says that by the end of 2018, its $100 million investment will help the Uppsala bioprocessing plant double production of chromatography resins, proprietary materials that fish out proteins used to make cancer-fighting monoclonal antibodies and other biologics from the bioreactors. The plant is already one of the world's leading producers of the resins. The facility makes different 250 types, and they are used in making more than 90 percent of FDA-approved biopharmaceuticals.

Of the top 10 best-selling therapeutics today, seven are biopharmaceuticals, according to Genetic Engineering & Biotechnology News. These drugs will become more common—more than 5,000 biologic drug candidate products are in development. The global market for these medicines is more than $170 billion and increasing rapidly, according to BioPlan Associates, an information and consulting firm.

With the market for biologics growing so fast, the investment will help GE Healthcare maintain its leadership position in manufacturing biopharmaceuticals in the coming years, says Erneberg. "We are preparing for increased demand to make sure we can keep up," he says.
Categories
tags