Let's change the way we talk about manufacturing.
Too often, the discussion is about how old-line industry is struggling to survive in a world of bold new tech. In reality, digital and additive technologies are transforming manufacturing and growing productivity.
The "Brilliant Factories" that I see in places like Muskegon, Michigan – where machine downtime has been reduced to less than 1%; Auburn, Alabama – where fuel nozzles are 3D-printed for jet engines; and Grove City, Pennsylvania – where we make the engines that power locomotives, are all futuristic and flexible. Futuristic because they combine the newest technologies, from advanced analytics to 3D printing to "cobots" – collaborative robots that work side-by-side with people. Flexible because our workforce is constantly adapting and updating their skills for the jobs of tomorrow.
 By equipping our machines with sensors and analyzing the data in real time, we can determine when a machine might break well before it fails. This has helped reduced unplanned downtime on our shop floor by up to 20 percent and has improved overall product reliability and cost. In addition to advanced processes and tools, there is also a digital thread running through it, both horizontally across the company and vertically throughout the value chain, which provides an integrated view of a product throughout the manufacturing lifecycle. 
This story is not just about technological and digital innovation.  This is about people who are engaged and have the courage to embrace what comes next.
Workers at Grove City, for example, overhaul 1,200 locomotive engines a year for customers around the world. All of our Grove City employees – some of them multi-decade veterans – have embraced a new approach, putting in the significant time required to develop new skills. We want all of our workers to take that opportunity. Instead of focusing exclusively on new hires, we will train our current workforce: the "Brilliant Learning" initiative will develop 150,000 supply chain workers with the skills needed in the new digital industrial economy. Our curriculum includes a series of trainings for each skill level and job type across our global supply chain.
We don't have to choose between American jobs and technological advancement. 
Advanced manufacturing accounts for 24 million jobs, or 13 percent of all American employment. Each one of these jobs supports an additional 3.5 jobs through the supply chain. 
But the work is changing.  We need to close the new skills gap so we can realize this potential.  We are throwing out the playbook, not the players.
Manufacturing has always been an incubator for ingenuity, but courage to embrace the future is required.  Those that grab it will find themselves a part of something bold and exciting.  This is the new manufacturing we should all be thinking about.  
Top image: Jennifer Cipolla runs GE's Center for Additive Technologies Advancement (CATA) in Pittsburgh. Image credit: Mark Trent for GE Reports.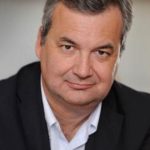 tags