Perched on the banks of the Little Tallahatchie River, Batesville, Mississippi has always been connected to movement. The town, just an hour south of Memphis, Tennessee, spent its early days as a Southern steamboat port. In the 1850s, local farmer James W. Bates sold a plot of land near the river to the Mississippi and Tennessee Railroad for a new train depot. The deal put his name on the map: Bates would later become the first train conductor on the new line that linked Batesville with the rest of America, attracting new residents and industries such as a garment factory and canning mill.
Back then, trains and depots were as revolutionary as planes and airports a century later. Incidentally, today it's jet engines that keep bringing new people and technology to Batesville, allowing the town — with its population of 7,200 — to punch above its weight. Since 2008, the town has been home to a GE Aviation plant that makes parts for the aircraft industry's latest generation of fuel-efficient jet engines: the popular GEnx for Boeing's 787 Dreamliner jets; the world's most powerful jet engine, the GE9X; the bestselling LEAP engine, developed by CFM International, a 50-50 joint venture between GE and France's Safran Aircraft Engines, and the Passport powering record-breaking business jets.
Workers make the parts from so-called carbon composites, a class of high-end aerospace materials that can be tougher and lighter than metal. It's a fiendishly complex and precise process. The parts are assembled from sometimes hundreds of thin and precisely cut carbon fiber sheets layered on top of each other like phyllo dough and fused together with a special resin to make a solid whole.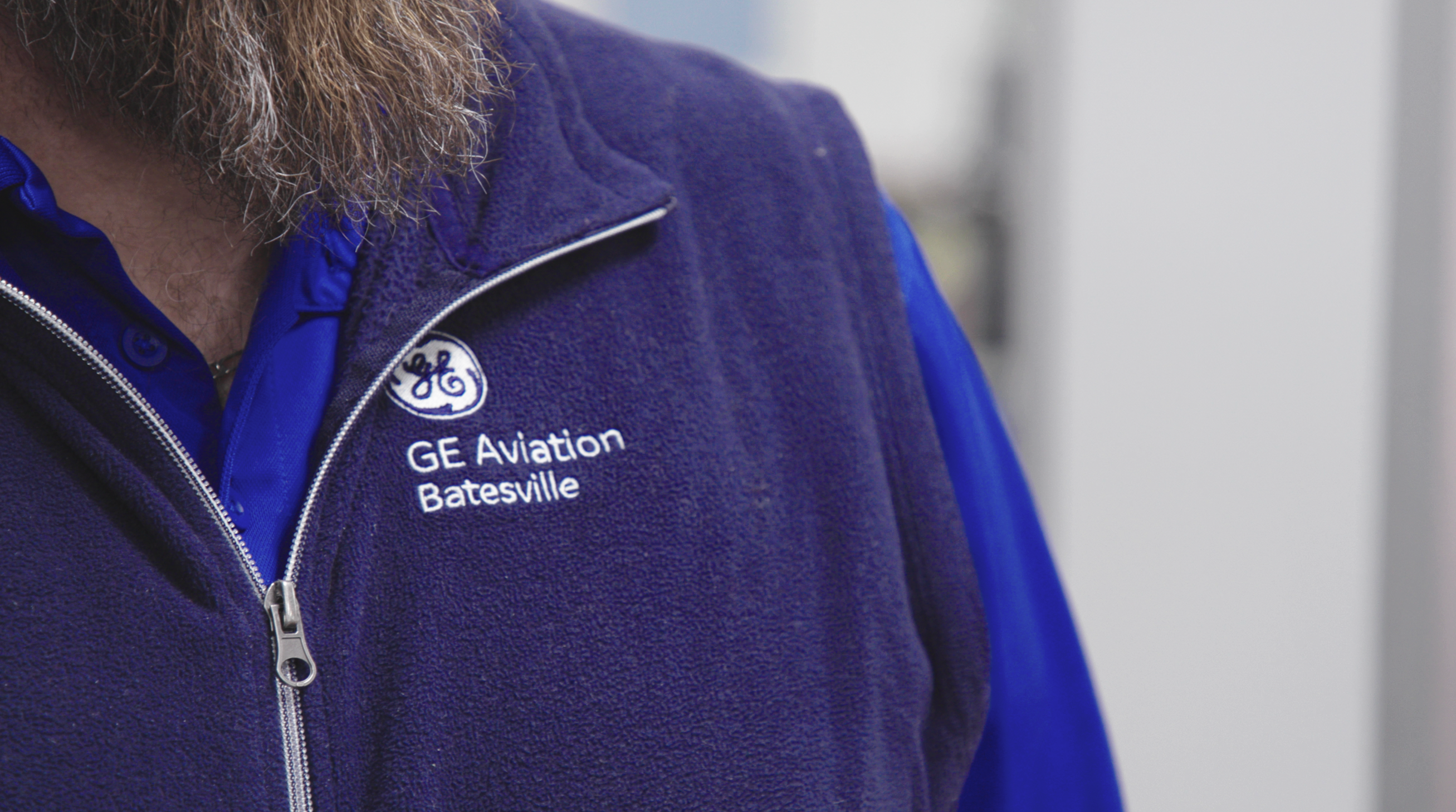 Above: Since 2008, Batesville has been home to a GE Aviation plant that makes parts for the aircraft industry's latest generation of fuel-efficient jet engines. Image credit Andrew Robertson for GE Reports. Top image: "I felt like I could not only impact the performance of the shop, but also teach people about Lean management and just believing in themselves," says Robinson, pictured with operator Lily Strickland. Images credit: GE Aviation.

Pump Up the Volume

But designing a jet engine is one thing. Ramping up production and keeping up with the massive demand is a challenge of a different magnitude. "Everything between 2008 and 2016 is almost a blur to me," says Curt Curtis. A senior manufacturing engineering manager at the plant, Curtis was the plant's first hire and has a No. 1 employee badge to prove it. "Every year we were adding new production lines, we were getting new equipment and tooling, setting up new processes and hiring new people, as many as 200 a year. Each year was a fight to keep the lines up and running."

By the time the production of parts for the LEAP engine was set to come online in 2016, the plant was running behind schedule and was scrapping as much as 15% its output due to manufacturing defects. "We knew that the production volume would be higher than we ever had," says Curtis, who has spent 34 years of his career working for GE Aviation. "We said, 'How can we do it differently this time so we don't fall behind and get our yield up?'

There was little time to spare to ponder this question. The first commercial flight powered by the LEAP engine took off in August 2016, and the production line grew from five workers to 90 in a single year as demand picked up. At the same time, factory managers were also working to bring down costs while improving safety and quality. "It felt like we were running and trying to tie our shoelaces at the same time," says manufacturing engineer Caesar Tronolone.

By early 2018, as volumes kept growing, losses due to defects tied to tight tolerances and high standards required from new technologies didn't budge. Unlike metals, composites can't be melted down and reused, or fixed with a quick weld. "Bad parts go into the garbage and you start over," says Michael Robinson, who took over as the factory's director in 2018. The problem was so persistent that Robinson decided to do something radical. He shut down a key engine line. "I called my boss at GE Aviation headquarters in Ohio and told him that I was stopping the line for one week," he says. "I had to do it to understand where my defects were happening."

It was a gutsy move by Robinson, who'd just joined GE after relocating back to the U.S. from a job with an energy company in Malaysia. But he knew what he needed to do. Robinson spent his career acquiring and honing skills in Lean management. His career includes seven years at the temple of Lean, Toyota, which he joined straight out of Auburn University. "Lean is a system focused on continuous improvement," he says. "There are always ways you can get better by using the Lean set of tools and principles, rather than just throwing money on it. The goal, ultimately, is delivering parts on time, with the highest quality and the lowest cost."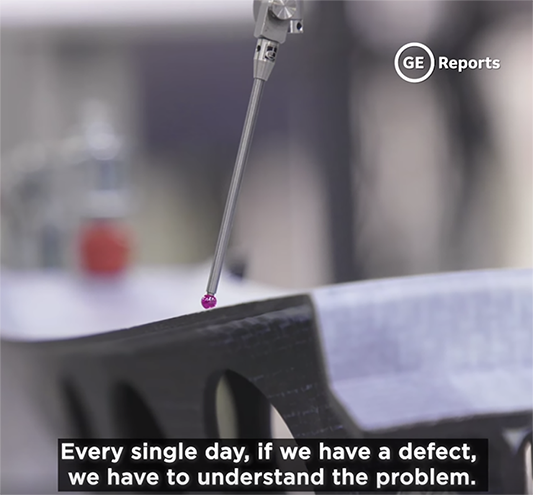 Leaning on Lean

The business practice called Lean has been something of a revelation to American industry since it hit these shores 50 years ago. It dates back to the late 1970s, when a team of Massachusetts Institute of Technology researchers traveled to Japan to figure out why that country's carmakers were delivering faster than Detroit's major automakers. Their search led them to Toyota and its Toyota Production System, a set of management principles focused on boosting efficiency, reducing waste and creating more value with fewer resources. The MIT team included James P. Womack, founder of the Lean Enterprise Institute and now considered the father of the U.S. Lean movement.

Today's Lean disciples include many prominent business leaders. GE Chairman and CEO H. Lawrence Culp Jr., for instance, successfully used it at Danaher, the company he ran before joining GE. He's now deploying it across GE businesses. After spending time in factories and with customers, Culp said Lean was "the perfect approach" to delivery delays and "many of our other operational challenges." He added: "This is not about checking the box or taking the training or using the lingo. This is about working in a new way."

Brimming with charisma and energy, Robinson, 38, knows the Lean gospel by heart. "I use Lean to run my life," he laughs. When he started as a manufacturing engineer at Toyota, his first assignment was to work for two weeks in the factory next to the workers on the production line. "Very little [training] at Toyota is done in a classroom," he says. "I did 8-hour shifts with two 15-minute breaks and a 45-minute lunch," he says. "At Toyota, they are really teaching you every single day to think like a line operator. So as you are making shop-floor improvements, you are doing it there, getting in their boots. The operators are the most important employees and it is my responsibility to support them."

After Toyota, Robinson helped deploy Lean at businesses as diverse as global dairy producer Danone and energy giant Haliburton. When he arrived in Batesville, he had his toolkit ready. "I knew what I was walking into — that the situation wasn't good, that losses were high and deliveries behind schedule," he says. "But when I actually came to Batesville and saw the challenges the site had for me, I knew it was a Lean playground. I felt like I could not only impact the performance of the shop, but also teach people about Lean management and just believing in themselves."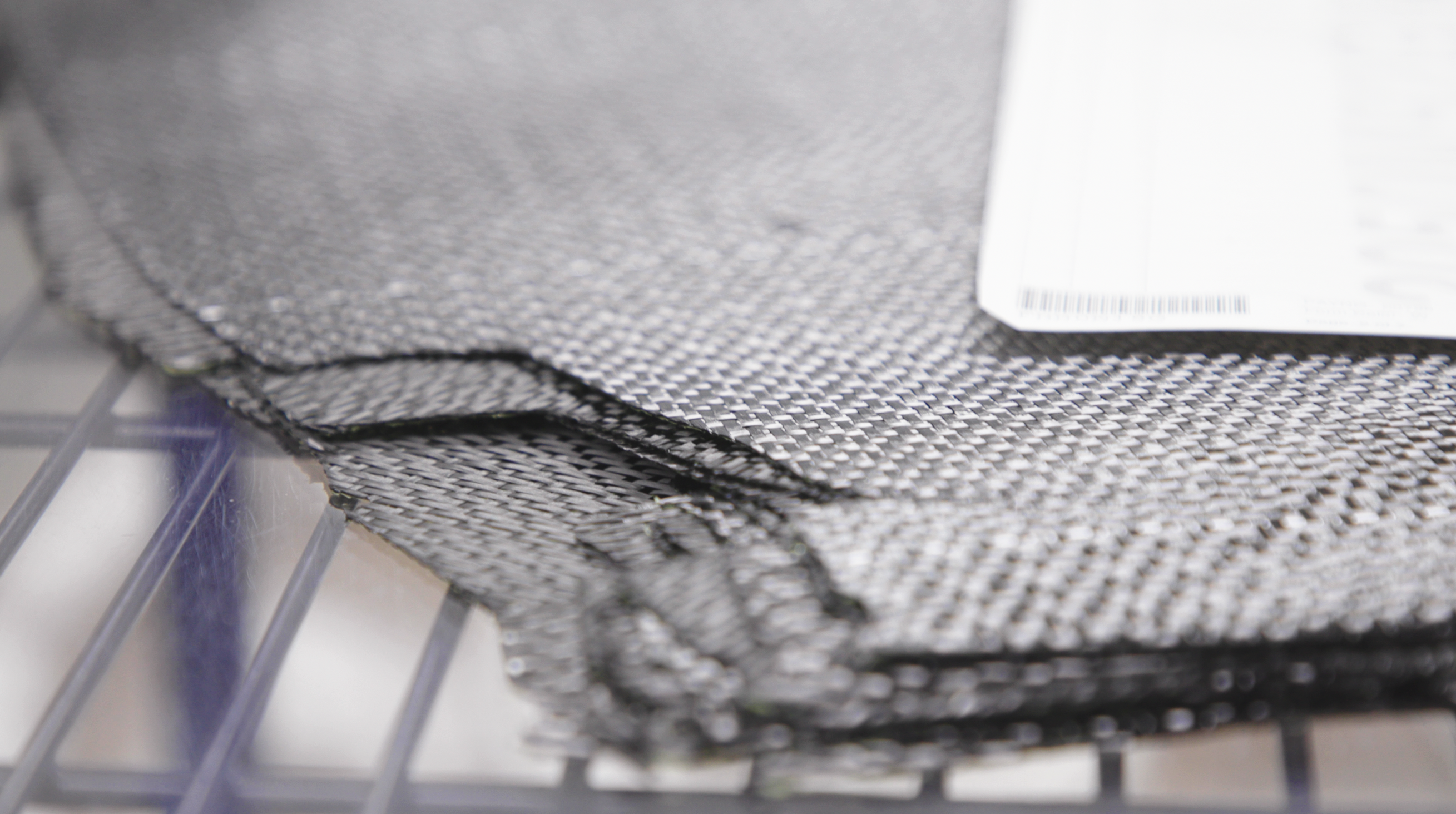 Workers make the parts from so-called carbon composites, a class of high-end aerospace materials that can be tougher and lighter than metal. It's a fiendishly complex, precise process. The parts are assembled from sometimes hundreds of thin and precisely cut carbon fiber sheets layered on top of each other like phyllo dough and fused together with a special resin to make a solid whole. Image credit: Andrew Robertson for GE Reports.

Like Culp when he became CEO, Robinson spent a couple of weeks walking around the shop floor, observing the production lines, and listening to workers and asking questions. "Are you reacting to defects when they occur, stopping the line and trying to understand what happened?" he would ask. "These are the principles of what I'm used to, but we weren't using them."

So Robinson went straight to the Lean playbook. The first thing he did was to clean up the entire factory. "When I first came to the plant, the 5S standard wasn't exactly where I wanted it to be," he says, referring to Lean's system for organizing the workspace. The term derives from five Japanese words for sort, set in order, shine and other guidelines that allow workers to go safely and efficiently about their jobs. "We got on our knees and hands, all 375 of us, and started cleaning," he said. "I try to lead by example, so anything I asked the shop floor to do, I did first. That gained a lot of credibility for me in the beginning."

Today, the factory — gleaming on a recent visit — holds regular cleaning parties. Once a month, the leadership and the management team — called the "support team" in Batesville — "goes out to the floor and we take Windex and paper towels and start cleaning the machines and anything that has dust or dirt on it," Curtis says. "Most times the operators are able to join as well."

But the cleanup was just a warm-up act. Next, Robinson put his desk inside the production hall and asked his managers to do the same. "Of course, there was some resistance," Curtis recalls. "People like their nice quiet cubicles with their family pictures. But sending them out to a more active environment where the work is happening gets them involved. It helps make changes."

It took the management some time to adjust. But once they moved to the shop floor and rearranged their priorities, things started falling into place. "In Lean, everything is related to respect for the operators — they are the most valuable people at the plant," Robinson says. "If Michael Robinson leaves today, the plant continues to run. If my managers leave, the plant continues to run. But if my operators leave, it comes to a screeching halt. It's our responsibility to support them. We need to get into their boots and start making decisions from their point of view, not from the lens of an engineer. We need to make their job easier every single day."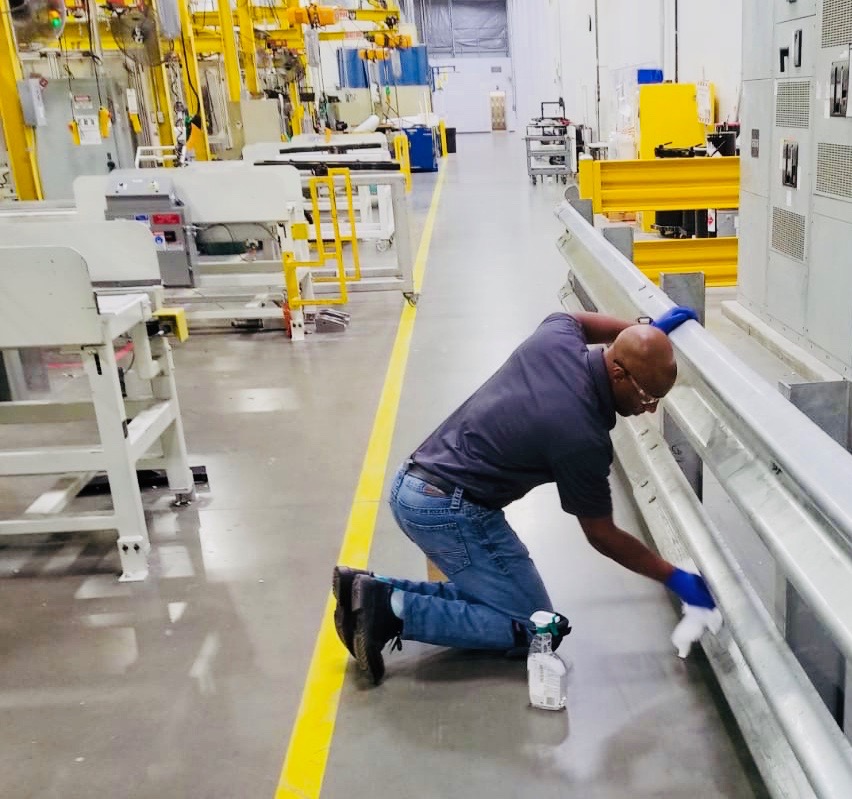 The first thing Robison did was to clean up the entire factory. "We got on our knees and hands, all 375 of us, and started cleaning," he said. "I try to lead by example, so anything I asked the shop floor to do, I did first. That gained a lot of credibility for me in the beginning."

Playing It Safe

As he was taking these first steps, Robinson made safety the central tenet of everything the plant wanted to accomplish. Safety is the first letter is the Lean mantra of "SQDC," or safety, quality, delivery and cost. Today, workers in Batesville utter the acronym hundreds of times every shift. "Every decision we make starts in that order," he says. "If you have a safe process, you will understand your value stream through your constraints. I really believe if you have a safe operation, you will have a high yield, and you will get to your delivery number, and if you have all of that, you will get your cost down."

The new focus allowed the team to accurately map the plant's value stream and pace of customer demand, or "takt time" — another set of Lean tools that allow the staff to spot bottlenecks and determine the plant lines' actual production capacity. "Cost went from being the first priority to a much later priority," Curtis says. "All of us had to reset our heads. But we quickly saw that it was working."

On a visit in October, a group of workers about to start their shift were listening to an employee from the previous shift discuss issues his shift had encountered. He also noted them on a white board tracking the production, defects, takt time and other metrics. "Lean is really about that discipline and that rigor to go into those meetings every single day and start asking questions," Robinson says. "It's not easy to keep it going and as you start showing signs of improvement or as you start having more fires erupt, you start deviating from your standard practices. I think that's something that we've done a great job in Batesville. We stick to that rigor and rhythm every day."

Adds Curtis: "We are trying to create an environment where problems are good. If we raise a problem, that is good. If we hide a problem, that is bad. That is the culture we are trying to get to."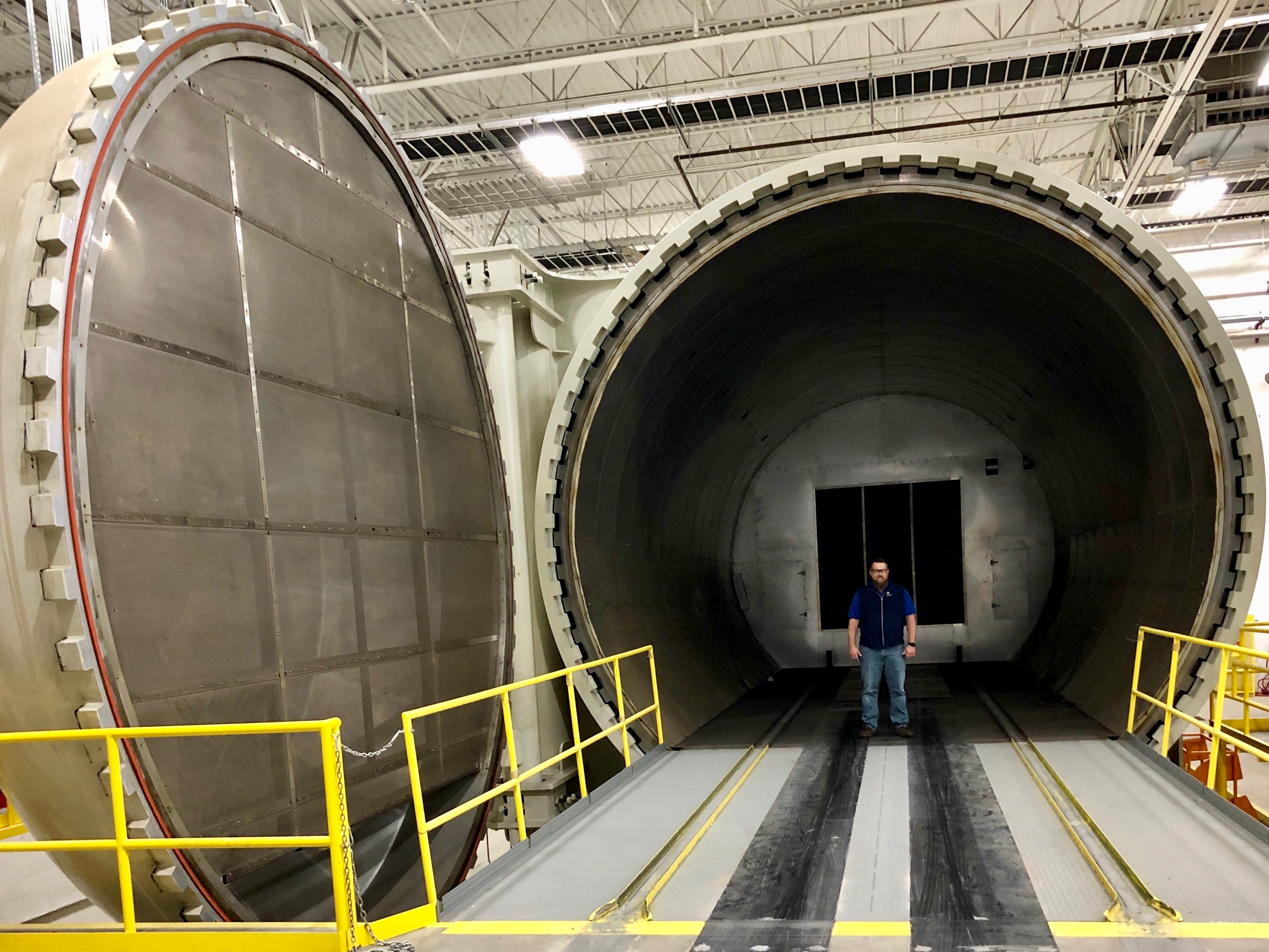 Workers in Batesville use this giant autoclave to finish composite casing for the GE9X, the world's most powerful jet engine. Image credit: Tomas Kellner for GE Reports.

A Part of the Whole

The Lean medicine has been working. For example, workers at the plant used a system to reduce the number of parts moving through production before inspection from 50 to just a handful. Inspecting parts individually as soon as they reach the measurement and control station, rather than doing it in batches, allows the workers to spot problems as soon as they crop up. Robinson says, before he implemented the change, "you could have the same defect affect over 20, 30, 40 parts. Now the second you see a defect, you have to react to it." Says Robinson: "I have a rule: The first defect is on me; the second defect is on you. If you have a defect, I give you the ability to stop your process and understand that defect before you resume."

In October, for example, a worker on the GEnx line was waiting to remove an engine part from a mold — they call it a coffin here — because the employee ahead of her was not finished with his operation. The closed coffin was a clear sign that the line wasn't moving as it should. "Everybody is their own little business," says Tronolone, the manufacturing engineer, as she walked to inquire at the next station up the line. "Everybody is a customer to somebody at the plant."

The Lean Life

Using Lean, the Batesville plant has been able to reduce losses by more than 60%  so far, saving millions of dollars' worth of waste this year. But Robinson is far from finished. He recently organized for his management team a four-day Hoshin Kanri event — a Lean workout designed to make sure that the system is indeed reaching every level of the company. "This is where we're going to show all of our problems to everyone that's there," Robinson said. "We're going to air our dirty laundry, and the reason we want to do that, because we want everyone to be 100% aligned on what are their biggest problems in Batesville so we can agree on what we're going to focus on in 2020."

Lean has become such a part of Robinson's life that he can't help but apply the system at home. Going over a football practice with his young son, he tried to lead him to focus in problem solving. "Dad, did you see me? I had eight tackles?" his son asked. "Absolutely. Let's also talk about the three tackles that you missed. What can we do differently?" Robinson replied. "I truly believe that if we, every day in our life, work to eliminate the mistakes, we make ourselves a better person."

 
Categories
tags