Last fall, GE announced plans to become three independent and publicly traded businesses focusing on healthcare, energy, and aviation. Today the company unveiled their names.
Channeling its 130 years of innovation, all three — each a leader in its industry — will retain the familiar GE name and the company's famous Monogram logo, which dates back to Thomas Edison. But their new names also reflect a new beginning.
GE's healthcare business will become GE HealthCare, and GE's existing portfolio of energy businesses, including Renewable Energy, Power, Digital, and Energy Financial Services, will sit together under the brand name GE Vernova. GE Aerospace will be the name of GE's aviation business.
H. Lawrence Culp Jr., chairman and CEO of GE, and CEO of GE Aerospace, said, "Today marks a key milestone in GE's plan to become three independent, laser-focused companies. Leveraging GE's multi-billion-dollar global brand gives us a competitive advantage in our end markets, allowing these businesses to win in the future. Built on a foundation of lean and innovation, these brands will continue our mission of building a world that works and provide our customers with an important reminder of the strengths they value in GE."
GE spent six months to arrive at the new names. The company operates in 170 global markets, and its brand value stands at nearly $20 billion.[*]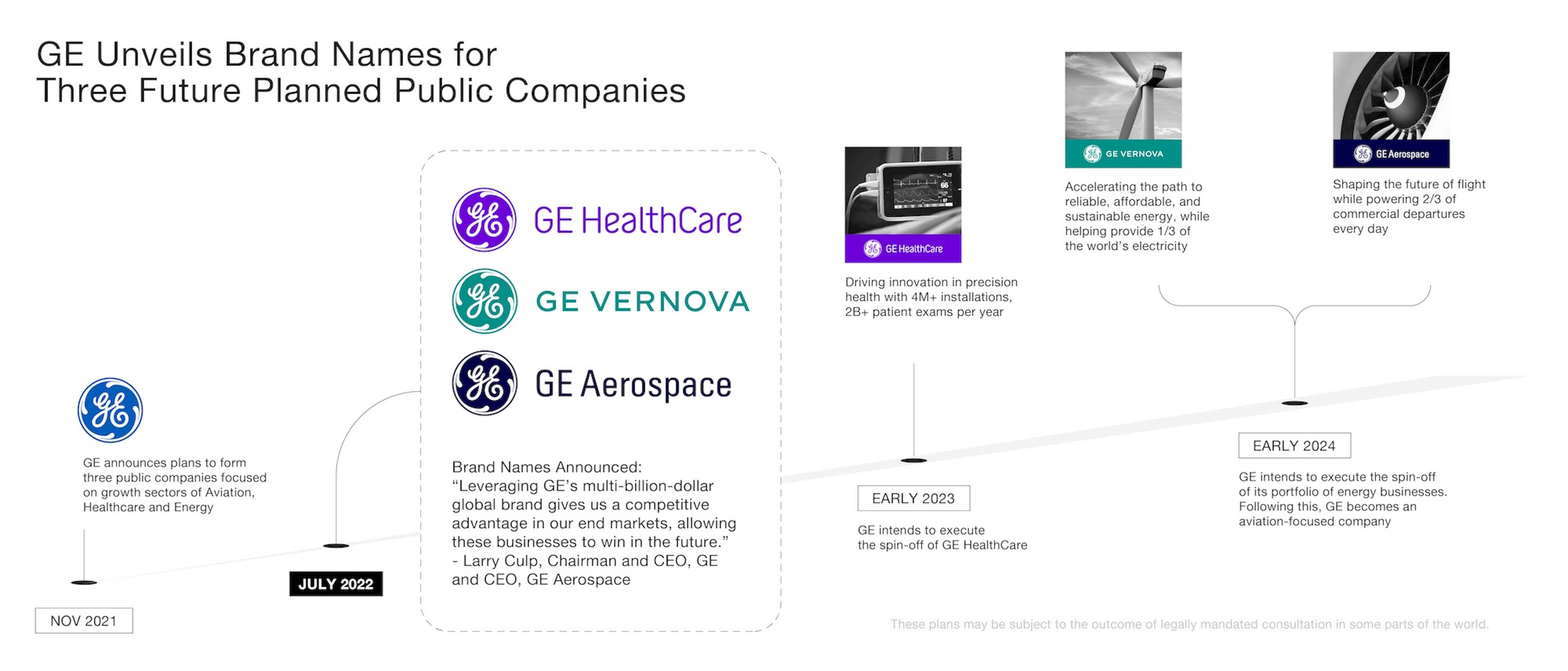 There's a good reason. GE's healthcare technology helps clinicians carry out more than 2 billion patient exams per year; its energy systems generate one-third of the world's electricity; and a plane powered by engineering from GE and its partners takes off every two seconds somewhere in the world.
GE HealthCare is set to be the first to leave the GE fold, in early 2023. It will focus on precision health to improve patient outcomes and address critical patient and clinical challenges. Building on more than 100 years of innovation, the GE HealthCare name and Monogram "will serve as an enduring badge of quality, safety, trust, and innovation," GE said in a press release. The color of GE HealthCare will be "compassion purple," to "reflect more humanity and warmth and achieve greater distinction," GE said.

In early 2024, GE plans to take public its portfolio of energy businesses as GE Vernova. This energy portfolio, which includes gas turbines, onshore and offshore wind turbines, grid technology, and software, is already helping customers around the world decarbonize and bring online more reliable, affordable, and sustainable electricity. GE explained that the new name is a "combination of 'ver,' derived from 'verde' and 'verdant,' to signal the greens and blues of Earth, and 'nova,' from the Latin 'novus,' or 'new,' reflecting a new and innovative era of lower-carbon energy that GE Vernova will help deliver. These attributes also are reflected in GE Vernova's new 'evergreen' brand color."
Following the planned spin-offs, GE will focus on aviation. GE said that the name for the business, GE Aerospace, sets forth "a confident vision to compete and advance in the field of aerospace and defense for future generations." The GE Monogram, new name, and new "atmosphere blue" brand color — representing the upper limits of the atmosphere —maintain the brand's strong standing in the aviation sector.

Following the planned separations,[†] GE Aerospace would also own the GE trademark and would provide long-term licenses to the other companies.
Linda Boff, GE's chief marketing officer, said that through "thousands of conversations" with customers and other stakeholders, "it became clear that the GE name and our century-plus-old Monogram represent a legacy of innovation, symbol of trust by global customers, pride for our team, and a talent magnet for future leaders."
Said Boff: "We're proud these future businesses will be able to build on GE's DNA of innovation."
---
[†] These plans may be subject to the outcome of legally mandated consultation in some parts of the world.
Categories