GE released its first-quarter results for 2018, starting the year off solid during a critical period. The company said it was on track to deliver on promises to customers, shareowners and employees in 2018. GE reported adjusted earnings of $0.16 per share, beating estimates. The company continues to see strength in its GE Aviation and GE Healthcare units with operating profit margin up 26 percent and 11 percent, respectively. The company said it remains on track to deliver $1-1.07 earnings per share for the year.
"The first quarter is a step forward in executing on our 2018 plan, and we are seeing signs of progress in our performance," said GE Chairman and CEO John Flannery. "Industrial earnings, free cash flow and margins all improved year over year. We reduced industrial structural costs by $805 million and are on track to exceed our cost-reduction goal of $2 billion in 2018."

Flannery continued:

Aviation, Healthcare, Renewables, and Transportation grew earnings, and BHGE continues to execute on its plan. Power is making progress on cost actions and operational and services execution, but the industry continues to be challenging and is trending softer than our forecast. We are working to resolve legacy matters in our discontinued operations, and we recorded a reserve of $1.5 billion related to the WMC FIRREA investigation. We are making significant progress on the $20 billion of dispositions planned for 2018 and 2019.  There is no change to our framework for 2018.

GE is staying focused on using technology to drive future growth. For example, during the first quarter, GE Renewable Energy announced Haliade-X, the world's most powerful wind turbine, and GE Power launched and energy storage platform called Reservoir.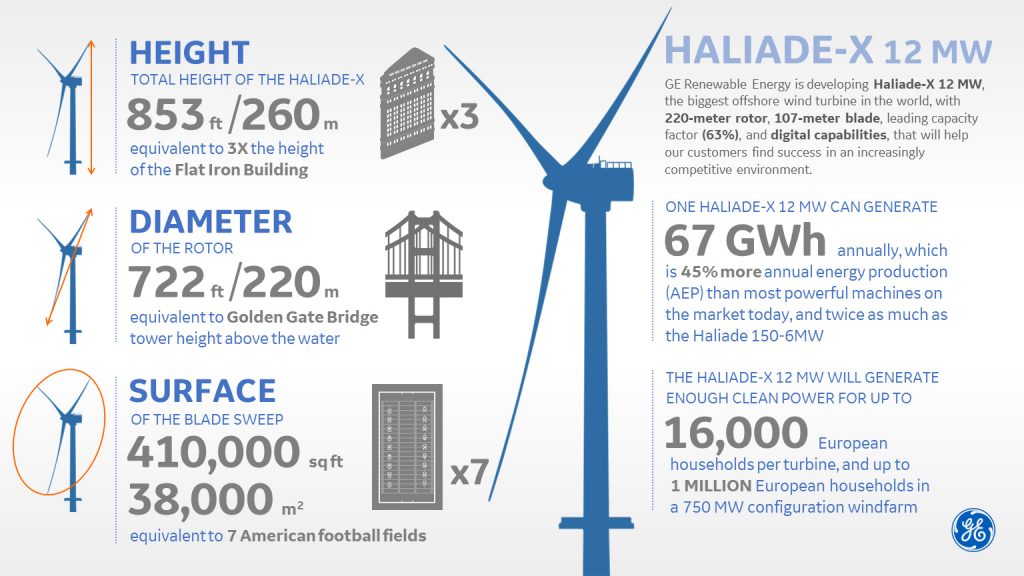 Haliade-X brought GE to the forefront of the offshore wind market. The 12-megawatt turbine will produce 45 percent more energy than any other offshore wind turbine available today and will generate up to 67 gigawatt-hours annually, which is enough renewable power for up to 16,000 European households.


Reservoir is a market changer for the business and also for storing energy. The Reservoir, which can store 4 megawatt-hours of energy in a 20-foot box, extends battery life by up to an estimated 15 percent, increases efficiency by up to 5 percent and reduces installation time and costs. It seamlessly integrates across the grid, enabling utility customers to bring more renewable energy on the grid more efficiently while reducing energy costs.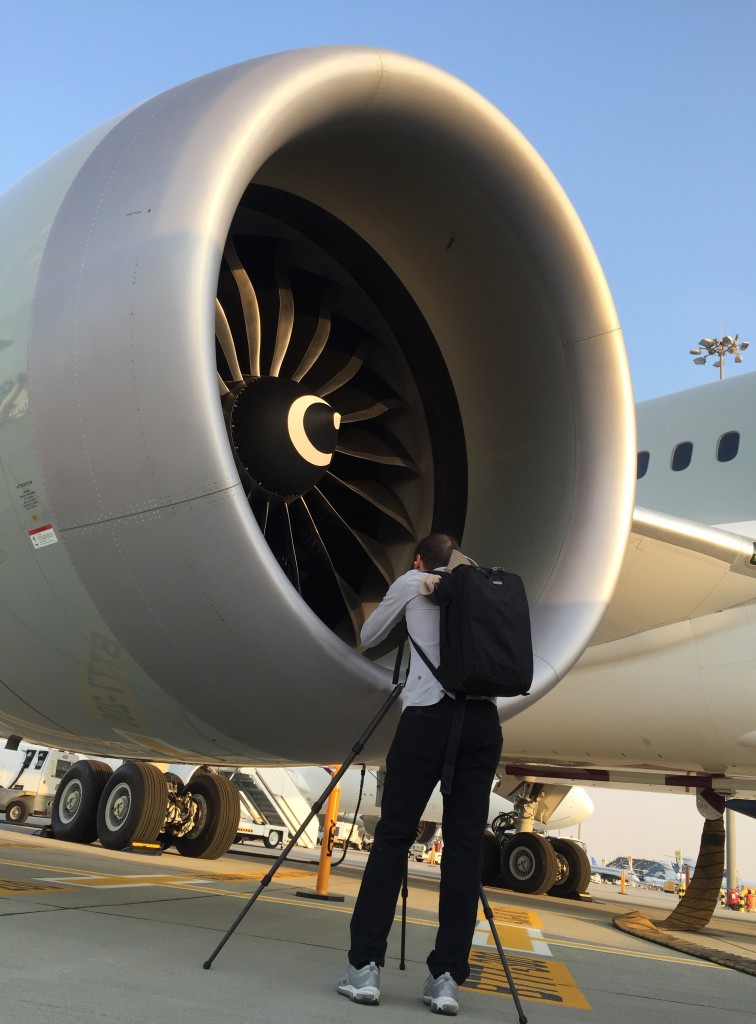 LEAP engines this quarter versus 77 last year. Commercial engine orders were up 39 percent at $2.4 billion with higher GEnx and LEAP orders, up 83 percent and 60 percent respectively from this time last year. The GEnx engine also powered a historic non-stop flight from Australia to London, and American Airlines selected it to power Boeing 787 Dreamliners in a $6.5 billion deal.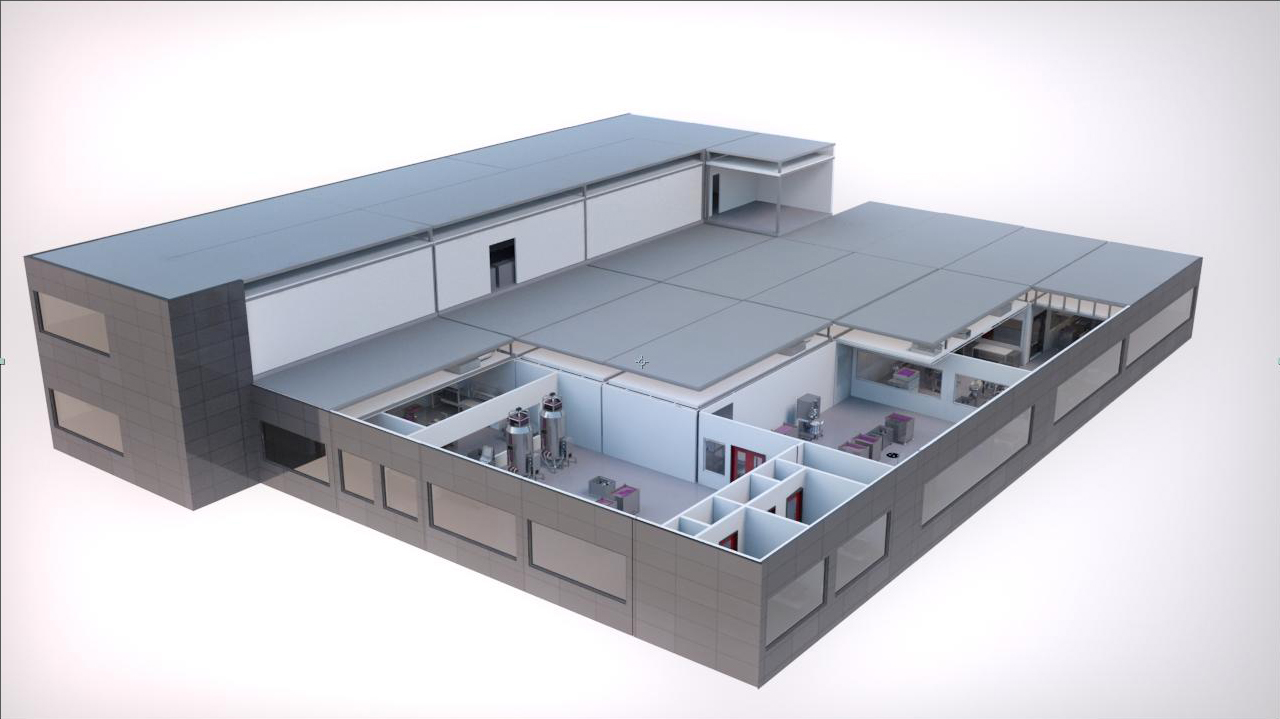 FlexFactory to speed up its timelines for commercializing CAR T-cell therapies, targeting various blood and solid tumor cancers. In addition, the business announced the disposition of its value based care division to Veritas for $1.05 billion, expected to close in the third quarter of 2018.

The company's Transportation business reported orders of $1.5 billion, up 46 percent from the first quarter of 2017. GE Transportation's revenues of $872 million were down 11 percent, with equipment revenues down 47 percent on lower locomotive volume. But the GE unit's profit was up 37 percent to $130 million, driven by services growth, which more than offset locomotive volume declines. The company received orders for hundreds of locomotives, including a 300-unit order in Kazakhstan and another 30 units in Ukraine.

For more information and highlights see our infographic: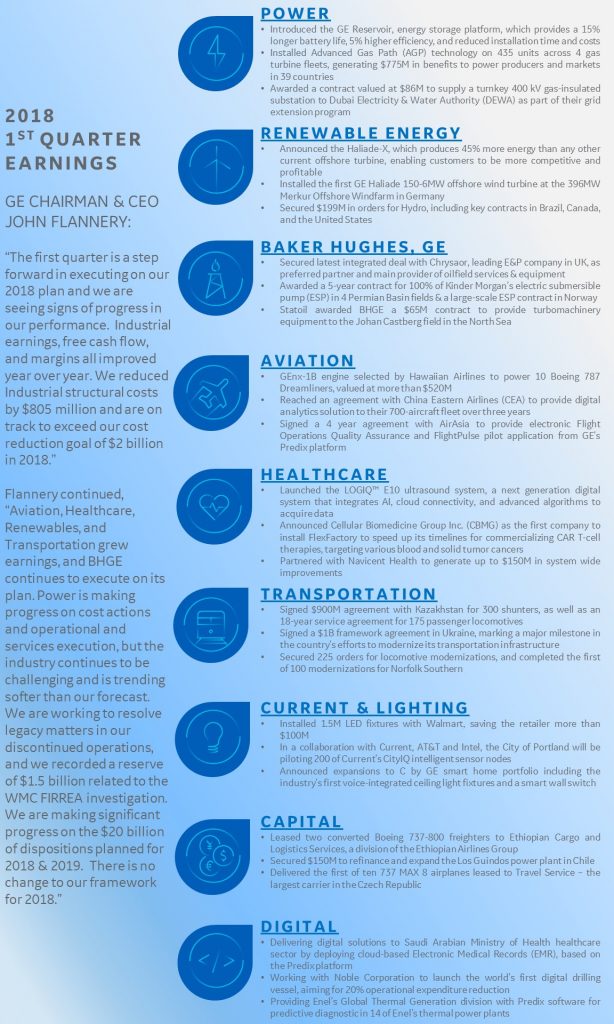 investor website.
Categories