It's been an eventful ~6 weeks at GE following our last earnings call. In case you missed it, last week GE Digital CEO and VP of Lean Transformation Pat Byrne joined an investor conference to share how GE is using industrial software and analytics to support our customers. Check out Digital's webcast and slides here. I also sat down for an investor update with GE Healthcare President and CEO Kieran Murphy. We discussed how COVID-19 is shaping the healthcare industry as well as GE Healthcare's financial framework and prospects for growth. Watch the video and learn about GE Healthcare's latest innovations here.

Inside GE, we continue our strategic planning processes for 2021 and beyond, including how GE can help lead the energy transition, deliver more personalized and efficient healthcare, and support safe flight across the globe. Our businesses continue to make these missions a reality, and I'm including a few recent highlights below, including several announcements made today. These announcements include our recent balance sheet actions with a link to our press release.

Finally, I'd like to thank many of you for voting GE Investor Relations and our CEO Larry Culp best in the electrical equipment and multi-industry sector in Institutional Investor's 2021 rankings. As always, we remain focused on continuously improving our communications with you and continuing to earn your trust.

Thank you for your continued interest in GE,
Steve

Continuing to solidify our financial position

This morning GE announced $4 billion of actions to further solidify GE's financial position, including voluntarily pre-funding $2.5 billion of estimated minimum ERISA GE Pension Plan funding requirements for 2021, 2022, and into 2023, and repaying $1.5 billion of GE's intercompany loan to GE Capital. These build on a series of proactive actions in 2019 and 2020 that, when combined with scheduled maturities in the fourth quarter, put us on track to reduce debt by approximately $14.5 billion in 2020 and by approximately $28 billion since the beginning of 2019.

As Larry Culp stated, "with line of sight to at least $2.5 billion of Industrial free cash flow in the fourth quarter and positive free cash flow in 2021, these steps further reduce debt, de-risk our balance sheet, and put us on stronger financial footing to accelerate GE's transformation." Read more about this morning's balance sheet actions here.

Delivering for customers in both offshore and onshore wind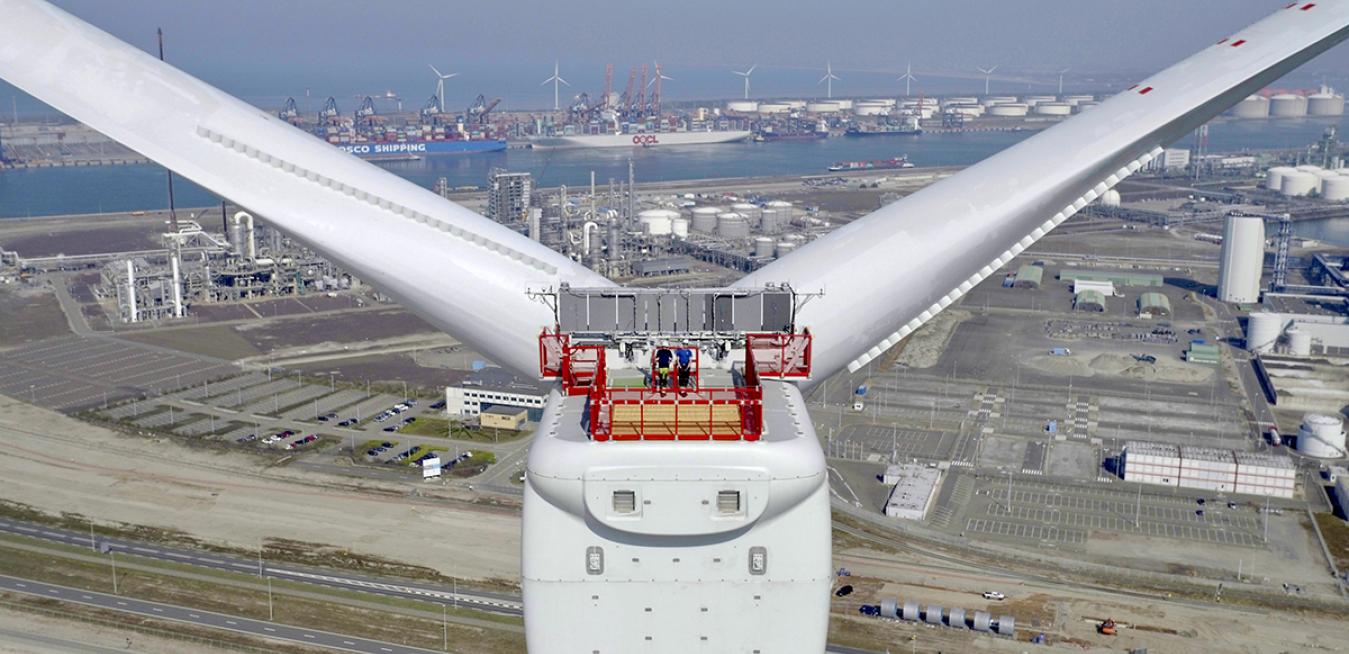 Last week, Vineyard Wind announced it selected GE Renewable Energy as the preferred turbine supplier for what is slated to become the first large-scale offshore wind farm in the U.S. The project will utilize our Haliade-X offshore wind turbines, the most powerful currently in operation. Vineyard Wind 1 would generate cost-competitive electricity for more than 400,000 homes and businesses in Massachusetts, and it is expected to reduce carbon emissions by more than 1.6 million tons annually.

This marks one of several exciting recent milestones for our Offshore Wind team. Last month, Dogger Bank Wind Farm, the world's largest offshore wind farm that will debut GE's 13MW Haliade-X wind turbines, reached financial close on debt financing for Phases A and B, supported in part by GE Capital's Energy Financial Services (EFS). This key milestone enabled project construction to begin. Separately, we also announced that the Haliade-X received a full type certificate from DNV GL, providing independent verification that the new turbines will operate safely, reliably, and according to design specifications. As a reminder, we also recently announced that the prototype is now operating at a 13-megawatt power output, and we expect to obtain a type certificate for the Haliade-X at 13 MW in the first half of 2021.

On the Onshore Wind front, Renewable Energy recently unveiled the 6.0-164 version of its Cypress onshore wind turbine platform, which makes it our most powerful onshore wind turbine available. Each turbine will produce enough electricity to power about 5,800 European households, and we expect it to be in the field by 2022.

Finally, today GE Renewable Energy announced an agreement with Veolia to recycle blades removed from its U.S.-based onshore turbines during upgrades and repowering efforts. As Anne McEntee, CEO of GE Renewable Energy's Digital Services business, said, "sustainable disposal of composites such as wind turbine blades has been a challenge [for the entire industry] … we look forward to working with [Veolia] on this effort to create a circular economy for composite materials."
GE and KOSPO announce first 7HA.03-powered plant in Korea

Earlier today GE Gas Power announced it secured an order from Korea Southern Power Co, Ltd. (KOSPO), a subsidiary of the South Korean national power utility, for equipment including the 7HA.03 gas turbine for KOSPO's Shinsejong Combined Cycle Power Plant. GE's gas turbines already provide more than 14,000 MW of South Korea's generation capacity with an installed base of over 74 units, and deploying the 7HA.03—the world's largest, most efficient, and flexible 60-Hertz gas turbine—at the Shinsejong plant will help KOSPO meet growing electricity demand while reducing emissions output.
Albany International Airport signs on as first customer to use GE's Wellness Trace App to track COVID-19 cleaning protocols

GE and Albany International Airport announced a new partnership to launch the first digitally focused airport aimed at integrating new technologies to make air travel safer during the pandemic. The partnership includes the deployment of GE Aviation's new Wellness Trace App, a first-of-its-kind platform to track COVID-19 health screening and cleaning protocols for both passengers and airport staff now in use at the Airport.
For more on GE's financial performance, click here to subscribe to GE's investor relations newsletter.
Important information about our forward-looking statements.
Categories
tags