For important information about our forward-looking statements, please see here.
I would first like to take a moment to say thank you for your ongoing engagement and feedback throughout 2019. As always, I appreciate hearing from you—the questions, the encouraging comments and the constructive suggestions intended to help make us better. As the year draws to a close and I reflect on both the progress and hurdles GE has faced over the past 12 months as well as the challenges and opportunities ahead, I am struck by the commitment, grit and resilience of the teams here; the upside potential from harnessing GE's technology, customer focus and installed base; and the signs I am seeing of real cultural change with increased candor, transparency and humility building momentum in all corners of the world.

Over the year, I have been speaking and working with employees across GE and marveled at how they develop technologies, serve customers, tackle challenges and grow their businesses. I have witnessed teams in action across the businesses relentlessly seeking better ways to serve our customers—weighing commercial and investment decisions and navigating both wins and setbacks during our new rhythm of strategic, operating and budget processes. I saw evidence of Lean activity in our factories, supply chains and field service for customers. I heard from customers about the importance of GE's technologies and service to help improve their businesses. In short, while I am among the first to acknowledge the challenges we face, I am personally excited about the prospects ahead and how we are going after them.

In that spirit, as we have highlighted in previous newsletters, our businesses have achieved several technology and commercial milestones throughout 2019. From launching the prototype of our Haliade-X offshore wind turbine, to powering the world's longest flight using the GEnx engines, and introducing a new generation of the 7HA gas turbine, we continue to innovate and expand our global reach. I outline a few additional recent highlights below.

We have also made meaningful progress in 2019 to improve our financial position including last week's announcement that we closed the previously announced sale of GE Capital Aviation Services' PK AirFinance unit to Apollo Global Management, Inc. and Athene Holding Ltd. Additionally, earlier this week the European Union conditionally approved the sale of GE Healthcare's BioPharma business to Danaher for approximately $21 billion. This is another step toward close, which we continue to expect in the first quarter of 2020.

As a reminder, we will present our 4th Quarter 2019 Earnings on January 29, 2020 from 8:00am – 9:00am ET. Materials and webcast information will be posted to GE's investor website ahead of the event.

Thank you for your continued interest in GE, and wishing you and yours all the best in 2020.

Steve Winoker
VP Investor Communications


---


GE Aviation awarded a U.S. Army contract to produce 1,700 T700 engines

The U.S. Army awarded GE Aviation an Indefinite Delivery Indefinite Quantity (IDIQ) contract this month for the continued production of T700 turboshaft engines in support of Army, Navy, Air Force, Marines, Coast Guard, Foreign Military Sales (FMS) and other government agency program requirements through 2024. The contract is valued at more than $1 billion for as many as 1,7000 T700 engines.

Today, the T700/CT7 family of turboshaft and turboprop engines power 15 types of helicopters and fixed-wing aircraft with more than 130 customers in more than 50 countries. The T700/CT7 family has surpassed 20,000 units delivered and more than 100 million total flight hours.


---


GE Aviation expands partnership with Aerion on supersonic business jet

Also this week, Aerion Supersonic, a leader in supersonic technology, announced that GE Aviation will design and develop the electrical power systems for the AS2 supersonic business jet.

The AS2 electrical power system design and initial integration planning work will be conducted at GE's Electrical Power Integration Centre (EPIC) in Cheltenham, UK, with final integration and procurement at GE's Electric Power Integrated Systems Center (EPISCenter), located in Dayton, Ohio. The AS2 will also be powered by GE's Affinity engine, the first commercial supersonic engine in 55 years.

"We conducted an extensive trade study, analyzing several providers and multiple power generation and distribution architectures." said Aerion CEO Tom Vice. "As a result, we have selected GE Aviation as our partner for the AS2 electrical power system. We are excited to expand our outstanding relationship with GE."


---
Lean Manufacturing helping GE Aviation's Batesville site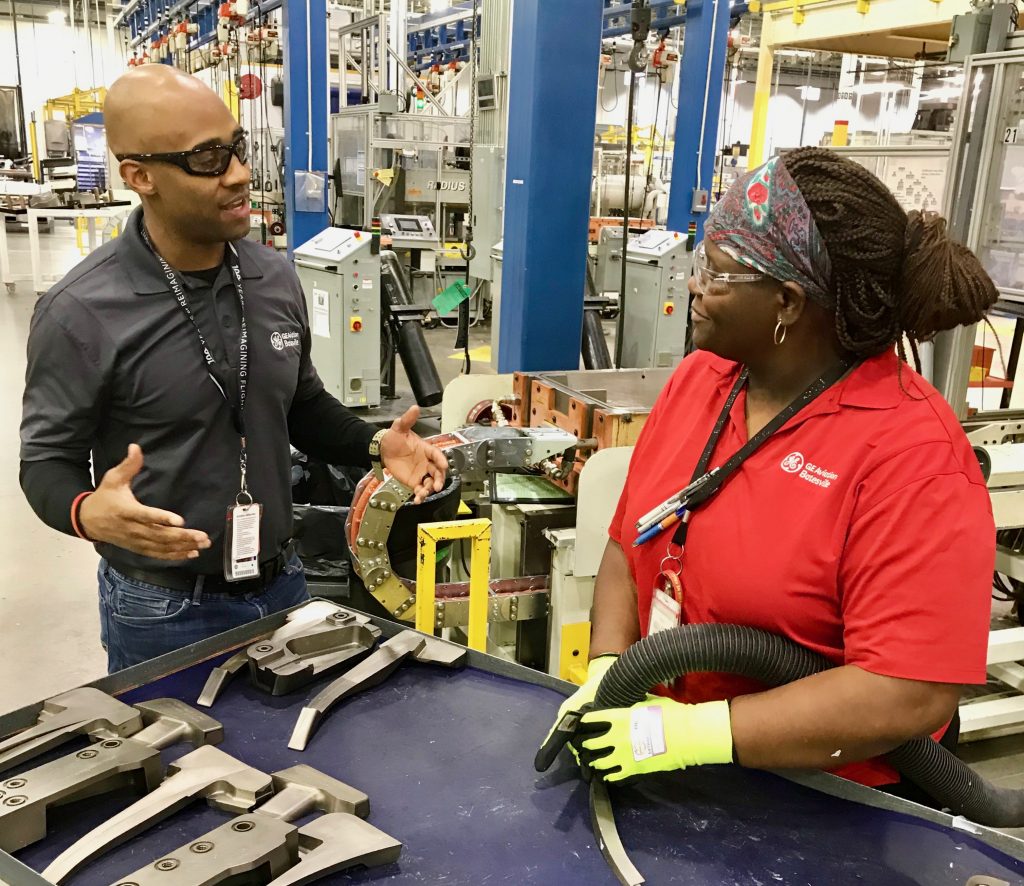 Batesville plant manager Michael Robinson talks with operator Lily Strickland.
GE Aviation opened a plant in Batesville, Mississippi
 in 2008 that makes cutting edge carbon composite parts for the GEnx, GE9x, LEAP, and Passport engines.
From 2008 to 2016, the plant experienced rapid expansion to meet the needs of the growing aviation industry. By the time that the production of parts for the LEAP engine was set to come online in 2016, the plant was running behind schedule and was scrapping as much as an eighth of parts due to manufacturing defects. By early 2018, the plant was losing as much as 15% of its production due to defects to tight tolerances and high standards required from new technologies. Joining in 2018, Plant Manager Michael Robinson made the decision to stop the line for one week to determine where the defects were.
Using Lean, the Batesville plant has been able to reduce losses by more than 60% so far, saving millions of dollars' worth of waste this year. As Robinson says: "It's not easy to keep it going and as you start showing signs of improvement or as you start having more fires erupt, you start deviating from your standard practices. I think that's something that we've done a great job in Batesville. We stick to that rigor and rhythm every day."
Read more
 about the teams Lean journey or 
watch the video
.
---


Aviation overhaul shop utilizing Lean to improve operational outcomesTeams at Aviation are hard at work improving operational outcomes through the deployment of Lean across the business. One powerful example is at our Wales overhaul shop that primarily services and tests GE90 & CFM56 engines. Last week, the team took us through how they are aligning operations with customer needs and showed us how they are driving operational efficiencies (ultimately cost and cash) as measured through operational output goals (e.g. lowering turnaround times for engine overhauls). Lean was in action at both individual control centers and total plant control centers, highlighted by strong visual management (9 blockers of critical metrics – greens and reds focused on customer impact aligned with Safety, Quality, Delivery and Cost (SQDC), completed and evolving value stream maps, and a view of current and future repair shop strategy. Lean is being implemented from the ground up, with the teams self-identifying problem areas.

A great example is in the Component Repair Runner & Repeater teams where, one year ago, they identified an opportunity for significant waste reduction and established "strive for five" (repair days) as a new target for the current small components team. Previously component repairs had a cycle time of between 20 to 90 days. By redesigning the shop floor layout, the teams have been able to achieve this goal for 92% of all components repaired, and they now have line of sight to continued improvement with a focus on 'door to door' turnaround time to drive maximum customer metric impact. As we walked across the control centers, we could see current goals and the roadmap of milestones achieved, investments made and future aspirations. It's a continuous and ongoing process.

Our takeaway was that the teams in Wales are hands on, proud of their progress, yet humble on the challenges and opportunities that still exist.


---
GE Renewable Energy' Haliade-X prototype sets world record  
Last week, the Haliade-X became the first wind turbine to generate electricity at 12 MW for 24 consecutive hours, effectively generating 288 megawatt-hours in a single day.
Earlier this week, the prototype for Renewable Energy's Haliade-X 12 MW offshore wind turbine, now operating in the Netherlands, set a new world record by being the first wind turbine ever to generate 262 MWh of clean energy in 24 hours, enough energy to power 30,000 households in Europe. Electricity generated by the prototype, which produced its first electrons in November, 
will be sold to energy company Eneco
, which will supply it to customers.
Says John Lavelle, CEO of Offshore Wind at GE Renewable Energy: "The testing that the prototype will undergo is one part of a multifaceted testing process that will enable us to commercialize the Haliade-X by 2021, just in time for the strong growth uptick we are seeing in offshore wind worldwide."
The Eneco deal is an important milestone in the commercialization of our Haliade-X program, 
which last month made Time magazine's Best Inventions 2019 list
. The Haliade-X program is part of a multi-million-dollar investment that will contribute to reducing the levelized cost of electricity (LCOE) by making offshore wind a more competitive source of renewable energy. The global offshore wind market is projected to grow from just over 20 GW today to 190 GW by 2030 according the Global Wind Energy Council, and the International Energy Agency has projected that the total investment in offshore wind could top $1 trillion by 2040.
---
GE Renewable Energy secures onshore wind agreements
GE Renewable Energy was also 
selected by Holmen as the wind turbine supplier
 for the 143 MW Blåbergsliden onshore wind farm in Sweden. The project will use 26 turbines from GE's Cypress onshore wind platform, which represents GE's second Cypress-equipped wind farm in Sweden. The deal also includes a 25-year service contract. The project is expected to be fully commissioned and operational by the end of 2021.
Based on statistics from the Swedish Energy Agency and the Swedish Bureau of Statistics, the proposed project capacity is approximately 143 MW which would generate enough energy for over 135,000 homes and save over 13,000 tonnes of greenhouse gas on a yearly basis.
The Cypress platform offers two benefits ideally suited for the Nordics region as its two-piece blade design makes it easier and more cost-effective to serve remote areas. The Cypress is the most powerful onshore turbine currently operating commercially. It also enables Annual Energy Production (AEP) improvements, increased efficiency in serviceability, improved logistics and siting potential, and ultimately more value for customers.
---
Fairview Energy Center reaches full operations ahead of schedule
Competitive Power Ventures (CPV) and its partner Osaka Gas announced that their $1 Billion, 1,050 MW Fairview Energy Center in Jackson Township, Pennsylvania 
is now fully operational.
 This project utilizes GE's 7HA.02 gas turbines, a steam turbine, generators and additional controls equipment. This technology provides cleaner, more reliable and sustainable power to customers.
The original order for two 7HA.02 turbines and additional equipment was 
announced
 in 2017 with an expected completion date of 2020.
CPV CEO Gary Lambert says, "Thanks to the outstanding team effort with our partner Osaka Gas USA and Kiewit our construction contractor, with General Electric as major equipment supplier, the CPV Fairview Energy Center is now fully operational on budget and significantly ahead of schedule."
---
GE Healthcare partners with MIT Technology Review Insights on an artificial intelligence study
A 
study
 conducted by MIT Technology Review Insights with GE Healthcare evaluated the impact of artificial intelligence (AI) in the Health care industry. The survey of more than 900 medical professionals in the US and UK found that:


Of business and administrative health-care professionals, 80% believe AI is helping them improve revenue opportunities.


78% of medical staffers report that their AI deployment have already created workflow improvements.


93% agree that AI has improved the speed and accuracy with which patient data is analyzed and shared.


Developing AI, machine learning, and digital applications for healthcare systems is an important growth opportunity for our Healthcare business, which we described in more detail during our GE Healthcare Investor Day and digital showcase held in conjunction with the annual RSNA meeting. In case you missed the presentation, you can find the materials 
here
. We announced several new products and investments in this area at RSNA, including:
Top image: The Fairview Energy Center in Jackson Township, Pennsylvania. Image credit: CPV.
Categories
tags