GE will give $50 million in philanthropic funding for schools, job training and healthcare to Boston, its new home.
There are some 55 colleges and universities - including Harvard and the Massachusetts Institute of Technology (MIT) – in and around the city and Massachusetts spends great amounts on R&D. When GE Chairman and CEO Jeff Immelt announced the move to Boston in January, he said GE was coming to Boston because it wanted to be "at the center of an ecosystem that shares our aspirations."

The new grants, which target public high schools, community clinics and "underrepresented" groups, will help make that ecosystem larger.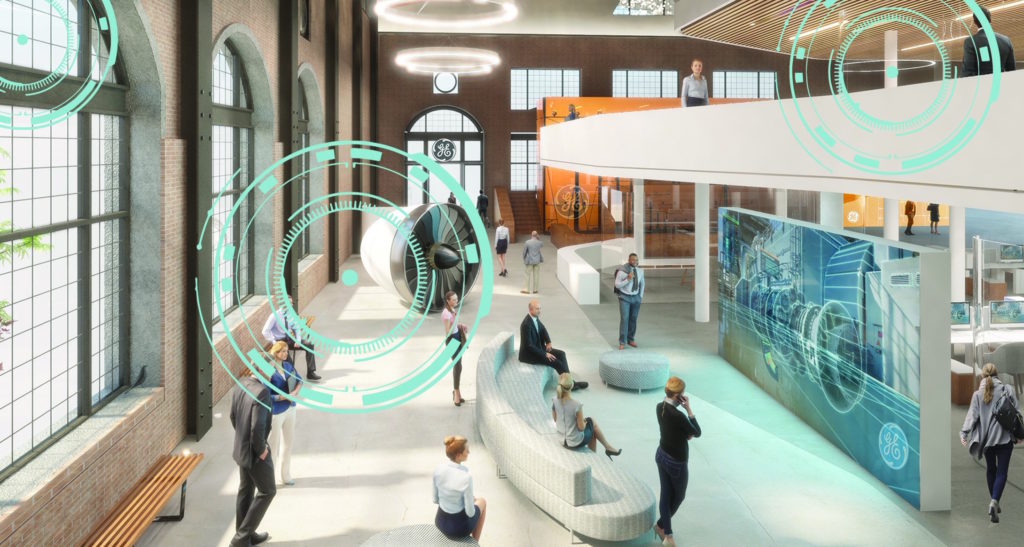 Top: An aerial view of Boston. Image credit: Getty Images Above: An artist's rendition of GE's new headquarters in Boston's Seaport District. Image credit: GE Reports

One-half of the commitment — $25 million — will go to the city's public high schools for career planning and computer science, $15 million to community health care in areas that need greater capacity for medical care and $10 million to increase the diversity in the workforce for jobs of the future.

Kelli Wells, executive director for education and skills at the GE Foundation, said GE would help set up "brilliant career labs" for all of the students attending Boston's 34 public high schools. The labs will expose students to software, robotics and new technologies like 3D printing, but also help them plan and prepare for college and careers. "High school students often don't know what they want to do, and if they do, they don't know what they need to get there," Wells said. "I've talked to students who were excited about renewable energy, but they've never seen a wind turbine or a solar panel and don't know what jobs exist in the field."

Wells said part of the money will go to assisting educators who to teach STEM disciplines — science, technology, engineering and math. " "Teachers, counselors and administrators are excited to know what are the skills necessary for the jobs of the future."

The $15 million to support programs to build capacity at community health centers, or CHCs, will help pay for staff training at the 22 facilities in Boston. "This training includes the use of medical data and IT, leadership and workforce development skills, and increased access to specialty care," said David Barash, executive director for global health programs at GE Foundation. Half of Boston's 750,000 residents get treatments at CHCs. They often lack insurance and use Medicare, and suffer from more complicated conditions than the general population. "We want CHCs to deliver optimal treatment for common, complex medical conditions like cardiovascular disease and addiction at the primary-care level." The program could eventually cover the whole state of Massachusetts.

GE Foundation will use the final $10 million to promote STEM and healthcare education among "underrepresented populations", giving them access to GE employees and leaders as well as to the company's manufacturing labs in the area.

There are already almost 5,000 GE employees working in Massachusetts. An economic impact study from Oxford Economics found that GE's move to the state will add 4,000 new jobs in the Boston area, including temporary construction jobs and permanent GE employees and vendors; $776 million in new real estate demand; $260 million in new income (GE salary and indirect); and $28 million to local vendors.

GE announced the move of its current headquarters in Connecticut in January.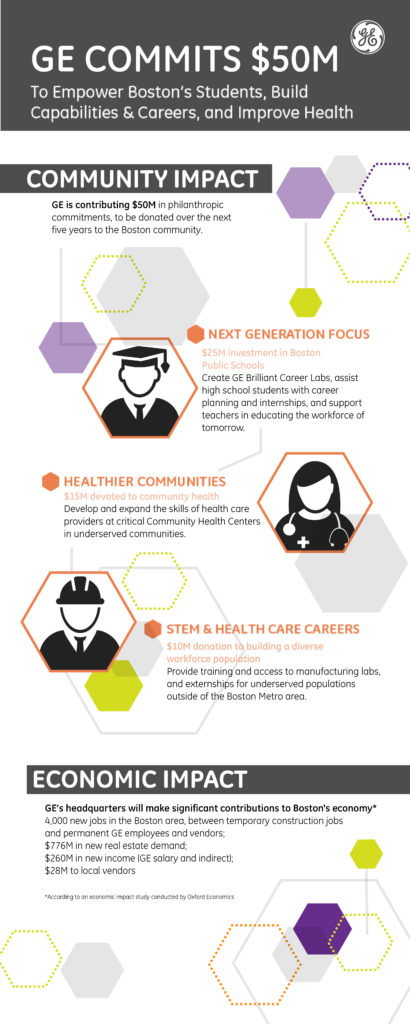 Categories
tags