GE released third-quarter results today. Industrial operating plus GE Capital verticals earnings reached $0.32 per share, up 10 percent compared with the third quarter of last year.
The company also announced that it has returned $25 billion to shareowners since January, including $18.1 billion through share buybacks and $6.4 billion through dividends. GE's backlog ended the quarter at $319 billion, up 18 percent since the third quarter of 2015. Of the $319 billion backlog, $234 billion was from industrial services, marking the single largest services backlog quarter ever for GE Power, GE Renewable Energy, and GE Aviation.

"GE had a good quarter in a slow-growth environment," said GE Chairman and CEO Jeff Immelt. "Globally, growth continues, but at a low level. There is sufficient opportunity out there to achieve our goals, but we plan to control our costs even tighter as we navigate this environment."

GE is narrowing its earnings per share guidance for the year and updating organic revenue outlook. At the same time, the company is increasing its free cash flow plus dispositions range and returning $4 billion of additional cash to shareholders through buybacks.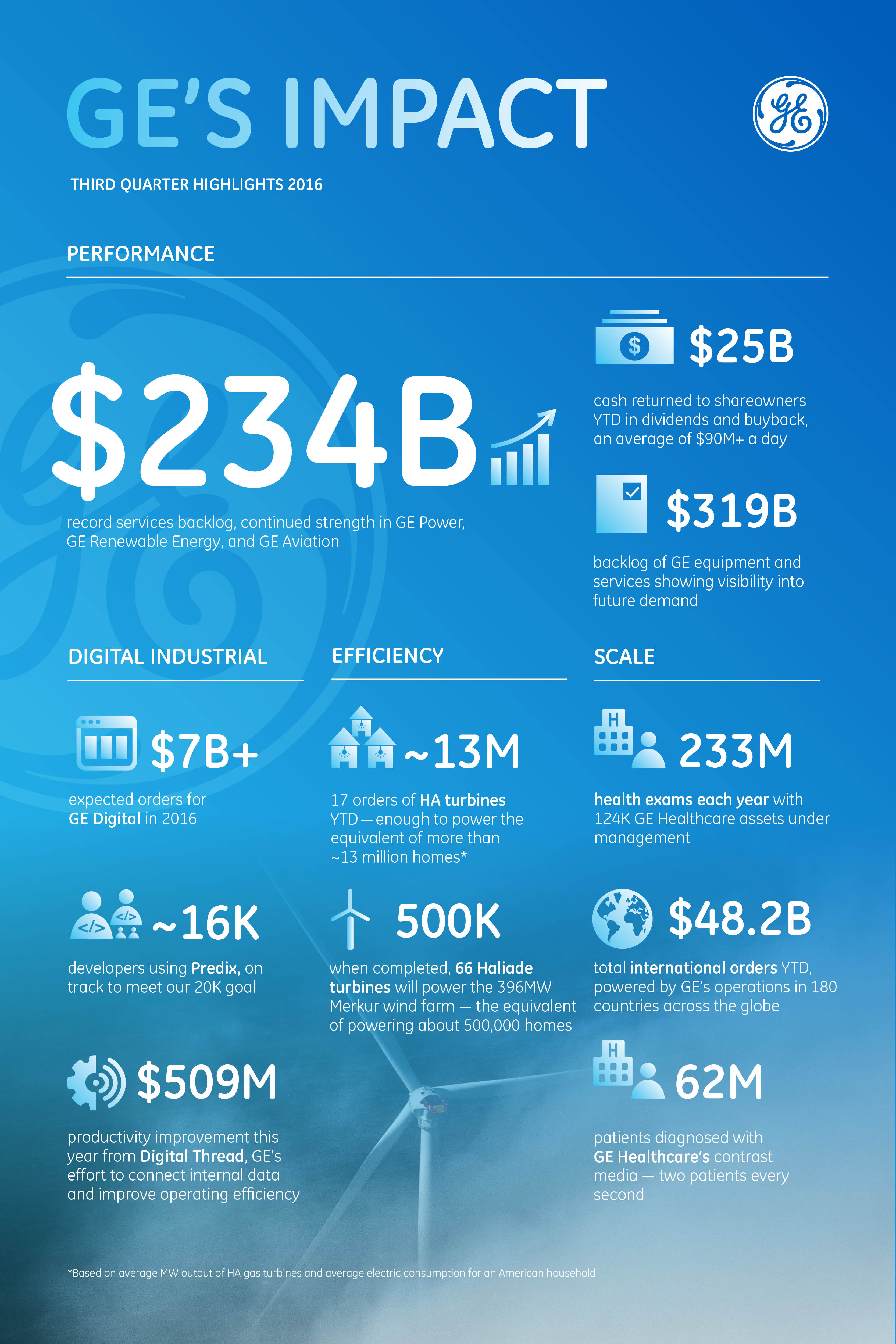 Immelt said GE's diverse, digital industrial strategy continues to enable the company to deliver in the current environment. He noted the company achieved "strong performance in power, renewable energy, aviation and healthcare" in the quarter and continued to perform in a challenging oil and gas market.

As the industry navigates tough economic and geopolitical markets around the world, Immelt said, GE is "investing for the future and executing [its] digital industrial strategy for customers and investors." GE has made a number of acquisitions, portfolio moves and announcements during the quarter to emphasize this point.

Earlier in the quarter, GE Healthcare Life Sciences acquired Biosafe Group, who makes equipment to manufacture cell therapies for diseases such as cancer. By bringing together GE's digital technology and Biosafe's expertise and innovative systems, customers can receive world-class, efficient cell therapy processes and gain increased access to regenerative medicine.

In October, GE announced plans to acquire LM Wind Power, a leading manufacturer and supplier of wind turbine blades. Rotors with LM Wind's blades can stretch to over 180 meters in diameter to capture wind and maintain torque — longer than two football fields put end to end. These kinds of deals also offer opportunities to enhance wind turbine performance and efficiency with software and other technology, ultimately adding flexibility and reducing energy costs for customers.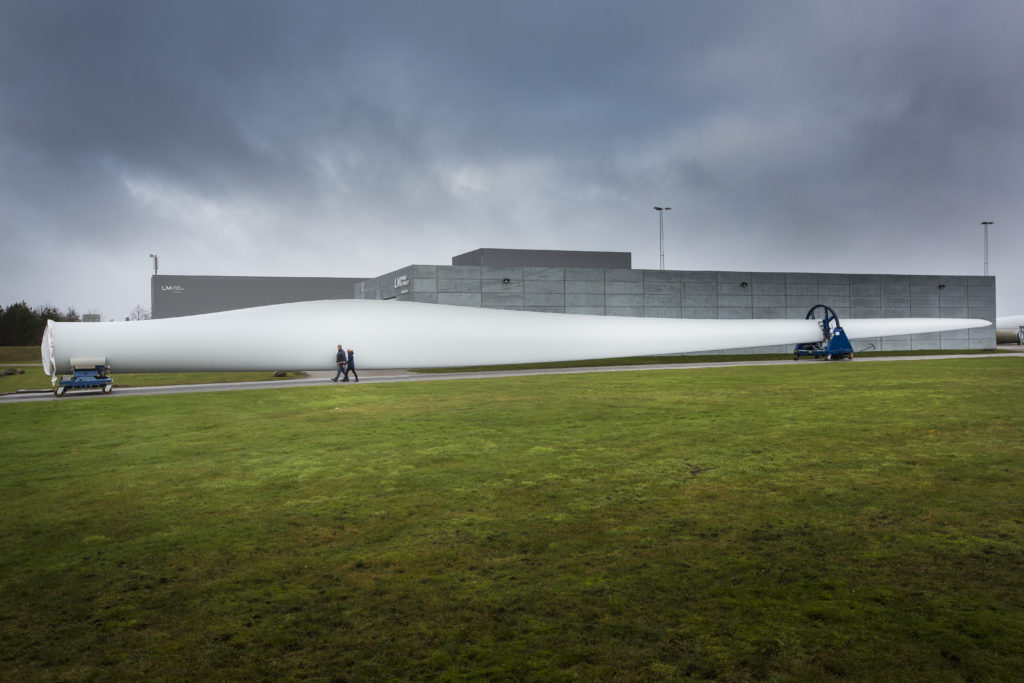 LM Wind made the world's largest blades for a rotor stretching 180 meters in diameter. Top and above images credit: LM Wind

GE also announced plans to expand its additive manufacturing capabilities with leading producers in advanced metal powders and metal-based advanced manufacturing. Using additive techniques, GE Aviation can produce nozzles that are 25 percent lighter and significantly more durable than traditional parts.

GE Aviation announced that the first LEAP engine entered service with Pegasus Airlines on its Airbus A320neo aircraft. The LEAP engine, which was developed by CFM International, has received more than 11,500 orders and commitments to date, making it the fastest-selling engine in aviation history. CFM is a 50/50 joint venture between GE Aviation and France's Safran.

Following the acquisition of Alstom's power and grid business in 2015, one of the largest in GE's 124-year history, the company also has kept integrating Alstom's technology into its offerings. GE saw $5.2 billion in Alstom orders in the quarter, reporting a book-to-bill ratio of 1.4 year to date, which means GE received more orders than it filled — an indication of strong demand.

GE Power continued to see strong demand for its "HA" gas turbines, marking the tenth consecutive quarter with new orders for the world-class turbine. With six new orders booked and seven units shipped this quarter, GE Power has received 17 orders for HA turbines year to date — enough to power the equivalent of about 13 million American homes.

GE Digital continued to grow its portfolio and acquired Meridium, a leading developer of asset performance management software across industries such as oil, gas, electricity and chemicals. The deal, valued at about $500 million, is just one example of the business's expansion of technology and partnerships. In Saudi Arabia, GE Digital signed an agreement with Saudi Technology Development & Investment Company to work together and create digital industrial solutions using Predix, GE's cloud-based operating system for the Industrial Internet, to support the Kingdom's Saudi Vision 2030 and diversify the country's industrial economy.

GE Digital's developer base also is growing. To date, the business has close to 16,000 developers registered and using Predix, on track to reach 20,000 developers by the end of the year. Across GE, the company has hired approximately 28,000 software engineers.

GE has also kept divesting certain financial services assets. In April 2015, GE announced plans to sell about $200 billion of its GE Capital assets by 2018. Today, GE has signed $193 billion in GE Capital deals and closed $175 billion.

Subscribe to GE Reports and receive more stories from GE.
Categories
tags