La Compagnie's new Airbus A321neo jet isn't a large plane as passenger jets go — it fits 76 reclining seats in its all-business class configuration — but when it arrived at the Paris Air Show on Tuesday, it heralded big changes in the industry. That's because the twin-engine, single-aisle plane is capable of flying nonstop across the Atlantic from Paris to Newark, New Jersey, on a single tank of fuel, a task that required much larger airplanes in the past.
The aircraft can jump across the pond so efficiently in part because of a pair of LEAP jet engines developed by CFM International, a 50-50 joint venture between GE and France's Safran Aircraft Engines. The same engine also lifted CFM and GE to record highs at the show, one of the premier aviation events in the world, providing the bulk of $55.3 billion tally they are bringing home in deals. "It has been an absolutely incredible week," said Gaël Méheust, president and CEO of CFM International. "We have had follow-on orders from long-time customers while welcoming new LEAP operators, including IndiGo for the LEAP-1A and the recently announced letter of intent from IAG for 200 Boeing 737 MAX airplanes for which we look forward to finalizing the LEAP-1B portion of the deal."
The IndiGo deal, valued at $20 billion, includes jet engines for 280 A320neo and A321neo jets, as well as spare engines and services. It was the largest single engine order by quantity in history. The AirAsia deal, valued at $23 billion, includes a mix of engines and long-term services. It was the largest order in aviation history by value.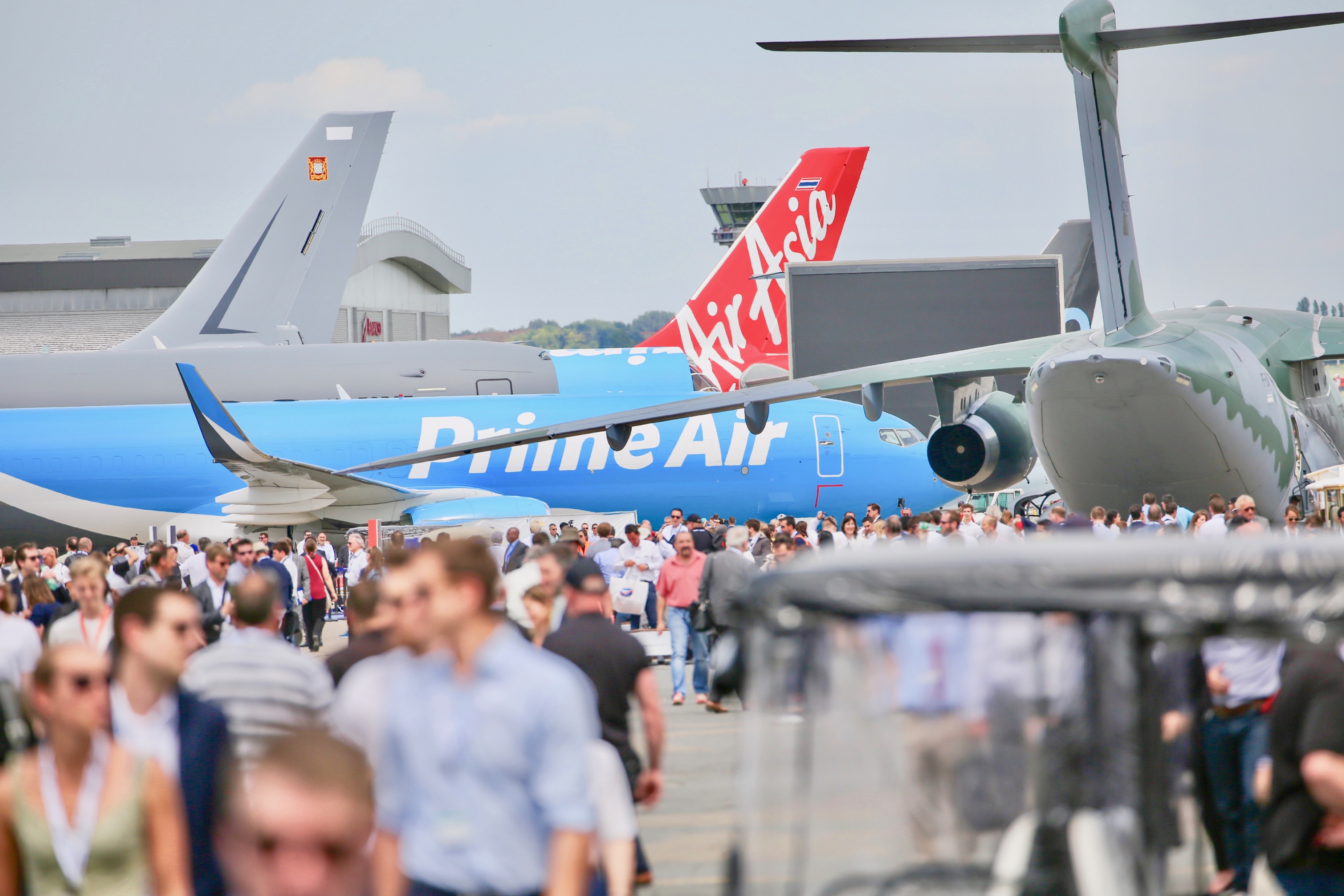 CFM International has been a long, productive partnership. Since the partners came together in the 1970s, they have won orders for more than 50,000 engines and delivered 35,000. These engines power 20 different types of commercial and military planes for more than 600 operators around the world.


But the show wasn't all about business. This year in Paris, GE Aviation was celebrating 100 years in business. It brought here its first aircraft offering — a turbosupercharger. Originally intended for a gas turbine to generate electricity, the machine found second life up in the air, allowing early planes to retain their power at high altitudes.




This know-how allowed GE to develop the first U.S. jet engine, creating a path that led to the LEAP engine as well to the GE9X, its latest jet engine and the world's largest. "[It is] the biggest, most advanced, wide-body engine in the world," said David Joyce, GE Aviation president and CEO. "This engine's 134 inches in diameter, it has additive manufacturing technology, [and] ceramic matrix composites. It's a terrific product." GE Aviation developed the engine for Boeing's new 777X wide-body passenger jet.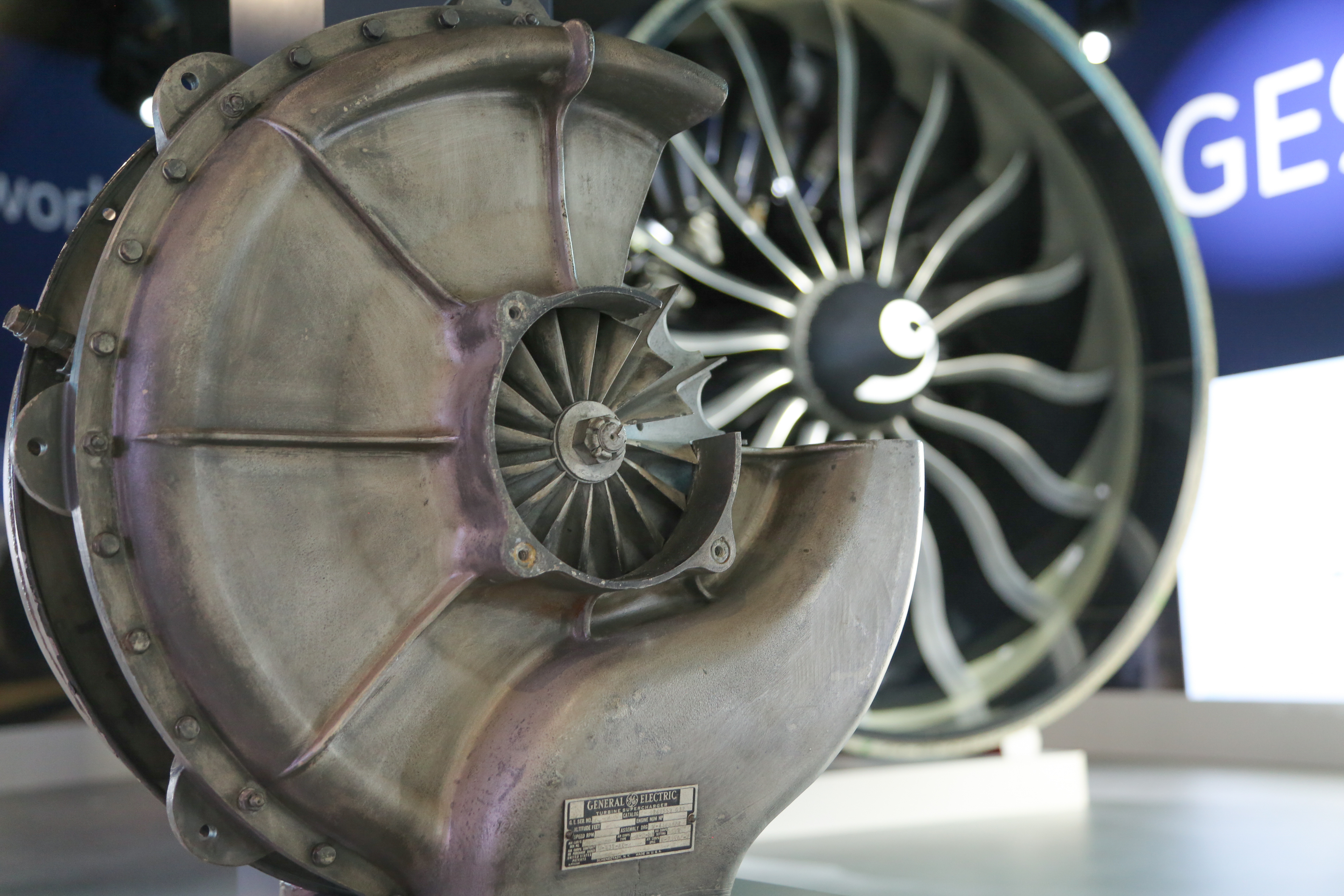 The company unveiled the engine at its pavilion in Paris, its 11-foot fan dwarfing hundreds of visitors who took pictures with it. Many of them stopped by GE Aviation's digital and avionics display. FlightPulse, one of the flight analytics systems featured, helps pilots sift through data and reduce the amount of fuel they burn. "What programs like these do is help the individual see the impact of what they are doing," said Jon Dunsdon, chief technology officer at GE Aviation Digital, pointing to the 2,400 Qantas pilots who noticed a change in their habits while testing FlightPulse. "Data can be a huge motivator." The digital unit announced a number of deals in Paris, including with customers like Qantas, Swiss International Airlines and Avation.


But even with a century's worth of innovation, GE and CFM won't stop thinking about the future. "We want to be ready for the next upgrade, we want to be ready for the next engine, we want to be ready for the next generation in this industry," said Allen Paxson, the highest-ranking executive representing GE in the CFM joint-venture partnership.




Paxson has been looking at technologies like 3D printing and newer heat-resistant materials like ceramic matrix composites. "It's about lightweight, more durable materials that can withstand higher temperatures and pressure ratios inside the engine compressor. You want to extract the energy out of the fuel and turn it into heat and thrust, which we can then convert into power for the aircraft. The more efficient you can be, the less waste and friction you have. Aerodynamically, this is what we're always looking for." He's also exploring electrical hybrids. "We're looking at hybrid electrics and how electric power can assist the engine during its mission, as well as help power the aircraft in a bigger way," he said.




Said Paxson: "20 years from now, the industry won't be the same."





Categories
tags