May 7, 2020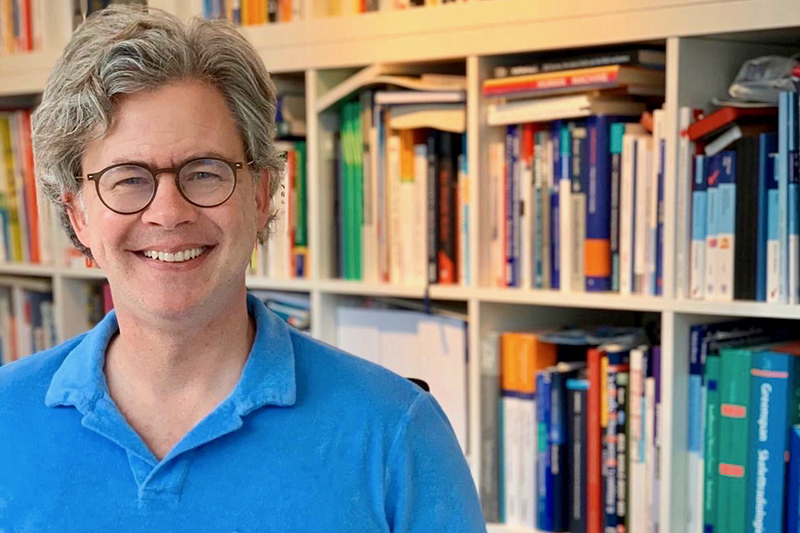 The new coronavirus is changing healthcare in obvious and immediate ways — but it's also accelerating broader changes that will last long past the pandemic. It's Mathias Goyen's job to think about all the changes, both now and in the future. As GE Healthcare's top medical officer in Europe, he's in the thick of the fight against the coronavirus, and recently detailed to IEEE Spectrum "how the pandemic is reshaping medical-tech priorities and research." Goyen, the publication explains, "is known for evangelizing the use of artificial intelligence and other advanced technologies to help manage the vast data streams and challenging computational chores on which so much of healthcare now depends."
Get smart: Right now, Goyen's confidence in the power of AI looks like it was well-placed. "AI is playing a part in each stage of the COVID-19 pandemic," he said. "From predicting the spread to also powering tools that can really help humans in the hospital to limit human interaction." Digital technologies won't replace healthcare workers, but they can take over time-consuming tasks and free clinicians up to do the truly irreplaceable work of patient care. AI can also alert doctors to abnormalities in images of the lungs of COVID-19 patients (see items below). "People are thinking it might be possible with an algorithm using AI to see patterns in the image that are not visible to the human eye, not even to the best human eye," Goyen told IEEE Spectrum.
Read the full interview here.
How much data flows through "vast data streams"? Speaking with GE Reports just a few months ago, Goyen explained that a single mammogram image of the breast contains more data than the physical phonebook of Berlin. Long before the pandemic began, GE Healthcare was developing ways to use artificial intelligence to mine such data for insights that could help doctors make diagnoses, or help hospitals manage patient flow. A survey published by MIT Technology Review Insights with GE Healthcare last December, suggests the work is paying off: Nearly half of healthcare professionals in the U.S. said AI is boosting their ability to spend time with and provide care to patients.
Shades of grayscale: What does that look like in practice? Take radiology. An algorithm can zero in on telltale patterns in grayscale images of the body much faster than even the most eagle-eyed radiologist, because even the most observant human can't see 256 shades of gray. AI, though, can — and therefore can help doctors pinpoint abnormalities sometimes in a matter of seconds. This can be especially helpful during the current pandemic. "We are fighting the battle of our lifetime," Kieran Murphy, GE Healthcare president and CEO, recently wrote in Barron's. "And like wartimes past, we will emerge with a few timeless lessons to carry with us into the future. One of those is already clear: Data, analytics, AI and connectivity will only become more central to delivering care."
Learn more here.
One technology utilizing AI is ultrasound. Typically associated with imaging fetuses in the womb, ultrasound may not sound like a natural candidate for the COVID-19 pandemic. Yet doctors are finding it highly useful to take scans of patients' lungs because the machines are easy to move and clean, and clinicians can use them in the ICU or at the bedside. And the latest ultrasound systems have an advantage: They're AI-enabled, giving physicians an extra diagnostic boost.
A better view: Ultrasound machines have become useful tools because they can help doctors monitor COVID-19's telltale lesions just below the pleura, the membranes that envelop the lungs, and the body wall. But AI can add diagnostic speed. Trained on hundreds of thousands of ultrasound images, algorithms can automatically detect irregularities and giveaway patterns in the grayscale and highlight them for clinicians. That helps doctors get a handle on the extent of an infection in just a few seconds, allowing them to more quickly make triaging decisions. "It has been underestimated, the power of ultrasound in the intensive care unit," said Antonio Spera, general manager for GE Healthcare in Italy. "It's now exploding."
AI-enabled ultrasound can also help monitor the body's response to infection — and alert doctors to signs of sepsis, an immune system overreaction. Learn more here.
— QUOTE OF THE DAY —
"Once this pandemic abates, the healthcare industry will look very different from today — but this industry will only get stronger from our experience. COVID-19 has highlighted the need to build and truly invest in and scale a new digitalized infrastructure — and quickly."
— Kieran Murphy, president and CEO of GE Healthcare
Quote: GE Reports. Image: GE Healthcare.
ENJOY THIS NEWSLETTER?
Please send it to your friends and let them know they can subscribe here.