May 5, 2020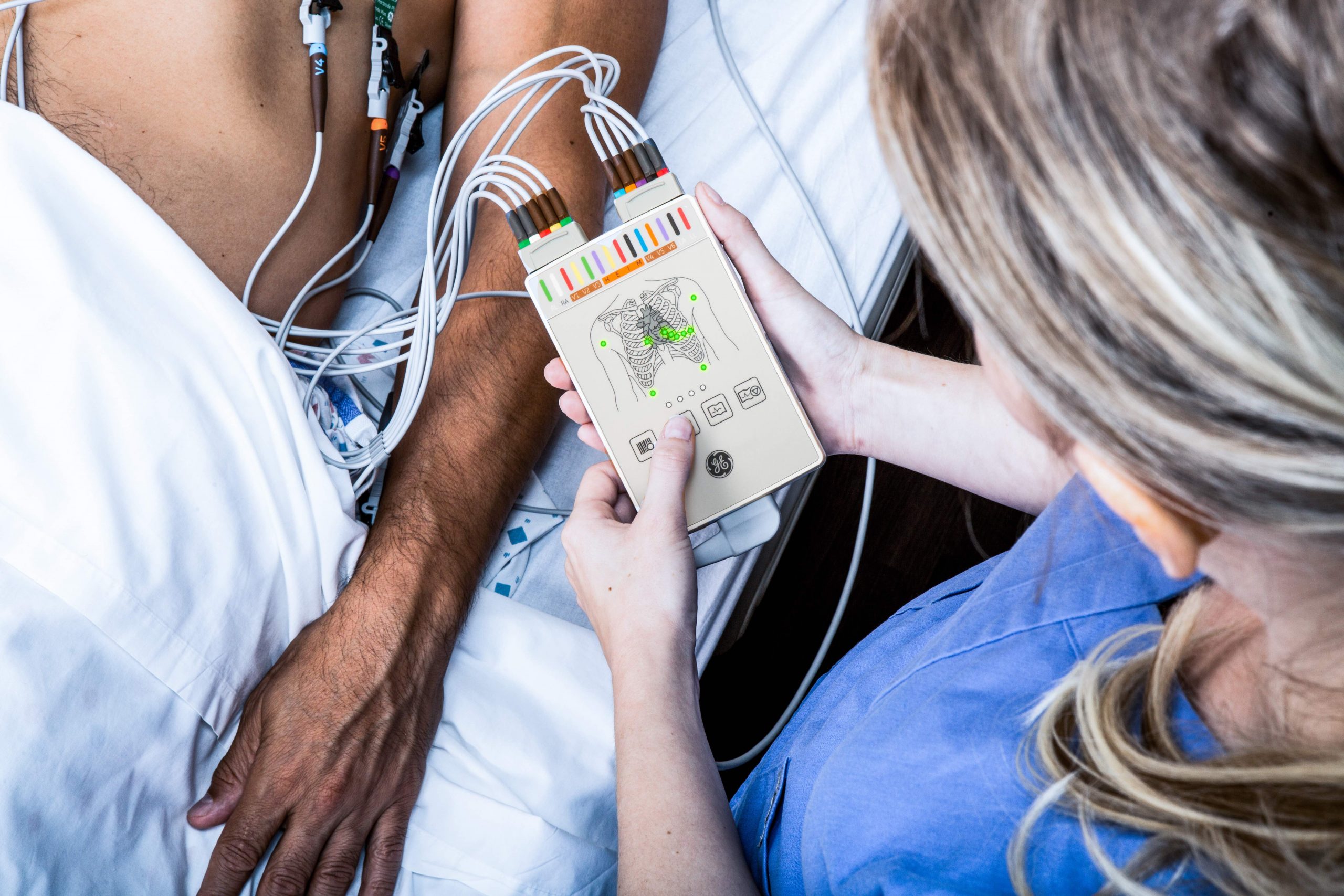 Doctors are now fighting COVID-19 on a new front. Although it's still chiefly known as a lung-related affliction, the new coronavirus also assails other vital organs, including the heart. The exact mechanisms by which the heart is affected aren't yet clear, but physicians are relying on a couple of crucial pieces of medical technology as they treat patients: electrocardiogram (ECG) and ultrasound. Both technologies have been around for a while — but today's machines are smarter than ever.
Keeping the beat: Clinicians treating COVID-19 patients keep close track, for instance, of what's called their QT interval — basically, the length of time it takes the heart to recharge between beats. COVID-19 can dangerously prolong the QT interval but so can some of the ways that doctors treat the disease. That's why healthcare workers rely on state-of-the-art machines, which can monitor 12 different sites of the body, to help build a detailed picture of the heart's electrical activity, including QT intervals. All of GE Healthcare's diagnostic ECGs use a special algorithm that's able to quickly deduce patterns in readings from an analysis of mountains of data, including an individual patient's previous records. "It can tell in around 10 seconds whether a situation is good or bad," said GE Healthcare's Ashutosh Banerjee.
Learn more here about the unique cardiac challenges of COVID-19, as well as the high-tech solutions.
Doctors are relying on ECG to monitor patients fighting COVID-19 infection; they're also using ultrasound. That marks something of a departure for a technology more commonly associated with imaging fetuses in a mother's womb. But doctors on the pandemic front lines have come to rely on ultrasound's fast deployment and small size — and have been sharing their insights with colleagues around the globe. They're not the only ones recognizing the remarkable power of ultrasound: On a list of 2020 World Changing Ideas, Fast Company just awarded an honorable mention to GE Healthcare's artificial-intelligence-enabled Venue Go ultrasound system.
A tool for our times: Venue Go's AI capabilities include a tool that helps doctors track B-lines, a feature which may signal COVID-19, and the machine also generates a lung ultrasound score, which enables clinicians to follow the progression of the lung condition in patients as they fight the virus. Venue Go has proven useful to medical workers because of its design, too: Its flat screen makes it easy to clean between uses. "Now more than ever, Venue Go is essential in helping clinicians improve patient outcomes," said Anders Wold, president and CEO of GE Healthcare's Clinical Care Solutions. "We are seeing unprecedented demand for this AI-powered system by offering a more accessible, easy-to-use solution in critical care situations such as COVID-19."
Venue Go wasn't the only GE Healthcare product on the Fast Company list — the publication also gave a nod to its Critical Care Suite, another AI-enabled technology. Learn more here.
Long ago (the early 1960s), in a galaxy far, far away (Massachusetts), a giant walked the earth: a four-legged people transporter officially called the Cybernetic Anthropomorphous Machine (CAM) and casually known as the Pedipulator. The GE engineers who designed this "walking truck" were on contract from the Army, which was looking for a vehicle that could carry a half-ton of people while navigating rough terrain. This particular project didn't quite pan out, but the CAM nonetheless offered a sort of preview of a machine that would become well-familiar with moviegoers two decades later: the lumbering AT-AT walker that George Lucas introduced in 1980 in "Star Wars: Episode V — The Empire Strikes Back."
State of the arts: Yesterday, May 4, was a special day for "Star Wars" devotees. (Say it out loud: "May the Fourth be with ..." You get it.) As fans celebrated news of a forthcoming film helmed by New Zealand director Taika Waititi, GE Reports surveyed links between the epic outer-space saga and earthbound technology and manufacturing. There's also, for instance, the freelance sculptor in Cincinnati who'd built a career creating toys and action figures, including Boba Fett figurines. Business started to dry up, but Matt Langford knew how to switch gears: Getting involved with the emergent technology of 3D printing, he ended up at GE's Additive Technology Center, creating the machine parts of the future (while still keeping a hand in the art world).
Click here for Langford's story and here for more of the back story on that funky military walking truck. And here's hoping May the Fifth finds you safe and healthy.
1. Not Just The Nose Knows
A study led by the Yale School of Public Health reported that saliva samples were a "preferable" indicator of coronavirus infection compared to nasal swabs.
2. Vaccine Update
When it comes to the worldwide hunt for a coronavirus vaccine, the University of Oxford's Jenner Institute has a promising candidate and has partnered with a British biopharmaceutical company to further develop, manufacture and potentially distribute it.
3. Masked Heroes
The form of Mexican professional wrestling known as lucha libre is famous for colorful hand-sewn costumes and full-face masks. But with Mexico on lockdown, luchadores are putting their sewing skills to other uses: They're making protective masks to try to slow the spread of the coronavirus.
Click here for more promising developments in the fight against the COVID-19 pandemic.
— QUOTE OF THE DAY —
"Think of a lock and a key — the keyhole has to accept the key. The virus has a key called a spike protein, which binds to specific receptors in lung cells and heart cells."
— Dr. Paul Friedman, chair of the department of cardiovascular medicine at Mayo Clinic
Quote: GE Reports. Image: GE Healthcare.
ENJOY THIS NEWSLETTER?
Please send it to your friends and let them know they can subscribe here.