May 21, 2020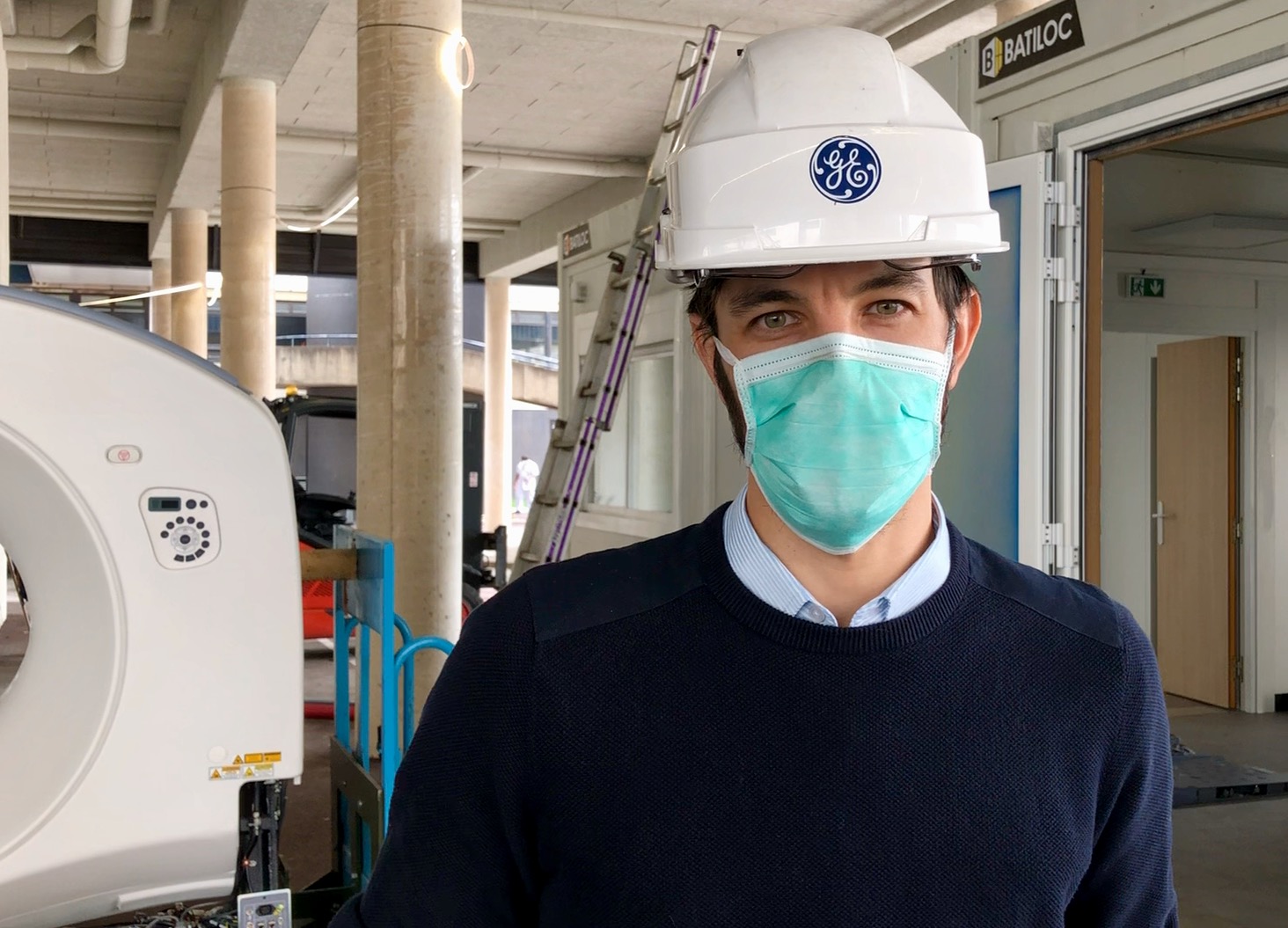 Doctors at the Paris-area hospital Henri-Mondor needed a CT machine — and soon. The hospital had already been planning on beefing up its intensive-care capabilities, but now the COVID-19 pandemic was accelerating those plans. Another CT, or computed tomography, scanner would help clinicians detect respiratory complications in patients infected with the coronavirus causing the disease. "They wanted an easy-to-install solution, fast in concept, and fast in building," said François Meignan, a GE Healthcare project manager. How fast? It was late March, and the hospital was hoping to get the new machine online by April 9. Luckily, GE had just the thing.
A scanner quickly: Meet "CT in a box." GE first deployed the technology in China and the United Arab Emirates, and it was perfect for the kind of nimble work the Henri-Mondor hospital needed to undertake. The GE Healthcare team was able to install the "box" — in reality, an imaging device inside a couple of prefabricated cabins, joined together and resembling a mobile blood bank — just outside the entrance of Henri-Mondor. Dedicated solely to coronavirus patients, the unit helps doctors spot COVID-related complications while smoothing patient flow across the entire facility. With less than two weeks elapsed between request and completion, radiologist Alain Luciani declared himself well-pleased: "We are ready to go, 10 days after. It was an adventure for us, for GE Healthcare, and for the workers who worked night and day to build those containers."
The Henri-Mondor module is finished — but other CTs in a box will be headed to England. Learn more here.
GE wasn't a dominant player in military engines in the early 1980s when the U.S. Air Force opened up competition for a contract to power its F-16 and F-15 fleets. But the company saw an opportunity: Adapting technology from an earlier engine designed for the B-1 supersonic bomber, GE's engineers created the F110 engine, which proved a resounding success — it powers the majority of F-16 fighters to this day. And while the partnership between the Air Force and GE was forged in the 20th century, the collaboration is adapting deftly to the 21st: GE and the Air Force are working on a new project to use 3D printing to manufacture spare parts for fighter jets.
Sump it up: To kick things off, GE Aviation's engineers are building a 3D-printed sump cover for the GE F110 engine — a key part. The company was able to make its case to the Air Force on the basis of its broad expertise in 3D printing, particularly when it comes to aviation: For instance, the company combined more than 300 engine parts into just seven 3D-printed components in the new GE9X, the world's most powerful jet engine. The military, too, was drawn to the agility and efficiency of this new manufacturing method: "The Air Force wanted to go fast from day one and gain the capability and capacity for metal additive manufacturing, as rapidly as possible, to improve readiness and sustainability," said Lisa Coroa-Bockley, general manager for advanced materials solutions at GE Aviation. "Speed is additive's currency."
Learn more about the partnership here.
The timely journey of a massive 9EMax gas turbine took extraordinary efforts through a shut-down Europe.
— QUOTE OF THE DAY —
Our three CTs were already fully busy, [so we thought] how can we create a fourth one? We turned to GE Healthcare and said, 'OK, how can you help us?' "
— Alain Luciani, radiologist and medical head of Academic & Medical Department FIxIT
Quote: GE Reports. Image: GE Healthcare.
ENJOY THIS NEWSLETTER?
Please send it to your friends and let them know they can subscribe here.