May 19, 2020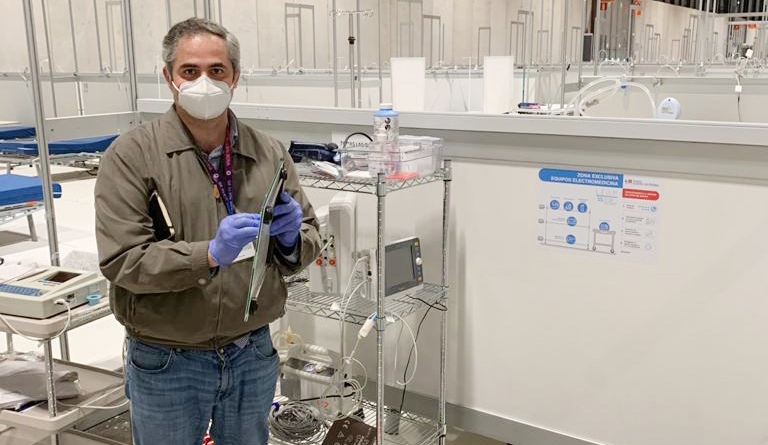 When the father of his closest friend died of COVID-19, Carlos Jimenez decided he needed to do more to fight the pandemic. "I wanted to go to the trenches and do my part," he said. In his case, the trenches were IFEMA, the largest fairgrounds in Spain, which were being converted into a makeshift medical center. That's where Jimenez wound up volunteering his time. As an executive account manager for GE Healthcare in Spain, Jimenez had overseen various medical equipment installations, and at IFEMA his task was similar — but on a much tighter time frame. And there were some logistical challenges to overcome.
Lessons of lean: Becoming familiar with IFEMA — a capacious campus of nearly 2.5 million square feet — Jimenez saw that life-saving equipment, like ventilators, was scattered throughout the facility, making it time-consuming to track it down. So he applied a lesson learned at his day job: The philosophy of lean, a system of continuous improvement that occupies an honored place in manufacturing and business operations and is now at the heart of GE's turnaround. Jimenez and colleagues got to work taking inventory and organizing the place, and began to see results within days. "That was the most gratifying thing to see," Jimenez said. "It was not just implementing order for the sake of order, but eliminating any undue stress on clinicians." On May 1, the facility discharged its last patient, having treated almost 4,000 people in 40 days.
Learn more here about Carlos Jimenez, who took all of his vacation time to volunteer in the fight against COVID-19.
In February, when Algeria began taking measures to protect its citizens from the spreading pandemic, the leadership of SPE — a subsidiary of the SONELGAZ group, Algeria's national electrical and gas company — sprang into action. Their company was responsible, after all, for keeping the electricity flowing. Part of the plan they devised was for mission-critical work to be undertaken by staff working remotely at home. COVID-19 may have marked a disruption, but SPE was prepared: The software its workers use to oversee operations runs on GE's Predix Asset Performance Management (APM) platform, which came equipped with the capability to perform all functions remotely. SPE hadn't originally intended to use it for that purpose — but the coronavirus changed that in a hurry.
They keep the lights on: Right now, digital technology enables three power plants to be monitored from a central management facility in the capital city of Algiers, with nine more scheduled to join them in 2020 and 2021. Even in normal times, Predix has proved to be a boon for SPE: With 10,000 sensors across the plants, its APM system uses predictive analytics and the continuous real-time data feed to estimate when parts may need repair, so SPE can schedule maintenance before something breaks down. Now, remote monitoring is letting managers keep tabs on things from home with Predix-enabled laptops. "Generally, the work of the analyst is the same remotely as in the control center," said Mehdi Adni, team leader for predictive maintenance at SPE. "The social-relations aspect is missing. Brainstorming has become Skype-storming."
Learn more here. Elsewhere in Algeria, GE is helping utilities deliver water during the pandemic — read about that here.
It started with a conversation. Steve Duclos, who works for GE Research in Niskayuna, New York, was talking with an acquaintance at St. Peter's Hospital in Albany. Duclos was wondering how his workplace could support local healthcare workers, and when his friend mentioned a need for face shields — which help protect clinicians from coronavirus infection — his ears perked up. At GE Research, Duclos is the chief scientist for additive manufacturing, aka 3D printing. He saw an opportunity.
Chain reaction: That conversation kicked off a string of events. First Duclos and colleagues designed a prototype that could be 3D-printed. Next, they solicited feedback from the people who would be using the shield. It turned out that 3D printing wasn't even necessary. Working with colleagues from GE Research's electronics lab, they pivoted and came up with a simpler design that was easier to put together and clean. Finally, they enlisted people in their community to help assemble the shields from the kits they'd created: Albany's Center for Disability Services. "Whether it's neighbor, a research colleague, or community connections between organizations, it's relationships and teams that can make a world of difference in the problems we're trying to solve," Duclos said — after hundreds of shields were out the door. "It's a powerful reminder not to let this pandemic isolate us. Rather, let it bring us together in more powerful ways to help us all rise to the challenge."
Learn more here.
1. A Little Help From Our Best Friends
At the University of Pennsylvania's School of Veterinary Medicine, dogs are being trained to sniff out COVID-19.
2. Spot The Social Distancer
Spot, the famous doglike robot created by Boston Dynamics, is protecting Boston healthcare workers from COVID-19 by helping them remotely triage patients. Meanwhile, Spot's at work in Singapore enforcing social-distancing mandates in public parks: The semiautonomous machine issues gentle reminders to perambulators who get too close to one another.
3. Campaign Coordinator
Two economists have called for an "innovative push" to be coordinated by a federal COVID-19 Defense Research Committee — modeled after the National Defense Research Committee that the government launched to foment innovation during World War II.
Click here for more promising developments in the fight against the COVID-19 pandemic.
— QUOTE OF THE DAY —
"The entire time, I saw people coming here and working 24 hours, not willing to go back home and not asking to be paid."
— Carlos Jimenez, executive account manager for GE Healthcare in Spain
Quote: GE Reports. Image: Carlos Jimenez.
ENJOY THIS NEWSLETTER?
Please send it to your friends and let them know they can subscribe here.