June 9, 2020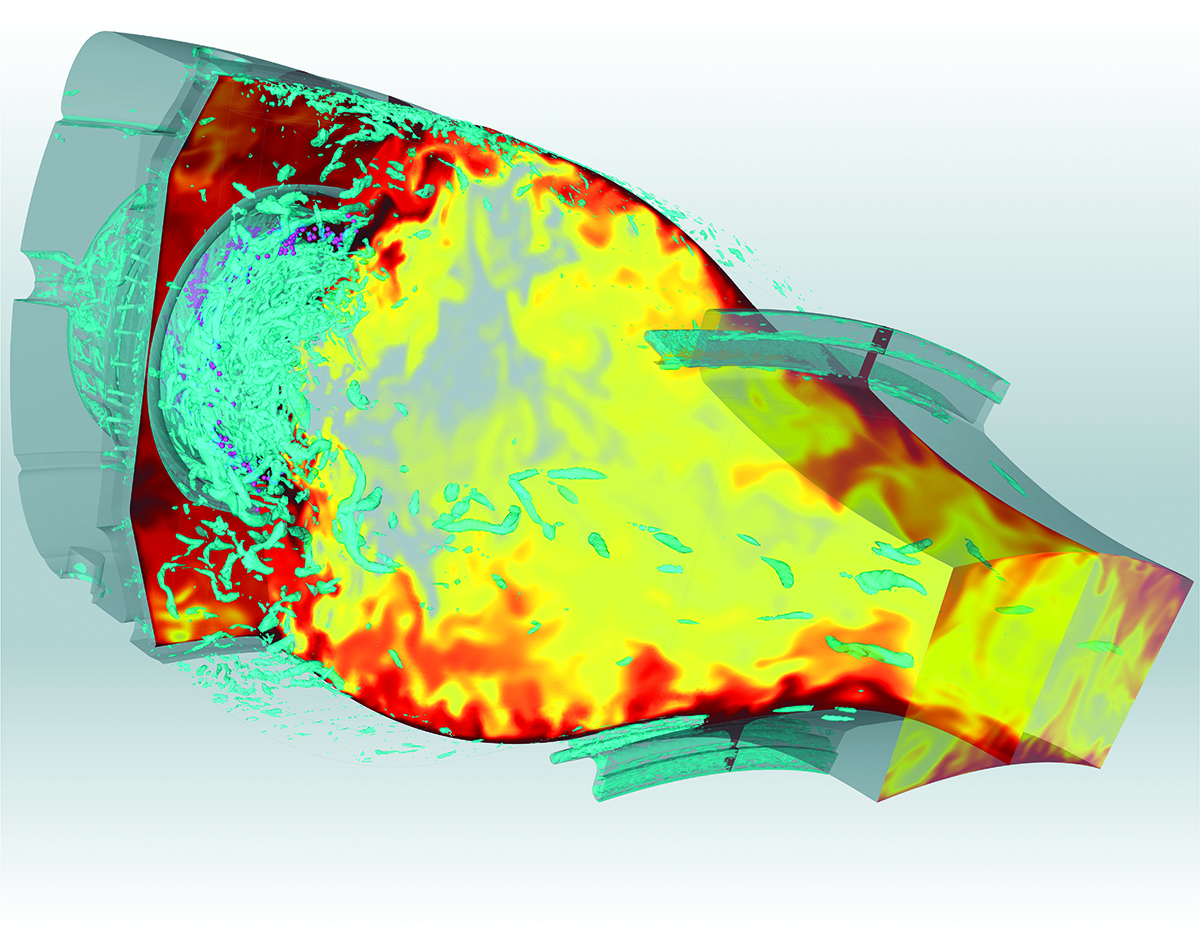 Around the world, the fight against the coronavirus has sparked an unprecedented collaboration of healthcare workers, scientists and other researchers — and their state-of-the-art equipment. In the U.S., for instance, the COVID-19 High Performance Computing Consortium has made more than 25 supercomputers available to scientists studying potential vaccines or treatments. One of those is Summit, the world's most powerful supercomputer, housed at Tennessee's Oak Ridge National Laboratory (ORNL). When they're not busy solving the world's most pressing challenge of the moment, though, Summit and other supercomputers are busy solving other looming issues, like climate change. GE is no stranger to this work.
We're gonna need a bigger calculator: GE Research, for instance, recently partnered with ORNL to use the Summit supercomputer to learn more about how heat moves inside jet engines and gas turbines at power plants. These machines run so hot that ordinary computers can't model their internal dynamics. Supercomputers, though, can give engineers ideas for how to squeeze out incremental gains in fuel consumption and emissions. The power of supercomputers cuts across disciplines (and across GE businesses): It's also helping engineers to streamline the process of 3D printing and to better analyze the airflow around wind turbines — so that wind farm operators can catch more breeze for their buck. "That kind of computing power unlocks some exciting potential. We can analyze the data much, much faster," says Brian Thompson, GE Additive's manager of design and development.
Learn more here about how GE uses supercomputers to fast-track innovation in medicine, manufacturing, aviation and beyond.
As cities and states around the U.S. take steps toward reopening while trying to prevent the further spread of the coronavirus, everyone has questions about what the future will look like: When will we go to weddings again, or send kids to summer camp? Or fly on an airplane? The pandemic has hit the aviation industry hard, with empty airports and cancelled flights worldwide. But experts believe all that market turbulence could point toward a new way of doing business, as the industry increasingly understands the importance of data and digital systems. Airlines "have an incredibly valuable asset today that is not being fully tapped into," said Andrew Coleman, chief commercial officer for GE Aviation's digital group (GEAD). "That asset is their data, and it is ready for the taking to make much more insightful and effective decisions."
When the clouds lift: GE Aviation has long played a key role in analyzing flight data, and some of its technologies are helping carriers weather the COVID-19 storm. With fewer planes taking to the sky, for instance, does it make sense to ground one that's older and less fuel-efficient — but that has an excellent service record? Coleman's business developed EMS (for Event Measurement System) to crunch data like that and spot subtle patterns to get insights into a plane's actual performance over time. And as carriers increase operations again, data-crunching software can help them fill seats while still adhering to physical distancing measures. Today, such software solutions are helping pull airlines through a turbulent patch — but we're seeing, too, how data could reshape the future of the industry.
Learn more here.
1. CRISPR vs. COVID-19
In New Mexico, scientists at Sandia National Laboratories are pursuing ways to use the gene-editing technology CRISPR to help the body fight viruses, including the new coronavirus.
2. Small Packages
Massachusetts Institute of Technology engineers devised a way to use nanoparticles to bolster the immune system's ability to fight cancer.
3. A Hairy Situation
Researchers at Indiana University School of Medicine and Harvard Medical School used pluripotent stem cells to grow a "dollop of human skin" that grows human hair.
Read more here about this week's Coolest Things on Earth.
— QUOTE OF THE DAY —
"When I was a child growing up in a modest town in Iowa in the 1970s, my dad always told me that he was working to make the world better for me — especially for when I became an adult black man. I am proud of what my dad and many others accomplished to make this a better world. It wasn't easy then, it still isn't now, and we need to do much more."
— Everett Cunningham, president and CEO of GE Healthcare USCAN
Quote: GE Reports. Image: GE Research.
ENJOY THIS NEWSLETTER?
Please send it to your friends and let them know they can subscribe here.