Like everyone this past March, Enrico Ignesti felt stressed out. As residents started falling sick with COVID-19 in Turin, Italy — where Ignesti lives — he worried about his parents in Florence and his possible exposure. And he missed the support and friendliness of his workplace. Ignesti is a participant in GE Aviation's Edison Engineering Development Program, which rotates elite early-career engineers through multiple technical assignments over a few years. In Turin, a dozen Edisons, as they're called, liked to meet up and unwind after a long day, or swap notes about what they were learning. "What I was missing was the personal interaction," Ignesti said. His GE adviser, Marco Del Cioppo, was looking at the other side of the equation: How do you give promising young engineers the mentorship they deserve when you can't meet them face-to-face?
Compassion is contagious: Like so many around the world, Ignesti, Del Cioppo and their colleagues found a way. They went virtual. Del Cioppo found that he could maintain his high-touch mentoring style in group texts and early-morning check-ins. Ignesti struck up watercooler-like banter with his colleagues via WhatsApp and socialized with them over virtual cocktails. It took work to nurture these new forms of communication, but it more than paid off. "We started to talk, and to share our struggles with this situation because sometimes sharing helps," Ignesti said. As the lockdown in Italy eased, the Edisons began to return to the office, but with a slightly modified view of the workplace: Both Ignesti and Del Cioppo have seen how business can thrive with a lot of compassion.
Learn more here.
Athletes are familiar with thin, flexible wearables that, by monitoring things like heart rate, help them improve training and performance over the long term. A team of engineers at GE Research is pursuing that same general principle — only they're designing patches not for marathoners but machines. They're exploring ways to combine 3D printing with semiconductors to make tiny, bendable electronics to monitor wind turbine blades as they make their way through the factory. "The idea is: I can have these sensors at strategic points inside the blade and monitor them through the production process," said Shridhar Nath, a principal scientist at GE Research. Getting that peek beneath the surface can help engineers know, for example, that the blade has properly cured and potentially speed up production.
Strong but sensitive: Blades are big business. Wind energy costs for producers have dropped substantially since 2010. (The world's longest, made by GE Renewable Energy subsidiary LM Wind Power, stretches a whopping 107 meters.) But blade production is a delicate science, involving a number of ingredients and a curing process. The sensor technology Nath and colleagues are developing has promise beyond the factory floor, though. In the future, researchers expect to be able to develop sensors that can transmit data from within a working turbine, alerting operators to possible maintenance issues. Also on the horizon? Embedded sensors in airframe structures.
Learn more here.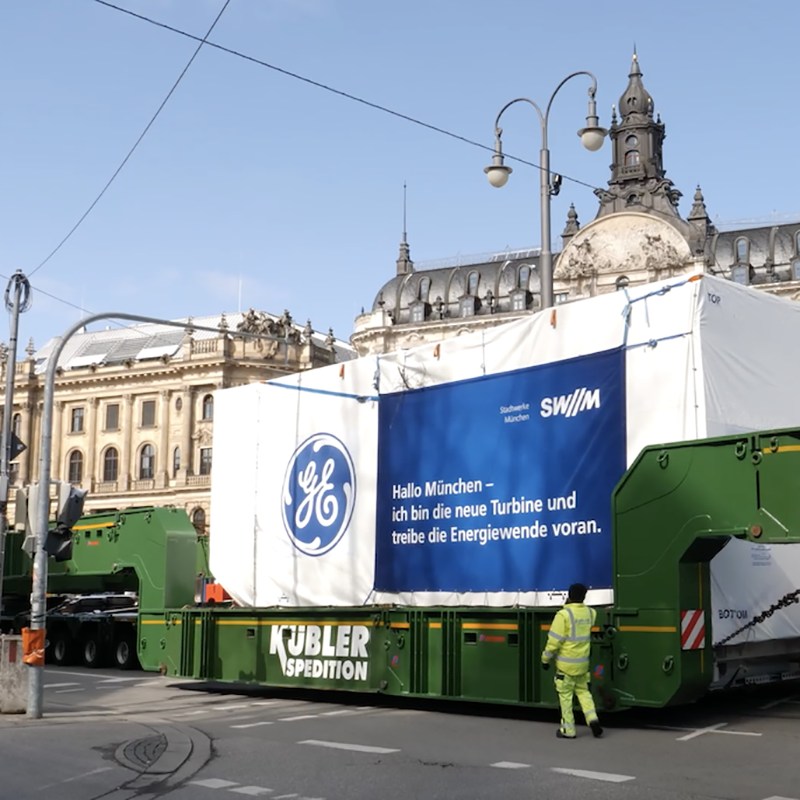 The timely journey of a massive 9EMax took extraordinary efforts through a shut-down Europe.
— QUOTE OF THE DAY —
"These are young people far from their hometowns, trying to manage relationships with family members who are worried about the situation and so on. A lot of requests were just for help figuring out how to make decisions within the constraints of the new regulations."

— Marco Del Cioppo, manager at Avio Aero, a GE Aviation business
Quote: GE Reports. Images: Enrico Ignesti.