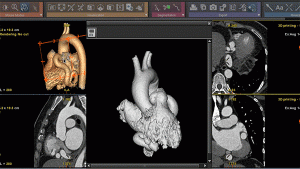 here.

Three hundred sixty-five feet above the rolling hills of British Columbia, winds are strong enough to spin a 500,000-pound turbine at 14 revolutions per minute. That's still not strong enough to deter Kristen Hough, who climbs to the top of a wind turbine at least once a day to perform routine maintenance or troubleshoot mechanical problems. The first female wind technician in western Canada, Hough began her career the same as many people did in the small town where she grew up: working in one of three local coal mines. But since she switched to wind, Hough's fortunes have only climbed.

The work is a breeze: In 2015, intrigued by a new wind farm on the other side of town, Hough signed up for a wind turbine technician course at a local community college. One year later she had her certification and landed a job with GE to maintain turbines at Pattern Energy's Meikle Wind project. If Hough's gender makes her a pioneer in the field, so does her chosen field to begin with: Wind technician is one of the fastest-growing occupations in both the U.S. and Canada, reflecting an enthusiasm for renewable energy sources. "This is such a new industry that you can do anything you want," Hough says. "You can work overseas or you can work offshore. There are so many options. I haven't looked back yet."

Probably best not to look down, either, while you're on your way up that turbine. Learn more about Hough's job as a wind technician here.

Rockets typically launch from a pad that's firmly affixed to the Earth's surface — the tried-and-true technique, sure, but what if there were another way? Virgin Orbit, part of Richard Branson's Virgin Group, has modified a Boeing 747-400 to serve as a kind of airborne launch pad, firing rockets from beneath its wings to send satellites into low Earth orbit. Dubbed Cosmic Girl and powered by four GE CF6 jet engines, the plane offers an alternative for launching small communications satellites, such as those providing GPS, phone and internet services here on the ground. Last month, it became the first 747 to lift a 70-foot rocket into the California sky.

The wind beneath my wings: As it stands, small satellites have to catch a ride on a large conventional rocket with all sorts of other payload, and get dropped off in the general vicinity of their orbital destination — like catching a bus and disembarking at the nearest stop. With Cosmic Girl, Virgin Orbit aims to act more like a taxi, launching the satellites to right where they need to be without having to deal with earthbound launch traffic. Kelly Latimer, Cosmic Girl's chief pilot, said, "We hope to open access to space for companies or organizations who want to put small satellites into orbit by making launch affordable and flexible. [We want] to open up space to more people."

Moon over the details of next-gen rocket launching here.





1. Undersea Bullet Train

The Arabian Sea separates the United Arab Emirates from Mumbai, India, but that needn't be an obstacle to transportation, according to UAE planners: They've proposed an undersea bullet train system suspended from rigs floating on the sea's surface. But the bold concept will require a lot of extreme engineering to become more than just a pipe dream.

2. AI Hallucinations

What happens when artificial intelligence "hallucinates" — for instance, when a self-driving car looks at a stop sign and sees something other than a stop sign? Computer scientists at MIT are hard at work trying to understand how AI can distinguish between signal and noise.

3. Wheelchair Smarts

Intel and Sao Paulo-based Hoobox Robotics have teamed up to develop Wheelie 7, an artificial intelligence technology that lets people with disabilities control the movement of their wheelchairs with a simple series of facial gestures. Now that's AI to smile about.

Read more about this week's Coolest Things on Earth here.

— QUOTE OF THE DAY —
"They can read with their fingers and their eyes and process the information so much faster."
— Dr. Beth Ripley, chairwoman of Veteran Health Administration's 3D Printing Advisory Committee and VA Puget Sound radiologist
---
Quote: GE Reports. Image: GE Reports

ENJOY THIS NEWSLETTER?
Please send it to your friends and let them know they can subscribe here.