Intel is one of the world's biggest technology companies, with semiconductor manufacturing facilities all over the globe. Those plants have to maintain rigorously controlled environments where every surface must be clean, every process must be perfect and even the smallest improvements can make a large impact.

Intel works hard to ensure that these facilities are constantly pushing the technological edge. So when Intel wanted to partner with a cloud service provider to develop industry-leading solutions, they chose to bring GE and its analytical software running on Predix, the cloud-based operating system for the Industrial Internet, to their Ocotillo Fab / Sort Manufacturing plant in Arizona.




On Tuesday, GE CEO Jeff Immelt and Intel CEO Brian Krzanich spoke at the Intel Developer Forum in San Francisco about the partnership and the future of the Industrial Internet. They noted this is a significant step in the two companies' plan to eventually offer GE's Industrial Internet software on Intel-powered devices.




"GE and Intel are working together on a number of initiatives – including making manufacturing facilities more smart and connected," said Intel's Krzanich.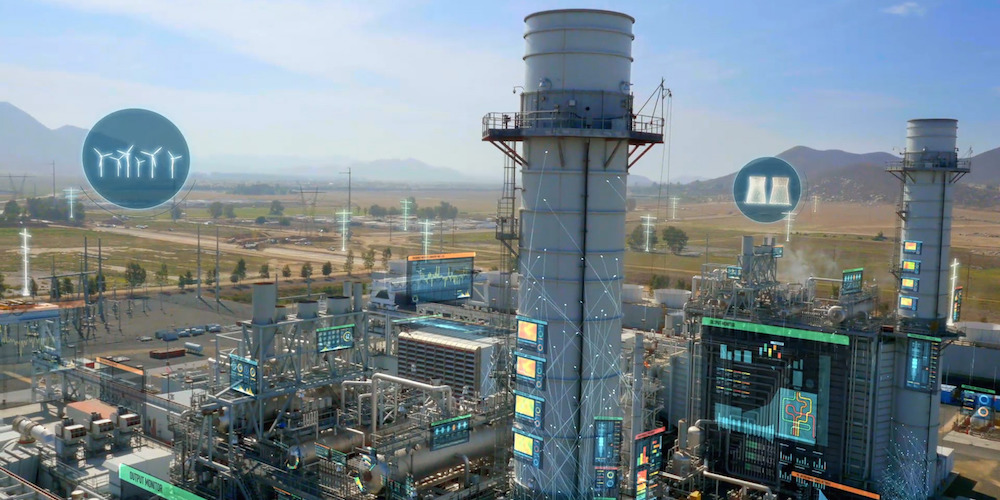 Top and above: Predix can optimize entire power plants and electricity distribution networks. Image credit: GE Power
Before approaching outside customers, Intel first wanted to be a Predix customer itself. The multi-million dollar deal to move parts of the Ocotillo semiconductor plant onto Predix is just the first step. Intel's ultimate goal is to utilize Predix on top of its own internal software and develop a joint offering with GE to streamline its fab processes around the world. GE will then roll out the solutions to GE's more than 400 factories globally. The two companies also plan to sell a joint offering to other manufacturers that want to optimize their operations.
Once the system is in place, Ocotillo will be using products from across the GE Digital portfolio, says Abhi Kunte, GE Digital's global head of technology strategic alliances. That includes Predix, OpShield, and the Brilliant Manufacturing and Asset Performance Management suites of solutions, which run on the Predix cloud. This portfolio will integrate with Intel's internal analytics engines, Intel-based hardware and Intel's manufacturing infrastructure to analyze data in new ways.
GE is using software and sensors to test its newest Harriet-class gas turbines and expose them to conditions they will likely never see in service. Image credit: GE Power
Even companies that don't make chips will benefit from the Industrial Internet and GE Digital's industrial software offerings. The goal is to eventually get every industrial company that uses Intel chips — and most of them do — to connect their operations to Predix and start analyzing their operations in greater detail, says Denzil Samuels, Global Head of Channels, Alliances, Business Development and Ventures, GE Digital.
"We want to embed Predix on every single Intel device, so that as they sell those devices, they're selling Predix, and the customer just has to activate it," Samuels says.
An example of the power of the GE-Intel partnership can be seen in GE's Greenville, S.C. gas turbine factory. Intel sensors, attached to Current by GE light fixtures, send data to gateways, which aggregate the information and send it to the Predix cloud. The sensors measure the temperature of the air near the turbine collars as their rotors are attached, allowing factory workers to know when the part is cool enough to safely add the next rotor. By avoiding defects and eliminating the need to re-work parts, GE believes this new system can save the company hundreds of thousands of dollars.
Sensor-based lights will also be installed in Intel's Santa Clara, Calif., headquarters complex, where 4,500 LED lights will feature energy-saving controls. Of those, about 1,000 will also have the ability to sense occupancy, allowing facilities managers, for instance, to program lights to turn off lights when no one is in a room. This pilot is expected to be the first of several at Intel facilities.
Smart lighting also figures into GE's and Intel's plans for wired cities. Using Current lights and Intel chip-based sensors, a city's traffic control center will be able to see not only cars and trucks on the road, but also pedestrians, feeding information into the collision avoidance systems on driverless cars.
Categories
tags