To meet the world's growing demand for energy, the power sector needs to transform into a digital industry.
 

This week I had the privilege of participating in CERAWeek in Houston, where thousands of industry leaders, technology experts, government officials and policymakers gathered to discuss growth in the energy sector. There is no question that the global power industry is facing unprecedented challenges. On the demand side, more than 1 billion people around the earth continue to lack access to power, while rising living standards mean that another 8 billion people will require 50 percent more power by 2025. On the supply side, the power industry is seeking to reduce its carbon footprint through a combination of improved efficiencies and transitioning to more renewable energy sources.

Yet at the same time, advances in digital technologies present tremendous opportunities for the power industry to achieve the efficiency, reliability and affordability needed to deliver sustainable economic growth and shared prosperity.

In order to achieve the speed and scale needed to grow, the power industry has begun an exciting digital journey, with the emergence of digital power plants, smart grids and bi-directional connections with consumers. However, the path to a more sustainable energy future won't be complete until we have achieved a complete transformation of the entire energy ecosystem into a new digital industrial economy.

To turn the challenges into opportunities, the power sector needs a strategy that enables a new value chain interconnected by digital technologies. To take full advantage of new digital capabilities, power producers can apply big data analytics to optimize plant operations and accelerate the adoption of natural gas and renewables. They can also develop new ways to interact with customers, empowering them to become more efficient, participative and responsive to demand and supply.

To be sure, this transformation will not be easy. Beyond the change in business models and critical investments in infrastructure and new technologies, there are some key conditions that must be in place to enable the digital ecosystem:

Open Standards and Interoperability: As with any ecosystem involving a multitude of technologies, products and stakeholders, a common set of standards is necessary for continued innovation. To maximize the potential value of the Industrial Internet — the convergence of multiple technologies with advanced connectivity across devices and systems — different systems and assets must be able to communicate with each other, share data and respond to common monitoring and control systems. Moreover, as these connected devices interact with utility and other personnel, data standards can help drive consistent analytical views to improve decision making.

Cyber security: The digitization of energy opens a new form of vulnerability, exposing network participants to potential data privacy and system security risks. Monitoring and minimizing these risks is a top priority, and is now achievable across the industry.

Education and Skills Development: Energy companies need people with software and analytical skills to reap the benefits of the digital transformation. They must invest in employee education and training, facilitate the use of mobile devices, and partner with universities and other vocational training institutions to build data science capabilities.

Imagine a future of energy that realizes the goal of ubiquitous access to clean, reliable, sustainable and secure electricity — while fostering economic growth through the creation of new energy ecosystems. Under the right conditions, the convergence of digital and physical technologies can bring this bright future within reach.

Read the white paper, Powering the Future — Leading the Digital Transformation
of the Power Industry.

(Top GIF: Video courtesy of GE)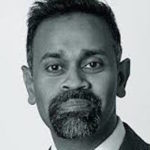 Ganesh Bell is Chief Digital Officer & Head of GE Power's Digital Solutions business, GE Power
All views expressed are those of the author.
tags