"What are you doing here?"
Mirella Abboud laughs as she recalls the facial expressions, which spoke volumes, of her peers — all of them male — during her 2011 internship at Beirut's Scuderia Lebanon, a Ferrari dealership. Even a dozen years ago, it was somewhat shocking to see the grease-smudged face of a young woman emerge from beneath the hydraulic lift after working on a sleek 458 Italia.
But Abboud, then a mechanical engineering student at Beirut's American Lebanese University, had long been interested in how cars, motors, and just about everything else works. As a teen growing up in Byblos, an ancient city on the Mediterranean 25 miles (40 kilometers) north of Beirut, she'd spent hours studying automotive mechanical systems online, just out of pure fascination. Any negative reactions she noticed in her male colleagues only fueled her drive to succeed. "I would challenge myself more, and work even harder," she says. "I wanted to let them know 'Here I am. I'm doing what you're doing, and it's working perfectly.'"
That quiet drive, along with raw talent and a belief in equality, has continued to fuel Abboud's success. After her first engineering job, she pursued a career as a power generation engineer, finding her way forward in another STEM field that has traditionally been populated by men.
Since joining GE Gas Power in 2015 through the Graduate Management Program, Abboud has been part of the Beirut-based Generator Product Service Engineering team, providing technical support to power plants all across the Middle East and Africa. She's been promoted twice during her seven years with the company, most recently in 2021, when she became the team's senior engineer. Last month, at the Gas Power Engineering & Technology Awards ceremony, she received one of the most prestigious honors possible for young engineers: GE's 2023 Emerging Excellence award, which recognizes outstanding contributions and leadership in engineers who have been with the company for fewer than 10 years.
The award came as a surprise to Abboud, who had no idea she'd been nominated by Saber Azizi, her people leader, and Ross Sacharow, her engineering manager. Held in Greenville, South Carolina, on February 21, the awards ceremony was streamed online and viewed by GE employees around the world. But Abboud had a busy day at work that day and could only half-watch the broadcast. By chance, she glanced up at her computer just as her picture flashed across the screen. "I heard my name, and then I thought, 'What?'" she says. "I thought I was dreaming. The next moment, I had a network problem, so I couldn't hear what was being said. I had to go back and replay it, while thinking, 'Wait, was that me on the stream?'"
She knew she wasn't imagining things when her phone and her email inbox began filling up with messages of congratulations. Still, it took a while for the reality to sink in. Each year, she says, she and her colleagues look forward to hearing who has won the Emerging Excellence award and to learning about their accomplishments. But she never expected to win herself.
Abboud was lauded for her leadership in resolving the complex, emergent issues that are bound to arise in a fleet of more than 5,000 gas generators on several continents. She provides expert support and pulls together teams when customers need help with problems ranging from equipment installation to more challenging situations, such as unexplained outages that require quick resolution. "Over the last several years, Mirella has earned global recognition as an expert in generator mechanical auxiliaries," says Scott Day, chief engineer, who presented the award. "Her vision, and the inspiration she brings to her peers and the global generator community, has also made her an outstanding mentor."
When she talks about the attention she's getting, Abboud beams. "I am not a person who loves the spotlight, but it feels so good to be appreciated and to be recognized for my work on a global level. And it's crazy, when I look back at where I started."
In 2012, when Abboud received her bachelor's degree in mechanical engineering, she was one of only five or six women in her graduating class. At her first engineering job, as a production engineer at a tool-manufacturing company in Beirut, she recalls being the only woman on the shop floor.
But she's witnessed some changes, especially over the nearly eight years she's been with GE Gas Power, now part of GE Vernova, GE's portfolio of energy businesses. "When I started, we had maybe two or three female engineers in the Middle East and Africa region. I look at the engineering team now and about 15% are women, and the head of global customer service engineering, Diane Beagle, is a woman. The highest rank, and she's a female leader! It warms my heart."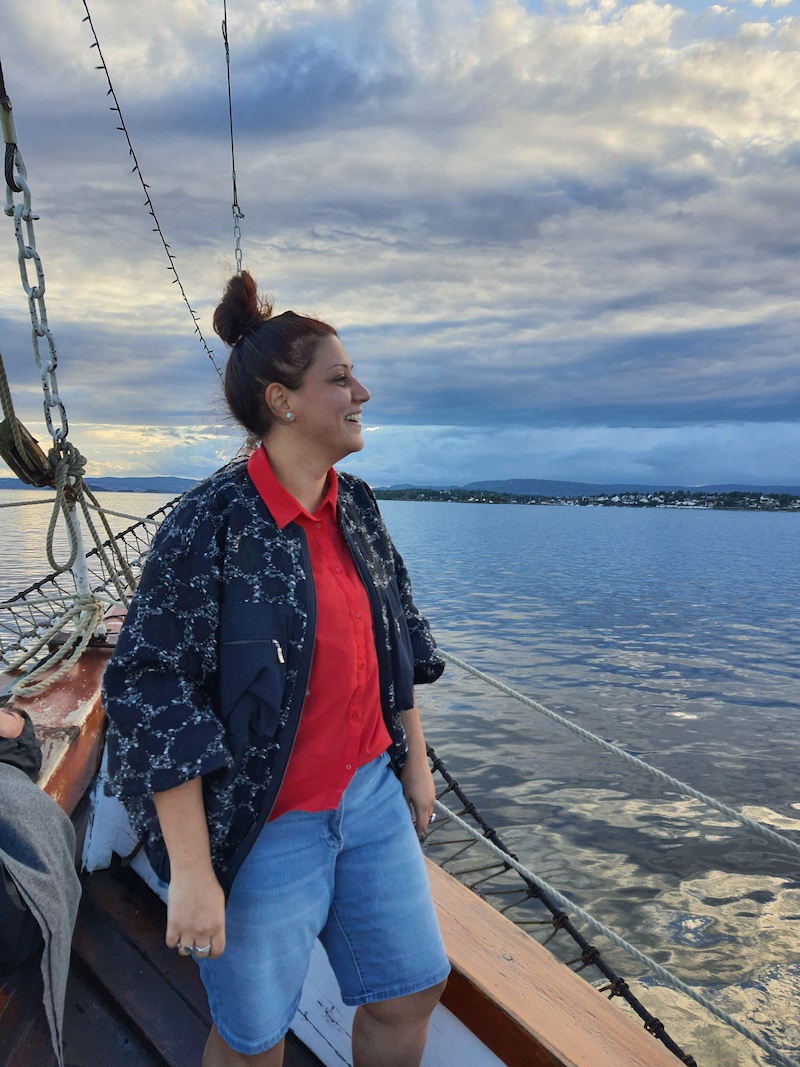 Images courtesy of Mirella Abboud
 
Abboud believes GE's focus on bringing women into the workforce has been a big part of the shift. "I love that GE is committed to diversity and equality," she says. "It shows, and it has impacted our daily lives and jobs."
She also points to evolving global attitudes about gender equality, which have opened new doors for women and helped them build confidence. "It's happening in every country," she says. "It's a change in mindset. You can say your country won't be affected by this, but it will. Perhaps it is coming at a slow pace, but it is coming."
Mentoring others, and female colleagues in particular, is an important part of Abboud's work life. She's active in the Middle East chapter of the GE Women's Network, an employee-led affinity group, and when junior engineers join the company, she tries to offer support in whatever ways they need, from answering daily questions to encouraging them to express their views and opinions. "It's like a chain," she says. "People have helped me before, so I try to help people, and it encourages them to do the same."
"You see other women going places, and you understand that you can too — that there's nothing to stop you," she says. "Receiving the Emerging Excellence award has made me feel that even if I come from a small country, even if I'm a female from the Middle East, I can go anywhere. That's a message I can bring to people in this region and to the world."