French energy giant EDF is a well-known nuclear-power-generation company, but now it wants to diversify its energy mix by expanding into renewable energy. Antoine Cahuzac, the CEO of EDF Énergies Nouvelles, the company's renewables division, believes the newly merged GE and Alstom Energy, with its global footprint, will be the perfect partner. "Both GE and Alstom are very important for us," Cahuzac says. "They have globally recognized technological expertise in turbines ... and their equipment is state-of-the-art."
Cahuzac says the fact that the two companies are known as the crème de la crème among energy-equipment manufacturers is crucial for EDF Énergies Nouvelles. Wind — both onshore and offshore — is the backbone of the EDF division's business, making up 86 percent of its total installed capacity. The company has nearly 7 gigawatts (GW) of installed wind capacity in Europe, North America and Africa, and a further 1.3 GW under construction.

Renewables will account for more than 50 percent of the increase in the world's total electricity generation by 2040, according to the International Energy Agency, and Cahuzac expects that working closely with GE can help EDF get a big slice of the pie. "The geographical footprint of GE and Alstom covers a lot of countries that we are looking at," Cahuzac says.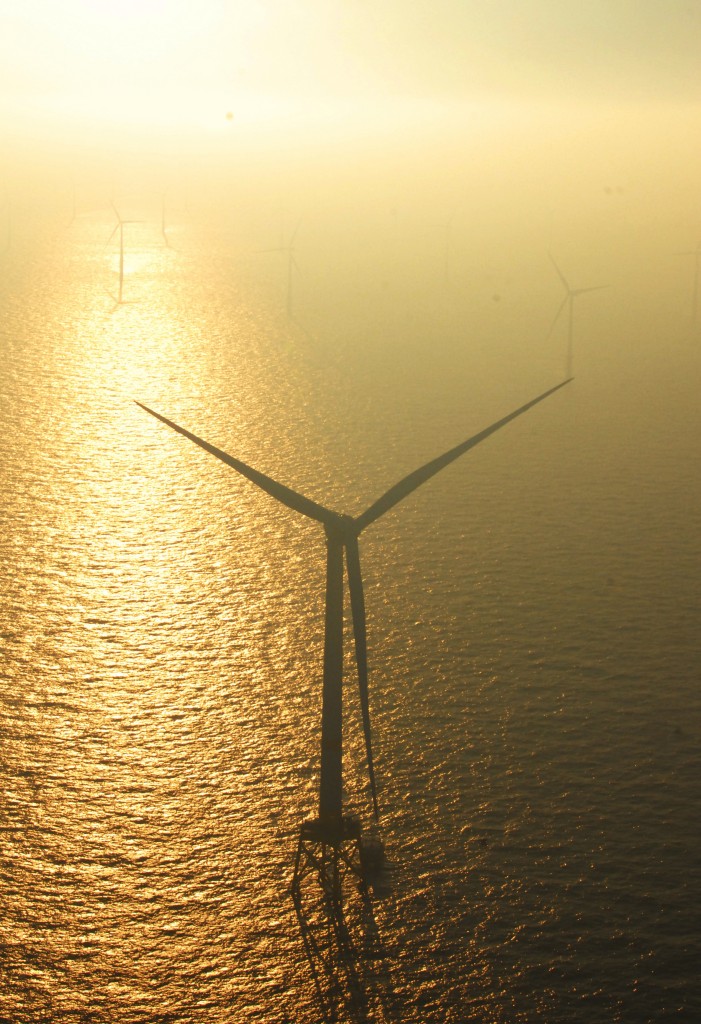 Top: Workers finishing a Francis hydroturbine. Above: The Haliade can generate 6 megawatts of electricity. Images credit: GE

GE's acquisition of Alstom's power and grid assets was its biggest-ever industrial deal. The U.S.-based company expects to add $10 billion in additional revenue as a result of the combined businesses' global footprint.

Alstom's power and grid business had a strong presence in regions that are building out energy infrastructure, such as China, Brazil, India and the Middle East. GE and Alstom together installed a whopping 5 GW of wind power in 2014 alone.

That global reach and scale will be a boon to EDF, too. The company owns a solar farm in Chile's Atacama Desert, for example, and is setting up a wind farm in Brazil, where the EDF executive sees excellent potential. GE Renewable Energy CEO Jérôme Pécresse has said that GE will be able to execute projects everywhere in the world.

EDF also favors a steady and strong approach. "We aim to produce electricity in countries where there is political stability, a favorable regulatory environment and good growth prospects," Cahuzac says. GE shares these values, he says.

The relationship between EDF and Alstom is already deep and strong. The two companies won big in France's offshore wind tender in 2012, carrying off 1.5 GW of capacity. "Alstom's Haliade 150-6MW offshore wind turbines — which EDF helped develop — will be instrumental in these projects. So this is a very important relationship for EDF," Cahuzac says.

The rotor of each Haliade turbine is nearly one-and-a-half tim the length of a football field, or 150 meters. All that torque spins GE's 6-megawatt direct drive permanent magnet generator. The design allowed GE engineers to eliminate the gearbox, reduce the number of moving parts, cut the need for maintenance, and lower the operating cost.

The generator weighs 150 tons and sits 100 meters in the air. It's split into three separate electrical circuits. Even if two circuits go offline, the turbine can still produce 2 megawatts of electricity on the remaining circuit.

The technology will power America's first offshore wind turbine off the coast of Block Island, R.I. In November, EDF and Alstom's former offshore wind business are joining forces again to bid in Morocco's huge onshore wind tender, which will offer up to 850 MW of capacity.

Elsewhere, GE is helping EDF to build France's first subsea tidal power plant, supplying the project with special transformers developed by GE.

GE says the Alstom deal gives it one of the broadest and deepest renewables offerings in the industry, allows it to improve power plant designs and provides it with a broader grid portfolio with the footprint and scale to compete globally. The company will also gain muscle in project expertise.

There is more good news for EDF. The global headquarters for GE Renewable Energy will be in France, meaning that as EDF plans to expand its renewables portfolio the perfect partner will be just down the road.
tags