Wind-energy speed is picking up across Australia. GE will supply 37 turbines for the new 134MW Crudine Ridge Wind Farm near Pyramul, 45km south of Mudgee, central-west New South Wales' famed wine and food destination.
Developer CWP Renewables has been working on the project since 2007 and is excited to see it come to life after a decade of planning and community consultations. "The key to our approach is that at every juncture of the development, we've worked to find solutions," says Ed Mounsey, chief operating officer for CWP Renewables. "That includes early decisions such as the design of the layout to minimise impacts on neighbours and the environment; and smart approaches to the delivery of the turbines. For instance, we developed a split transport route to avoid bringing oversize wind-turbine components on local roads through the very busy town of Mudgee … we've listened and followed through on our commitments to respond and find ways where it's win-win."

And wind wins: When all 37 turbines come online at the farm by the third quarter of next year, the project will generate enough renewable energy to power the equivalent of 55,000 homes and offset more than 325,000 tonnes of carbon emissions each year. "CWP has been a customer of ours for a long time, both here in Australia, with Boco Rock Wind Farm, and in Europe," says Steve Oswald, Country Executive for GE's Onshore Wind business in Australia. "It's great to continue the relationship and we're delighted to be working with CWP again."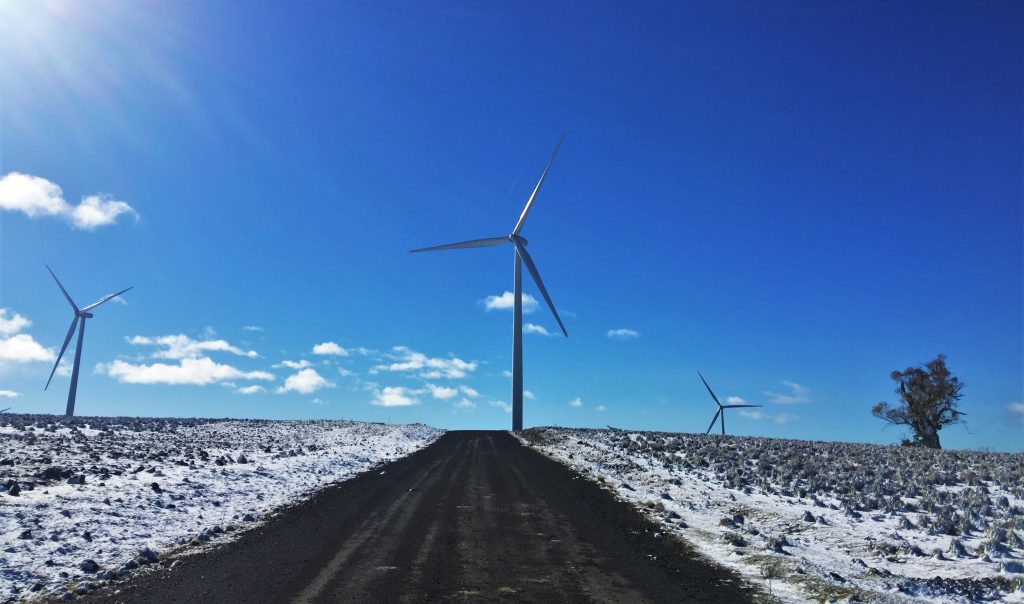 GE's 67 turbines at Boco Rock Wind Farm generate up to 113MW of renewable energy.

Partners Group, a global private market investment manager, has signed on as the major investor in Crudine Ridge Wind Farm and, Oswald points out, was also a major backer of the Ararat Wind Farm in Victoria, for which GE supplied the turbines and was a partner in the construction consortium. Partners Group and CWP Renewables are also repeat collaborators. "It's a great partnership. Partners Group can see what we can bring and vice versa, and it brings even more certainty of delivery to our pipeline of projects," says CWP's Mounsey, referring to the total of 400MW of wind projects CWP and Partners Group have already under construction in NSW — with more to come.

Importantly, Crudine Ridge will form part of CWP Renewables' ambitious Grassroots Renewable Energy Platform, a portfolio of large-scale wind, solar and battery projects in NSW with a combined capacity of more than 1,300MW. The annual generation from that combined set of renewable generators will equate about half of that produced by the coal-powered Liddell Power Station, which AGL is scheduled to close in 2022. Grassroots will bring multiple high-value jobs to regional NSW as it is constructed over the next four years, with $700 million from the Partners Group on behalf of its clients.

"Our portfolio combines the benefits of wind and solar generation with large scale batteries, allowing morning and evening wind generation to be combined with daytime solar generation and battery energy storage," said Alex Hewitt, CEO of CWP Renewables. "This is the future of large-scale generation in Australia. We can, from this large portfolio, produce 24/7 baseload renewable power at very competitive prices."

Adds GE's Oswald, "It makes sense to invest in these assets because of the competitive levelised cost of electricity that will be generated from them."

The development is also a significant milestone for the Clean Energy Finance Corporation (CEFC): it's the 10th large-scale wind project to receive funding from the financer, which commenced operations in 2013 with a stated mission to "accelerate Australia's transformation towards a more competitive economy in a carbon-constrained world, by acting as a catalyst to increase investment in emissions reduction". In backing Crudine Ridge, the CEFC's overall direct funding commitment to wind projects in NSW, Queensland, Victoria and South Australia totals more than $700 million.

CEFC Wind Investment lead Andrew Gardner said: "CEFC finance has helped deliver almost 30 per cent of new wind capacity in Australia since 2013, contributing to a robust ecosystem of local and international project developers, contractors, advisors and financial institutions. We are proud to have worked alongside project developers and other financiers to deliver significant growth in this important clean energy source, which is critical to reducing emissions from our energy-intensive electricity sector."

GE's Energy Financial Services (EFS), a global energy investor, was also integral to the Crudine Ridge project, which will be the fifth wind farm in NSW to spin GE turbines. The Crudine turbines will be among the largest and most efficient in Australia, with a rating of 3.63MW and a rotor of 137m. "We spent a great deal of time and care in optimising our solution for the site, and the turbine sits atop a customised tower to make the most of the development envelope," says Oswald. "The higher your turbine sits, the higher the wind speed, and the more energy you produce." GE also has a 10-year service agreement to look after those mighty turbines and, says Oswald, "we'll be using GE's digital capabilities for operational efficiency" as a part of that.

The project is a collection of renewable-energy milestones and another step along the road to a sustainable, reliable and affordable energy future.
tags