GE announced today the creation of Current, a startup that combines energy hardware with a digital backbone to make power simpler and more efficient for customers.
The company, which is backed by GE's balance sheet, brings together GE's LED, Solar, Energy Storage and Electric Vehicle businesses as a one-stop shop for early customers like Walgreens, JPMorgan Chase, Hilton Worldwide and others.


Based in the Boston area, Current reflects GE's shift toward new business models that address customers' end goals. Instead of selling separate energy products, Current will combine power offerings as a service and reduce cost for companies by simplifying energy and providing improved efficiency. It will use GE's Predix software platform to collect data and help customers understand how they're using, and losing, energy.

The goal is to cut waste for customers who, for example, power millions of square feet of factory space or retail operations. The services are projected to save customers 10-20 percent on their energy bills and also help utilities manage demand on the grid.

"Commercial enterprises can't afford complexity and inefficiency in energy solutions if they are to remain competitive," says Beth Comstock, a vice chair of GE who oversees Business Innovation. "They are looking for 'future proofed' solutions. From the socket to the grid, we understand how the electrons flow and have the unique position to optimize energy regardless of the scenario or customer."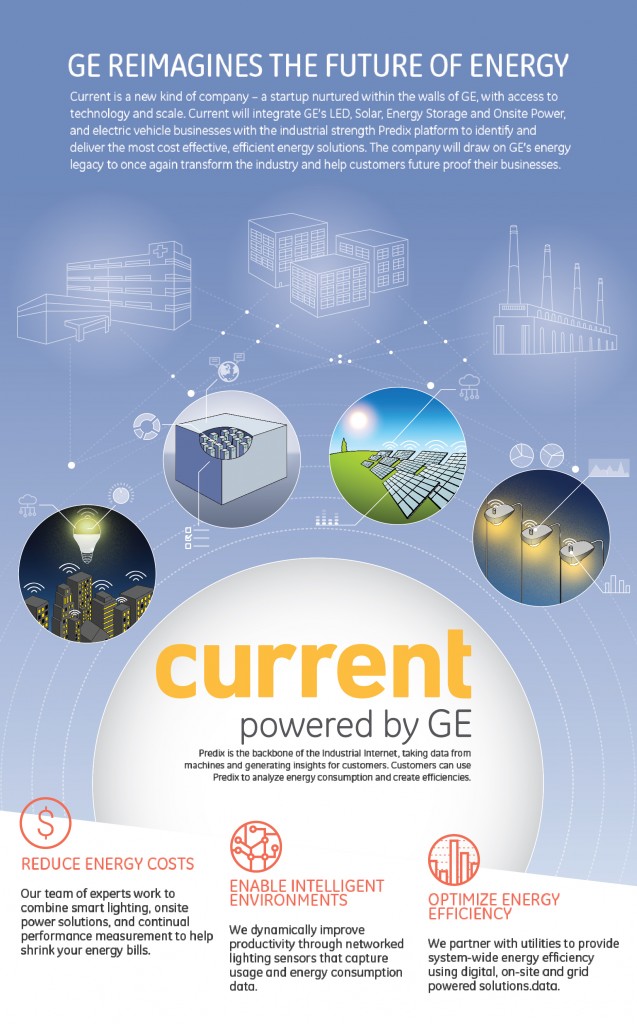 Current builds on the history of GE founders like Elihu Thomson, who merged his Thomson-Houston Electric Co. with Thomas Edison's Edison Electric Co., to create GE. Thomson's inventions laid the groundwork for the modern electric grid.

The new company, which will be headed Maryrose Sylvester, the president and CEO of GE Lighting, begins life with $1 billion in revenue. It will create approximately 200 new jobs.




Categories
tags