It's not unusual to see giant cruise or cargo ships out at sea today. But even by those standards, Shell's new floating liquefied natural gas facility is huge.
Dubbed Prelude, after the gas field where it will operate off the coast of northwestern Australia, the massive facility is 488 metres long and 74 meters wide. Its footprint is as large as four soccer fields.

Called FLNG in industry parlance, the floating facility is on a course to revolutionise the energy industry. Prelude will process natural gas at sea, where it is pumped from underneath the ocean floor — a process that normally takes place on land. While Prelude is a giant, it's still much smaller than a land-based plant, which creates special challenges, says Mike Peterson of GE Oil & Gas. His business unit is building and testing a key component for the FLNG facility called the dynamic flexible riser. These high-tech pipes bring the gas up from the seabed before it is cooled to around -160°C (almost double the lowest temperature ever recorded in Antarctica) and turned into liquid.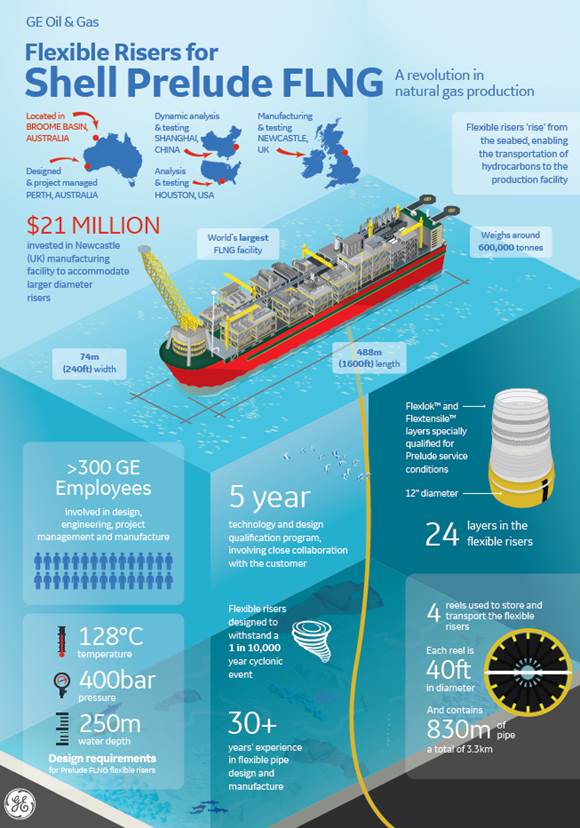 The risers have been designed to withstand some of the harshest weather and sea conditions imaginable. They are being built and tested in GE's facility in Newcastle, U.K. "They are like very fancy garden hoses," Peterson says. "We build them from layers of metallic and polymer components. Each weighs around 320 tonnes and must be capable of functioning for 25 years through thick and thin."

Once in operation, Prelude will be able to produce 3.6 million tonnes of liquefied natural gas per year, more than Hong Kong uses annually. The facility's cavernous hull holds six LNG storage tanks that, together, will have the same capacity as up to 175 Olympic swimming pools. When full, the facility weighs over 600,000 tonnes, six times more than the world's biggest aircraft carrier.

Prelude is currently being built at the Geoje shipyard in South Korea. The risers will be shipped there from England, a distance of more than 18,000 kilometres, by cargo ship before the next stage of their journey to off the coast of West Australia.

But the sea passage is the easy part. Peterson says that in order to get the risers from the factory to the quay, a mere 150 meters away, operators will use a straddle truck — a sort of oversized forklift with a 430-tonne capacity — that GE recently bought to handle growing demand for larger risers. From the quayside, a heavy lift vessel equipped with a 900-tonne capacity crane will load the risers, as well as 21 containers full of related equipment, onto the transport ship.

The flexible risers are designed to withstand a 1 in 10,000 year cyclonic event

Once in Australia, they will join other crucial pieces of equipment manufactured, assembled and tested by GE's Florence facility in Italy's Tuscany region. These include two sets of steam turbines and compressors that GE Oil & Gas tailor-made for Prelude.

The compressors are at the heart of the production process, designed to handle between 450 and 640 tonnes of refrigerant gas per hour. They play a critical role in producing LNG, cooling down the natural gas that is brought up from the seabed. Alessandro Dolci, LNG projects team leader at GE Oil & Gas, says that without them, it would be like trying to preserve the food in your kitchen without a freezer.

Dolci says the project needed a simple, compact design because the facility is smaller than a typical LNG plant. To fit the constrained space, his team developed a compressor that is smaller and lighter but with the same efficiency as a larger unit. They also developed steam turbines that spin faster and produce more power, despite being 40 percent lighter than the standard design.

With a team in Australia, manufacturing in England and Italy and analytic testing in the United States and China, Peterson says, "This project really shows the global reach of GE."

This story originally appeared on the US edition of GE Reports.


tags