Disclaimer: Photos were taken pre-COVID
Efficient, reliable engineering is essential for a company with a reputation built on quality. That is why lean principles that focus on waste reduction and optimised operations provide such an important cornerstone of modern GE operations around the world.
Lean management is a methodology which not only guides leaders to support the tools of transformation but encourages a culture of continuous change across an organisation, and it's a philosophy that has been enthusiastically embraced at GE Engine Services Malaysia (GEESM).
GE Engine Services Malaysia was incorporated in 1997 to establish a Center of Excellence for CFM56 engines. Today, the 21-year-old engine maintenance, repair, and overhaul facility at Sultan Abdul Aziz Shah Airport in Subang serves over 40 airlines globally, with a staff of more than 300 local technicians.
In normal times, an aircraft powered by GE technology would take off every two seconds somewhere in the world. Every aircraft that roars its way into the sky reflects an engineering team on the ground that keeps it running. Lean management provides the backbone to ensure efficient operations at vital repair facilities like GEESM.
"I've been in my role for about 10 years, and I've been with GE for the past 28 years," said Suresh Shunmugam, Managing Director at GEESM, speaking recently to GE Reports. "We actually embarked on a lean journey back in 1998, but of course it's like training a muscle — sometimes you lose strength, but now we're working hard to build and flex that muscle."
Lean management is applied across GE's sizeable global footprint to ensure continuous improvement in productivity and efficiency, at the same time tackling waste within operations. Embracing a culture of change is at the heart of this strategic long-term vision.
"We train our people to make sure they have the awareness of lean, some of the basic tools so that those cultures and awareness on the knowledge side is there. Then we allow people to implement the knowledge into practical things," said Suresh.
GEESM has demonstrated clear benefits of an ingrained lean culture over the years. Just one example is in its engine overhaul turn-around time (TAT) reduction by 30 Days in 2021 from the 2018 baseline and meeting customer contract on time delivery (OTD) of more than 90% in 2021.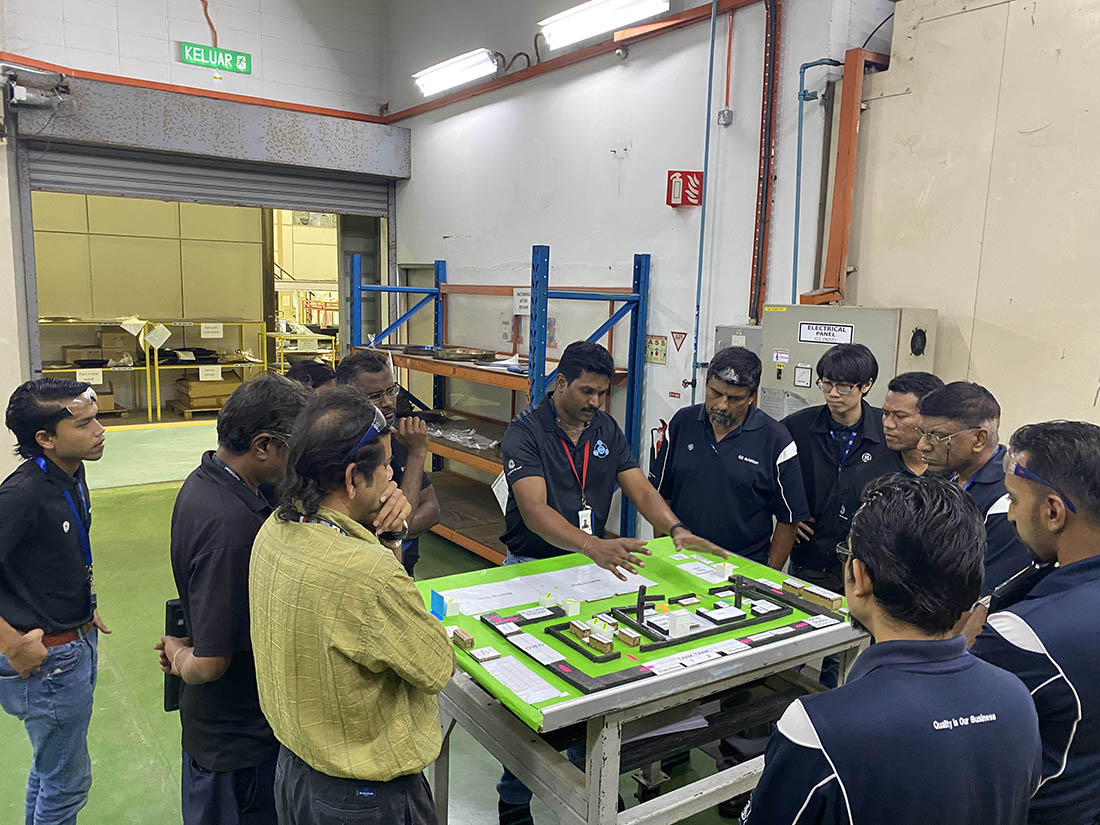 GESSM lean culture is also fuelled by Kaizens. Since implementation, the organisation has achieved notable results such as:
95% of the work cells meet the quarterly Kaizen targets with 50% Moonshine and 3D printing project.
50% self-deployed improvements which impacts safety, quality, delivery & cost.
15+ Action workouts and 3P events per year to enable productivity, cycle time reduction and to increase repair capability.
Established mixed lines with same or reduced footprint to meet the volume increase or variation due to the demands.
Lean isn't designed just to simplify processes and improve work culture, it's aimed at having a sustained impact on the service customers receive, and the value leveraged for the business, argues Suresh.
"When we embarked on this journey, we were very clear that whatever we do, we want to make sure it adds value and is sustainable. If not, it's just going to be a waste. We will just please our leaders or customers for the short term, but it's not going to add value to ourselves or customers for the long term," said Suresh.
"We drive lean not as an initiative, we drive it as a culture."
While efficiency and waste reduction are philosophies that have long had a place at the heart of GE, this renewed focus on lean management offers a fresh opportunity to optimise processes. What's vital on that journey according to Senthil Kumar, Senior Materials Operation Manager and Lean Lead at GEESM, is a collaborative approach that truly builds a commitment to lean throughout all parts of the operations.
"We drive lean not as an initiative, we drive it as a culture. Going slow is important to build a culture. Implementing tools without culture is just a standalone tool. That's why we're gradually increasing the maturity of our practices year-on-year," said Senthil.
"Many times, you run the continuous improvement initiative, you improve, improve, improve… then if you don't have a strong operating environment, strong practices maturity, you may lose the culture as well as the sustainability of the improvement," Senthil says, going on to point out "continuously identifying possible improvements, and sustaining those improvements, is only possible when you have practices and rhythm in place. So that's the definition of lean," said Senthil.
Of course, like many businesses around the world, GEESM has faced some clear challenges over the last 12 months. Lean management has provided the framework to help overcome those hurdles, but it has had to adapt in order to do so. This is a methodology fundamentally based on collaboration, and during a global pandemic that often limits these interactions, the team at GEESM has had to find innovative new approaches.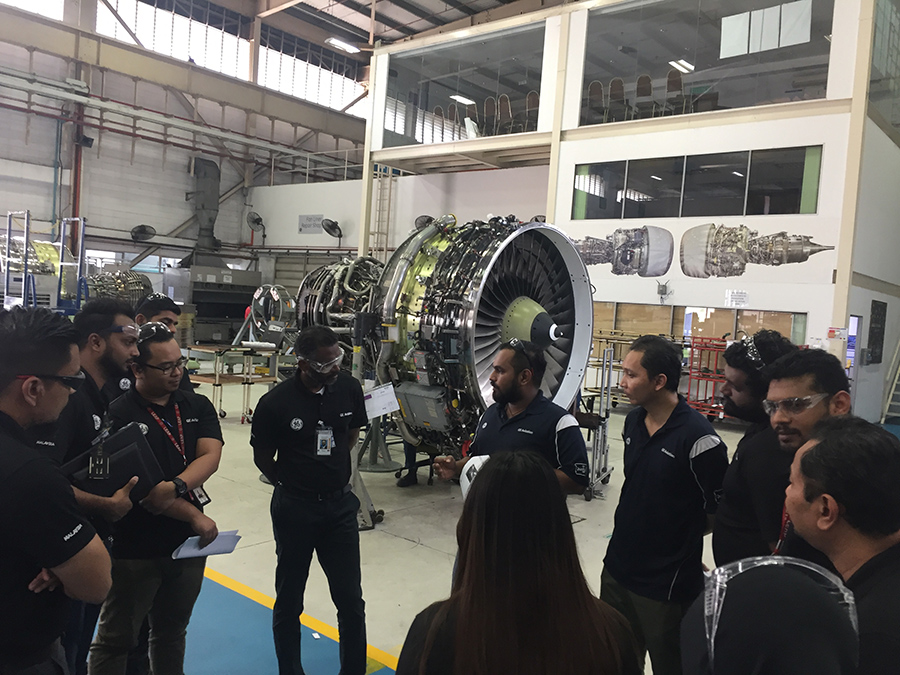 "We know we cannot do Genba physically on the workstation because of social distancing, so Senthil and the team implemented a virtual Genba Walk," said Suresh. A Genba refers to a common practice of the lean management approach in which management takes time to routinely visit the shop floor, helping build both that connection and understanding with process operations, and potential improvements.
GEESM has also adopted a digital platform which enables employees to explore and suggest operational improvements. "COVID has actually built a different muscle on us, using digital tools and platforms. So, it places us in a forced situation, and we needed to be agile to respond to the situation. In return, it gave us different advantages," highlighted Senthil.
"We slowed down a bit at first to control the situation and reassure workers their safety was our priority. Once we recovered from the situation, we started leveraging different tools, equipment, and technology, to facilitate the culture going forward," said Suresh.
"It's about a support structure through the organisation."
Employees are the glue that holds this process together, underlining the culture that guides lean operations, and offering valued insights on how and where processes can be optimised. That's why supporting them to embrace this concept is key according to Suresh.
"What we want is for people to understand that we have a support structure, and people don't have to throw out an idea and complete it themselves. It's about a support structure throughout the organisation."
Workers are not only encouraged by the benefits that this makes to their working life but rewarded for those improvements that deliver results. "When they find ways to improve quality or save cost, how do we give it back to the employee? That's why we came up with an effective reward system, both to motivate the employee, ensuring whatever they're doing is making a difference for their personal growth, as well as making the workplace better for them," said Suresh.
Suresh and Senthil are both eager champions of the lean approach, and keen to stress that lean management is more than just an improvement initiative — it is a commitment to continuous improvement that benefits the work of GE Engine Services Malaysia, its employees, and its customers.
"We truly believe that whatever we do should really add value to the bigger picture. If it does add value then we should continue to do that and find ways to do it better. If it doesn't add value, it's a waste which we should use lean methodology to eliminate," concluded Suresh.