This article first appeared on GE Reports Indonesia.
Although she made her first visit to Makasar, South Sulawesi in north eastern Indonesia nine years ago, Fikarina, a GE Indonesia engineer, still has vivid memories of the trip.

Flying in at 10 pm, she looked out the window of the plane and was surprised to see a city that appeared to be in an emergency blackout situation.

"Looking over the city and countryside, it looked like there was blackout. But it was dark because the villages had no access to electricity – in fact, when we drove at night we nearly hit a dog because there were no road lights," she said.

Fikarina was part of a three-person team travelling from Makassar, to Sengkang, to review a proposed location for a new power plant in the area.

During the six-hour drive, she could not stop thinking about how people lived without electricity - this was the norm for many locals. Fikarina thought about the impact on children, and their ability to study, and health services, especially in times of emergency.

"That visit really opened my eyes about my work, and how the projects managed by my team and I, can change lives," said Fikarina.

Improving Lives

Fikarina's experience in Senkang continues to inspire her – currently she is a Lead Engineer Combined Cycle Product Line and Performance with GE Indonesia.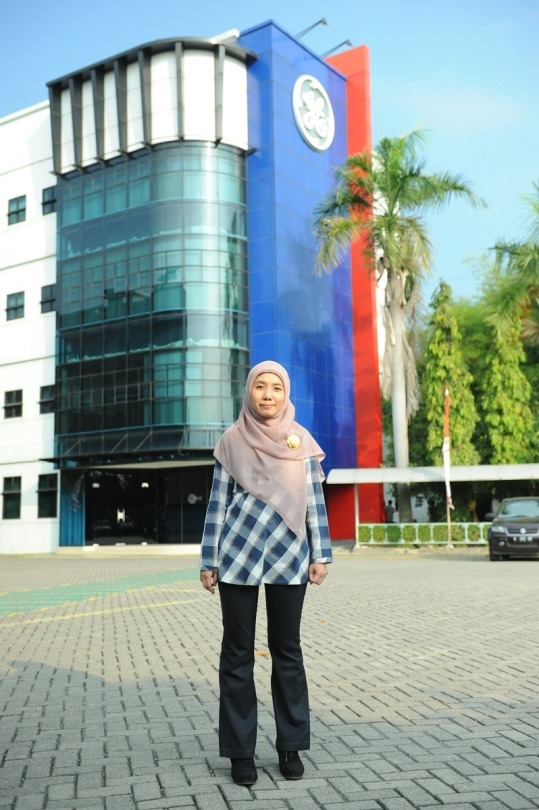 2,500 villages throughout Indonesia have no access to electricity today).

Fikarina's Engineering Journey

Fikarina, a mother of one, said engineering has been her passion since school days.

"Like many young girls, I loved fairytale princess stories, and cooking was my hobby. I even considered being a nutritionist, but my elder brother encouraged me to study chemical engineering because I loved chemistry at school."

"I liked the opportunity to mix and experiment with chemicals in the lab – it was a bit like combining ingredients in the kitchen," she chuckled.

To pursue her engineering dream, Fikarina enrolled at the Bandung Institute of Technology. Recalling her college days, she said, "Of the 92 students in the engineering faculty, women made up less than a third of the student numbers.

"And when I entered my factory design major classes, the numbers fell again – there were only 10 women in the program. Despite being in the minority, I enjoyed the study, and training, even the assignments that involved climbing up factory walls!"

Building Her Career

Studies completed, Fikarina applied for an engineering position with Alstom Power in 2004. While engineering was a male dominated sector then, Fikarina was not daunted by the challenge – after all, her hero was Marie Curie, the Noble-prize winning physicist and chemist.

Impressed by her academic success and determination, Alstom Power offered her the job. She accepted and in doing so, become the first energy sector engineer in Surabaya.

Early in her career, some male colleagues doubted whether she could make it said Fikarina.

"I was determined to make engineering my career – I've always believed that ability and hard work is more important than gender. And I hope my example has inspired more women to pursue engineering, and careers in other traditionally male-dominated industries."

Positive Changes

She has seen positive changes over the years, and the gender balance has improved significantly with more women coming into the engineering workforce.

In her opinion, this trend is driven by women feeling more empowered, and free, to pursue opportunities in a broader range of sectors, and a growing number of companies that promote diversity, transparency, and meritocracy.

While she has achieved a lot in her 13-year engineering career, Fikarina said she prefers to focus on the future rather than dwelling on the past.

"Like other sectors, new technologies are making a huge impact on the power industry - this excites me because I've always enjoyed learning, improving, and developing new skills.

"And since my Sengkang experience, I also remain highly motivated to help bring power to villages and communities that lack access – energy is a basic human right, and a big driver of social and economic growth throughout Indonesia."

Fikarina's career story is one a number that will be highlighted in a GE global program to attract more women to STEM (Science, Technology, Engineering, and Mathematics) jobs.

To enhance diversity, fresh thinking, new approaches, and innovation, GE's "Balance the Equation" initiative aims to have 20,000 women fill STEM roles throughout the company by 2020. GE currently employs 14,700 women in engineering, manufacturing, IT and product management roles, about 18% of the technical workforce.
tags