We chose to host our last GE investor event in March at two of our Power and Aviation sites in Greenville, SC (in the US) rather than typical New York City because we wanted to show as many investors and analysts as possible what it means when you go to genba, "where the work is (really) done."
The difference is, or should be, palpable. The good, the bad, and sometimes the ugly. For teams who truly practice lean and believe in it, those latter two descriptors are nothing but opportunity.
In that spirit, Blaire Shoor, Jon Leventry, and I on the IR team were given another gift of lean over the last week, participating in the GE Leadership Kaizen at three different locations, two at Aviation and one at Renewable Energy. So, forgive the length of this newsletter – as we wanted to use the opportunity to go in depth to make this a bit more real.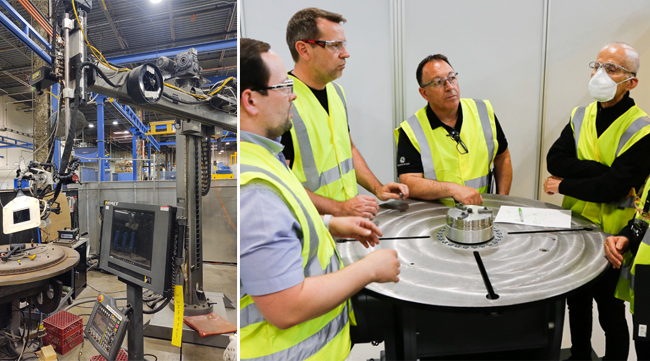 The shop I was lucky enough to spend the week with includes almost a thousand GE employees in Wales, led by site leader Nick Blakeney, and is responsible for a large portion of our CFM56 and GE90 shop visit overhauls. There were seven Kaizen teams on-site with over 100 participants between plant operators, managers, engineers, and other support functions as "fresh eyes " from all around GE. For many this was their first Kaizen experience or at least their first "Shingi" event with GE's lean sensei, Katahira-san.
In context, recall that we have talked about >25% shop visit growth just this year for GE Aviation. So for a shop like Wales, that means ramping up from overhauling three engines per week to four engines per week for CFM and upwards from there during the coming super growth cycle (recall too that CFM56 shop visits don't peak until later this decade). In a highly technical, complex repair and overhaul operation, with all the supply chain, labor and other operational challenges, this is no easy task.
Our mission for the Kaizen: improving turn-around time on engines so we can accommodate the customer ramp for growth.
To give you a sense of the process – at the highest level the overhaul includes:
a customer (e.g., the airline) sending an engine to the shop;
GE 'inducting' the engine;
then pending the determined workscope (which is often discovered once the engine is opened), disassembling all modules and every piece part required, technically cleaning every part, inspecting every part (down to the bolt), repairing or supplying new parts locally and from around the world;
re-building the engine, inspecting, and testing and with all regulatory requirements fulfilled, then shipping back to the airline customer for reattachment to the airframe.
With thousands of parts meeting exacting standards and tolerances, including a global GE and third party supply chain (including our partner Safran), the process is, to say the least, demanding, and the opportunities for improvement plentiful. The shop's operators are highly skilled, technically capable and supported by a deep bench of engineers, supply chain, logistics and management staff. The workforce in Wales knows the coming volume challenge, wants to keep and grow the work on-site and has been receptive to determine how to improve the way they work in order to do so.
I have been to several Kaizens, but this one was especially gratifying to see the changes that took place during the week. Changes that resulted in safer practices, higher first-time quality, faster turn-around time, and ultimately lower working capital and cost. And yes, I literally mean that took place in the period from the pre-work, through Monday, to proving out savings Thursday and Friday.
Some of the results across the teams just in Wales included:
the Bulk and Detail Strip Teams (that tear down the engine to piece-parts) took out more than 40% of the hours per engine while improving the EHS rating of each area;
the team that dispatches parts to repair reduced their cycle time by more than 70%, with multiple "massive steps forward" in both flow and layout in the operators' own words;
the Cleaning Bay Team improved internal delivery from 19% of CFM modules cleaned in 24 hours to more than 90% by the end of the week
the team working on Direct Issue Material eliminated 60% of the primary issue impacting standard work adherence in final assembly
the Plasma team in Component Repair reduced delivery time by more than 50%, while increasing daily output by more than 50% and eliminating 12 safety hazards;
the Mills Team showed a >60% improvement in labor hours as well as 95% reduction in distance travelled;
and finally the harness cells increased on-section material availability from ~ 0% to 100%, while improving first pass yield and reducing lead time by 92%.
The dollars associated with these improvements will show up in lower costs, reduced lead time, faster turns, and more revenue and profit over time. For the entire site, from here it will be about sustaining those changes and then moving onto the next set of improvements.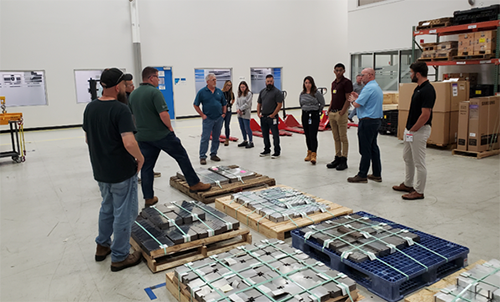 Blaire was part a safety focused Kaizen at the GE Aviation Additive Technology Center in Cincinnati, Ohio. Many of our additive manufactured parts are developed on site, with the current focus on the GE9X, Catalyst and T901 engines, among other platforms.
The process to additively print a metal part involves a metal platform on which the part is printed inside the machine and then removed upon part completion. These platforms are heavy – 50+ pounds- and present a safety hazard due to the required lifting across all operations. In addition, the team had accumulated hundreds of these metal platforms – tucked away in every room in the shop, resulting in significant inventory issues.
The team's goal was two-fold: reduce the lifting of the platforms and develop a better process for inventory management. The team was able to develop a process to pull inventory into the shop, reducing the inventory on hand, and decreasing the amount of lifting required by operators by over 75%, resulting in a safer work environment. The team also implemented daily management, to ensure the improvements are sustained by the operators.
Jon joined the Grid Solutions team in Clearwater, Florida where they focused on the Capacitator production business line. Capacitors are made to order and highly customized, with over a thousand different customer combinations.
Within capacitor assembly, there are a variety of sub-assembly cells with each producing different parts of a capacitor. While each sub-assembly has a scheduling process, there had been little planning coordinated across the cells resulting in higher work in process (WIP) inventory and extended lead times.
During the week, the team implemented standard work to incorporate capacitor production sequencing logic and establish formal communication touchpoints across the different feeder cells. This process reduced one feeder cell WIP inventory by 51% and eliminates excess WIP inventory in another feeder cell altogether. Going forward, the process will also reduce capacitor production lead times by more than 40%.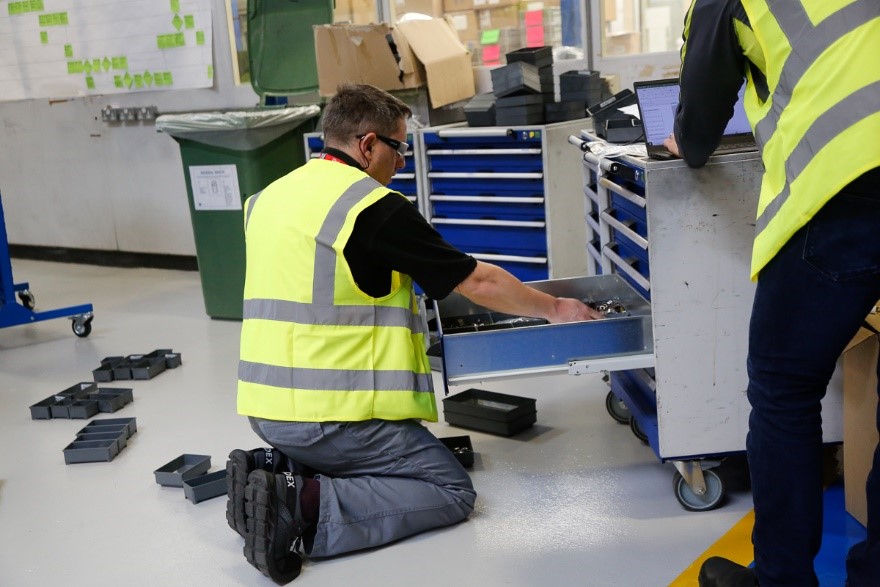 Many GE employees, from senior general managers to line operators and engineers, asked me last week how we can translate our lean progress to what matters to investors and analysts, so you can see both the progress and the opportunity we see.
This begins with more open problem identification (wasted time, effort, and $$), sustained solutions and practices, improving key performance indicators or KPIs across Safety, Quality, Delivery and Cost/Cash (SQDC in that order) and in aggregate, moving the needle positively for operational and financial results (working capital, cost structure, margins, revenue growth).
Through my eyes, bridging the company lean progress and the interests of our investors, the transfer function is readily apparent… you are a part of a competitive company growing profitably, with ample opportunities for reinvestment. And, doing so year after year because of the markets that matter in which we participate - but as importantly, because of how we operate.
Of course, these are just a few examples, but in combination, this all drives deep, lasting cultural change site by site, in plants, in field services, and even in offices, across GE. While nothing can replace being there in person, we want to share a top 5 list of our learnings and reflections from the field that might be meaningful to you from an investment perspective.
Safety is first, and for a reason. Safety is something we must never take for granted and should always be viewed as the #1 priority. Blaire and our Aviation Additive team shared, "On day 1, after observing the process, I learned that our operators were lifting (with their hands in many instances) 50 to 100 pound platforms and parts ~10x throughout the production of a part. Our goal was to reduce the lifting required to improve the safety of the process. What I quickly learned was that by setting this as our goal, we unlocked a multitude of process improvements beyond the elimination of the lifting. By eliminating the lifting required (which we reduced ~75%), we also made the process faster and more efficient – which should ultimately impact delivery & efficiency (cost) as well. So – one of my key learnings is that safety is first for a reason – when you're operating in the safest way possible, you're focused on doing the right thing for your people and as a side benefit, you're probably also unlocking other improvements across your process."
Do not make things perfect, make them better. The very meaning of Kaizen in Japanese includes Kai, to change or renew and Zen, to make better. In other words, to make better by changing... or continuous improvement. Many of our plants around the world have incredibly rich histories and heritage but sometimes get stuck in the same way of doing things for a long period of time. In some cases, the value of these events is to remind and reinforce with the local teams that they are empowered to change what they do every day, for the better. It is amazing to see not just one day at a time but sometimes hours at a time. An important part of Kaizens includes trystorming. Quickly try new solutions before jumping to the conclusion that it will not work. For example, in Wales one of the team members commented, "during the daily visit of our sensei Katahira-san, he challenged us on why multiple operators needed to look at each machine while it is "spraying" plasma on the part for repair. In the Sensei's view, one operator could instead be looking at several of them at the same time, freeing up time for the other operators (production time). The first reaction of the team was worry and uncertainty that this would not work. It quickly became clear however that by setting the target higher, trying new ways of working, challenging the way things are done, and adapting while we go, we could improve the outcome. The lesson here is don't let the worry of potentially failing prevent you from trying!" As GE CEO Larry Culp said in an all employee note with his reflections and learnings from the week – "The "just do it, do it now" mindset in a Kaizen is infectious. I saw that bias for action everywhere I looked. Katahira-san pushes us hard to take action now without delay. I think the Wales team came away with a better sense of both what is possible and how quickly they can implement their ideas. I hope their bias for action only grows after this week."
People are our most important assets. Done well, Kaizens are both an investment in our people and results for the company. One of our teams in Wales highlighted how a tool that sounded simple enough, daily management, empowered the team more substantively than had been the case before. As Brice Raisin, EMEA Commercial Sales Director for GE Gas Power said: "While a part of our team was focused on implementing daily management, it became clear that having daily targets and involving the whole team upfront in the shift gave the opportunity for the operators to take the lead on how they are going to achieve their plan. The operators know better than anybody things like which machine is capable of what and how long it takes to repair each component. Their experience combined with historical data will give the most optimized path forward to reach our target. We all work for the 'operator' in our specific functions and need to ensure they can focus their time on producing." So as our sensei Katahira-san said, "People are our assets, and it is the mission of the company to develop its people."
Beware of fake lean. As a former analyst, I often wondered how do you know when you are seeing "real" lean on a company visit that might actually produce results and a financial return down the road? There are a lot of telltale signs and as GE CEO Larry Culp says about what he saw in Wales, "[Lean] tools were not being used in isolation just to be seen using them. [Our teams] really understood what the tools are, why we use them, and how to use them as part of their normal approach to running the business." Larry continued– "I saw real lean, rather than fake lean in practice. Visual management, daily management and standard work were core to much of the improvements made. But the best part for me was to see the team using these lean tools to manage, to drive better results. The tools were not being used in isolation just to be seen using them. They really understood what the tools are, why we use them, and how to use them as part of their normal approach to running the business."
A manager does NOT manage the "normal": In this dynamic operating environment, the manager's focus must be on managing abnormalities. At Grid Solutions in Clearwater, Florida the team faced challenges including securing scarce raw materials (one sub-assembly cell stopped production on Monday afternoon due to delayed material shipments) and ensuring that there is enough labor and working machines to execute weekly planned production.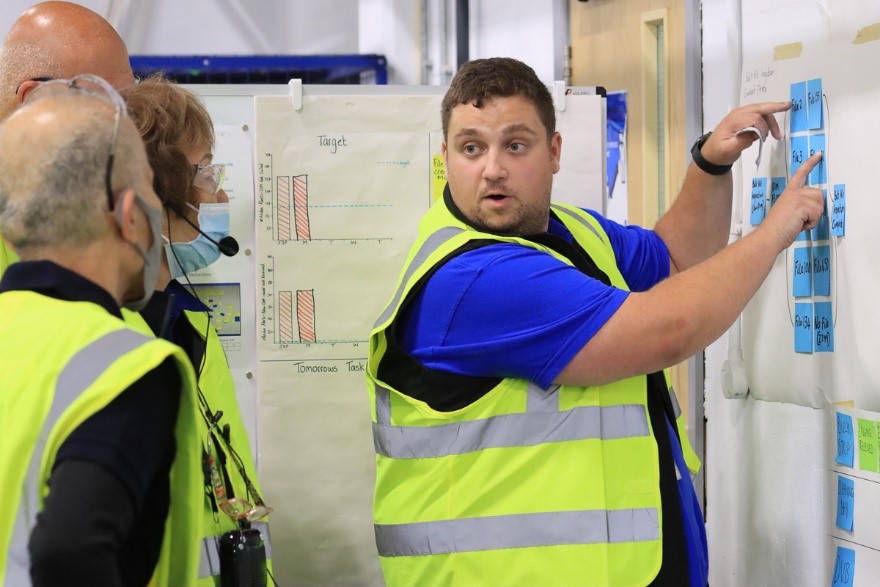 Jon and the Grid team shared – "Defining the "normal" and implementing standard work is vital in order to develop baseline expectations. We came in this week with no standard for sequencing capacitor production … no "normal". After this week, a "normal" has now been established. From now on, if there is excess WIP inventory, internal production sequencing issues won't be the reason for it."
Again, these are just reflections from three of more than two hundred Kaizen teams around the globe. Lean is not only becoming embedded in the culture, but also improving how we work that in turn drives improving operating performance, and leads to better financial results. That's the message. Please reply with any comments or questions… it makes us better.
Thank you for your interest in GE.
Categories
tags