Mike Harsh, chief technology officer for GE Healthcare, tells the story of a doctor who had trouble placing a stethoscope to the chest of a cardiac patient and listen his heart because of a tangle of cables coming from monitoring devices attached to his torso. "You sort of understand what the problem is," Harsh says. "People wear so many wires. It just tethers them right to their beds."
But Harsh is trying to cut those wires the way of the telephone receiver cord. GE's vision is to develop a new generation of wireless sensors that attach to the body like a Band Aid. They would draw power from a tiny integrated battery and use radio waves to communicate with a receiver either in the patient's pocket or in his hospital room. Outside the hospital, the information aggregated locally from the sensors could be relayed into a cellular network and automatically provide doctors and hospitals with round-the-clock patient monitoring and an uninterrupted flow of data.

"It's just like those hands-free Bluetooth head-sets, except we now transmit physiological signals rather than voice," Harsh says. "That's what makes this so interesting."

This week, the Federal Communications Commission (FCC), which regulates the use of U.S. radio spectrum, will rule on freeing up two radio bands for the devices. "You've heard people talk about the Internet of Things," said FCC Chairman Julius Genachowski. "You've heard about machine-to-machine connected devices. Well, here's an example of these concepts coming to life. This is a big deal and we're just at the beginning."

Scientists at GE Global Research and at GE Healthcare's Life Care Solutions unit started developing wireless sensors for so-called Medical Body Area Networks (MBANs) several years ago. Harsh says the two proposed MBAN frequency bands are "sitting right next to" radio spectra used by Bluetooth and ZigBee technology. "The available silicon chipsets today can be pulled just a little bit" to cover the MBAN bands, Harsh says. "That opens up the consumer electronics space and the manufacturers of all the silicon would help us enter the space to really drive the costs down."

As costs fall and always-on wearable medical monitors spread from hospitals to patient's homes, their impact could be colossal. "This will allow us to look at a large amount of data and start to do analytics, not just on ECG, but we can pull in respiration, or pulse oximetry," says Harsh.

GE's analytical software then can start sifting the diverse data from many patients and look for patterns. "You look for the signature of something that might happen based on the data that is coming in," Harsh says. "That's really what we're talking about. When you look at cost, access, and quality, it hits all three right in the sweet spot."

Disclaimer: This is a technology in development that represents ongoing research and development efforts. These technologies are not products and may never become products. They are not for sale, and have not been cleared or approved by the FDA for commercial availability.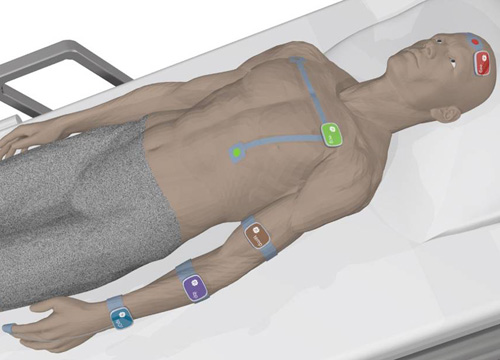 Body Language: Wireless Medical Body Area Networks (MBANs) aim to eliminate tangles of cables transmitting data from monitoring devices placed on the patient's body.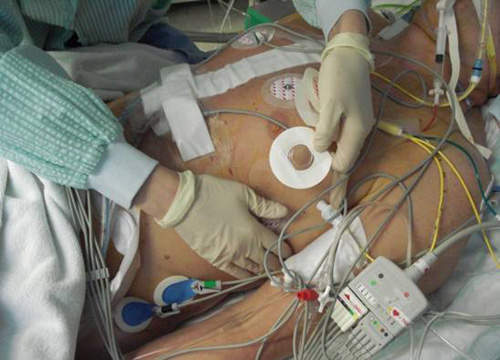 Categories
tags