Dr. Rodney F. Hochman serves as the CEO of a not-for-profit health system. Dr. Risa Lavizzo-Mourey was a professor at the University of Pennsylvania. Phoebe L. Yang is an executive at Amazon Web Services.
They are just three of the 10 directors who will lead GE HealthCare when it spins out into a standalone public company in the first week of 2023, GE chairman and CEO Larry Culp announced this week. Their diverse expertise and experience, from technology and consulting to healthcare and research, reflects the changing nature of medicine as GE HealthCare builds its future around connecting data, devices, and providers in an era of more precise and compassionate care.
"Collectively, they bring deep industry knowledge across different types of patient care and healthcare systems, capital allocation experience to support GE HealthCare's organic and inorganic growth, strong executive management and financial expertise, as well as digital and AI innovation leadership," wrote Culp, who will serve as nonexecutive chairman.
GE HealthCare's spinoff from its parent company of more than 100 years will mark an important milestone in GE's plan to remake the iconic conglomerate into three, more-focused organizations concentrating on healthcare, aviation (GE Aerospace), and energy (GE Vernova). GE HealthCare will trade on the Nasdaq stock exchange under the ticker GEHC.*
Making GE HealthCare an independent company should bring rewards both for the healthcare system and for employees and shareholders, said CEO Peter Arduini, who will also serve on the board. Years of research and development mean that the group has a slew of new products coming to market now. More and more of these medical devices make use of advanced technology like artificial intelligence and machine learning.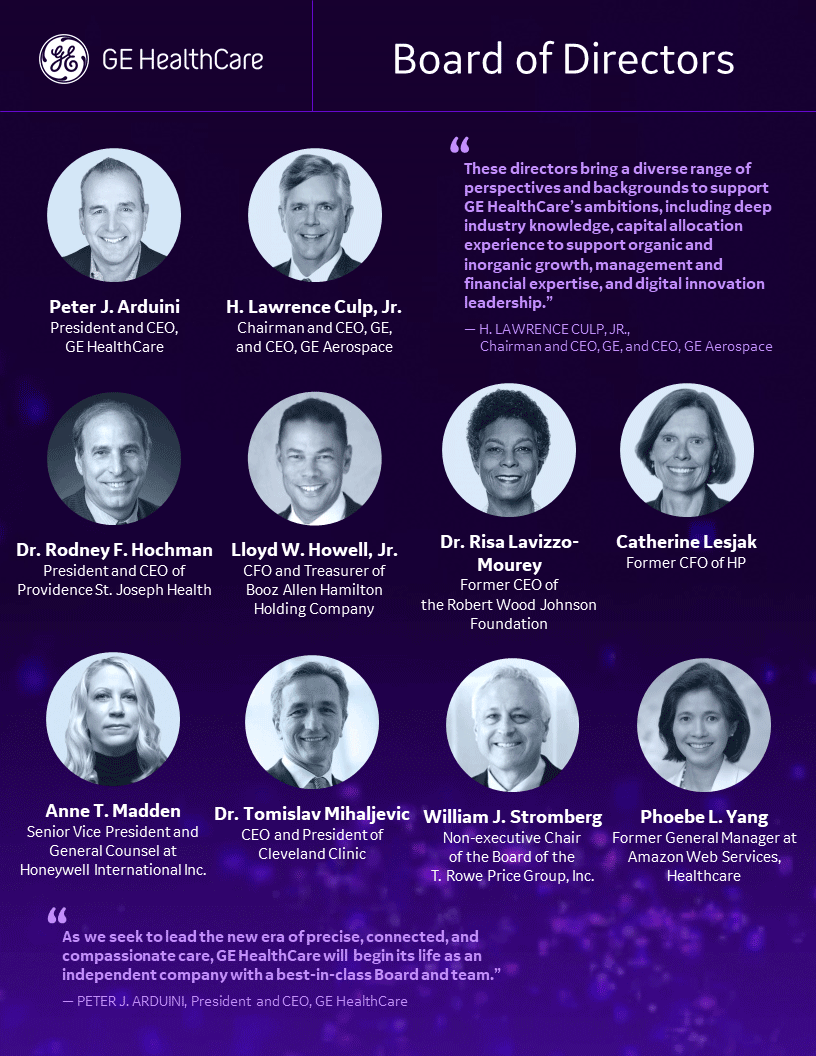 GE HealthCare makes many of the imaging machines seen in doctors' offices and hospitals: MRI, CT, and ultrasound, to name a few. Less visible is the software that now powers many of these medical devices, using artificial intelligence to improve images, speed up diagnosis, and free up clinicians' time by automating rote tasks. In fact, GE HealthCare sells more than $1 billion of software a year, says Arduini. And in the next few years, Arduini said at a recent Morgan Stanley conference, he expects the power of digital tools in healthcare to expand even more, enabling a more precise kind of healthcare that can better tackle complicated diseases.
One example uses deep learning, a type of artificial intelligence, to make MRI images sharper so that radiologists can get a clearer picture of what's happening inside their patients. The product, called AIR Recon DL, also dramatically cuts the time required to scan a patient by as much as half. That's important because it means doctors and hospitals can schedule patients more rapidly, and healthcare facilities can maximize the use of their imaging equipment, noted Arduini.
"GE HealthCare will begin its life as an independent company with a best-in-class board and team," Arduini said. "The group we are assembling brings a strong understanding of the safety, quality, innovation, and trust that our customers expect from GE, as well as fresh thinking for our journey forward."
*These plans may be subject to the outcome of legally mandated consultation in some parts of the world. This document contains "forward-looking statements." For details on the uncertainties that may cause our actual future results to be materially different than those expressed in our forward-looking statements, see here as well as our quarterly report on Form 10-Q for quarter ended June 30, 2022.

Top image credit: Getty Images
Categories
tags