Jet engines are large and complicated machines. But sometimes surprisingly small parts can make a big difference in how they work.
A decade ago, engineers at CFM International, a joint venture between GE Aviation and France's Safran Aircraft Engines, started designing a new, fuel-efficient jet engine for single-aisle passenger planes — the aircraft industry's biggest market and one of its most lucrative.

The CFM team got to work and came up with a new engine that could dramatically reduce fuel consumption as well as emissions. A key to the breakthrough was the wildly complex interior of the of the engine's fuel nozzles. Developed by GE Aviation, the nozzles' tips spray fuel into the jet engine's combustor and help determine how efficient it is. "I thought 'Oh my God, this is fantastic," recalls Mohammad Ehteshami, the former head of engineering at GE Aviation who now runs GE Additive, a new business focusing on the latest manufacturing techniques like 3D printing.

But there was a problem. The tips' interior geometry was too complex. It had more than 20 parts that had to be welded and brazed together. It was almost impossible to make. "We tried to cast it eight times, and we failed every time," Ehteshami recalls.

But Ehteshami, who rises before dawn for his daily run and is one of GE Aviation's most seasoned engineers at age 61, doesn't easily give up. Originally from Iran, he grew up on a dusty pistachio farm. His mother, the only literate woman in his desert village, pushed him to study science. When he received a visa to attend university in the U.S., he supported himself as a Boston taxi driver and a construction worker. At GE, he spent six grueling years developing the GE90 jet engine, the world's largest and most powerful jet engine in service. He had one last idea for getting the nozzle made.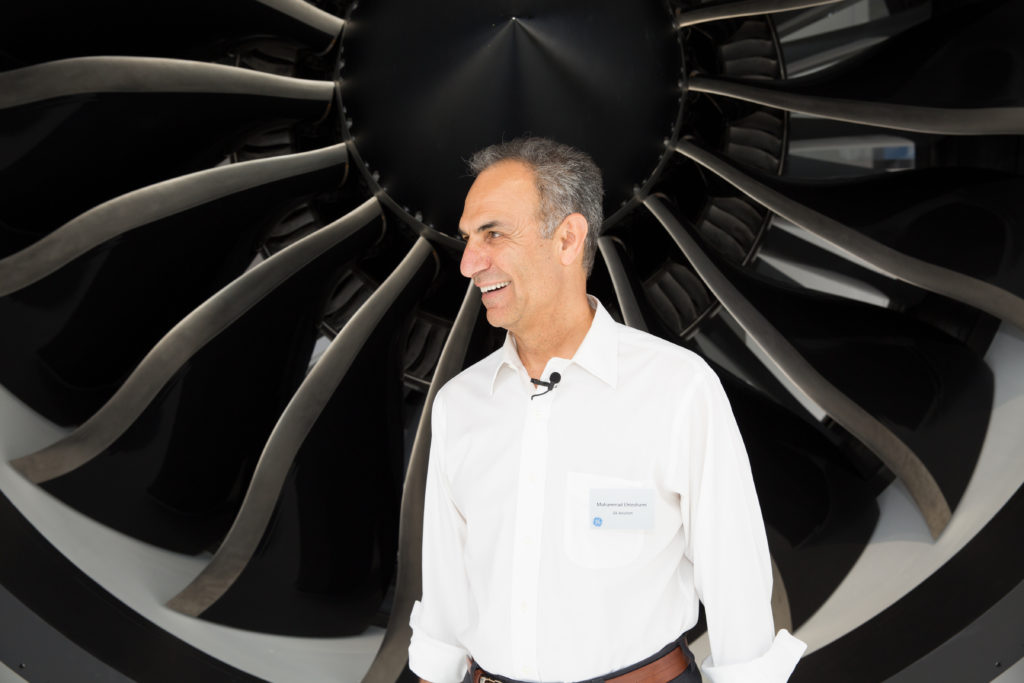 Top and above: "I was excited but also disturbed," says Mohammad Ehteshami after a vendor printed an complex part for a jet engine. "I knew that we found a solution, but I also saw that this technology could eliminate what we've done for years and years and put a lot of pressure on our financial model." Images credit: Adam Senatori for GE Reports

Starting in the 1990s, GE Aviation engineers in Cincinnati have been working with a local company called Morris Technologies started by 3D printing pioneer Greg Morris. Morris was quietly changing how humans make things. Rather than cutting material away, he was using lasers to weld together hair-thin layers of a metal powder to print complex parts directly from a computer file. This family of manufacturing technologies is called "additive" because they add material to the part rather than cut it away.

For many years, GE engineers had been using the bespoke machines in Morris' workshop to print prototypes of new engine parts and rapidly iterate new designs. But Ehteshami and others involved in the project now wanted to know whether Morris would be able to use 3D printing for mass production of a complex part, something nobody had tried before.

They swore Morris to secrecy and sent him the computer file with the drawing of the intricate nozzle tip. He printed it from a nickel alloy and invited the team over a few days later. "I remember that day like today," Ehteshami says. "I was excited but also disturbed. I knew that we found a solution, but I also saw that this technology could eliminate what we've done for years and years and put a lot of pressure on our financial model."

The nozzle met the team's wildest expectations. Morris' machine not only combined all 20 parts into a single unit, but it also weighed 25 percent less than an ordinary nozzle and was more than five times as durable. "The technology was incredible," Ehteshami says. "In the design of jet engines, complexity used to be expensive. But additive allows you to get sophisticated and reduces costs at the same time. This is an engineer's dream. I never imagined that this would be possible."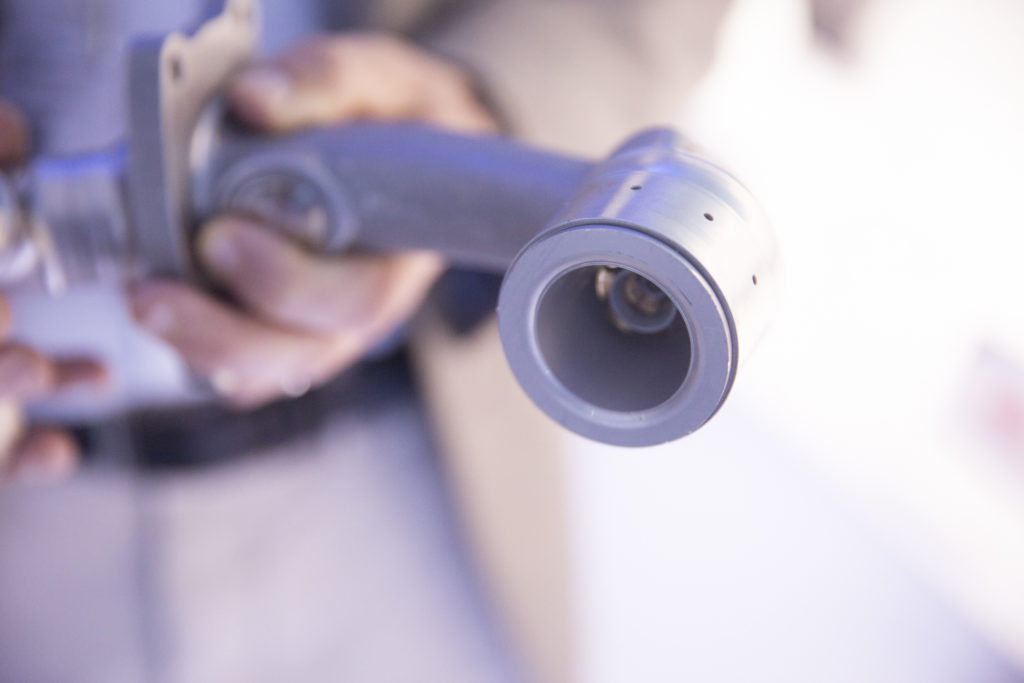 Above: The 3D printed nozzle combined all 20 parts into a single unit, but it also weighed 25 percent less. "In the design of jet engines, complexity used to be expensive," Ehteshami says. But additive allows you to get sophisticated and reduces costs at the same time. This is an engineer's dream." Image credit: Adam Senatori for GE Reports

GE Aviation acquired Morris' company in 2012, and Ehteshami, Morris and their teams immediately started testing the technology's limits and looking for new applications. They moved a few machines to a drab building away from the main campus across Interstate 75 and started experimenting in secret with printing pieces of an old commercial helicopter engine. "We took six engineers and told them go and see what portion of the total engine they can print," Ehteshami says. "We hid them from our financial management, because we didn't want them to cut our budget."

The clandestine effort paid off. Within 18 months, the team was able to print half of the machine, reducing 900 separate components to just 16, including one segment that previously had different 300 parts. The printed parts were also 40 percent lighter and 60 percent cheaper. "To make these parts the ordinary way, you typically need 10 to 15 suppliers, you have tolerances, you have nuts, bolts, welds and braces," Ehteshami says. "All of that went away."

By then it was 2014 and the team felt they had a result they could share with the big boss, GE Aviation President and CEO David Joyce. Like Ehteshami, he had spent decades as an engineer at the company before rising to the top spot. Thinking that Joyce would be their toughest critic, they showed him their work, but still asked him to keep it secret. "No way," Joyce told them. "I want to tell Jeff [Immelt, then GE chairman and CEO], I want to tell the board."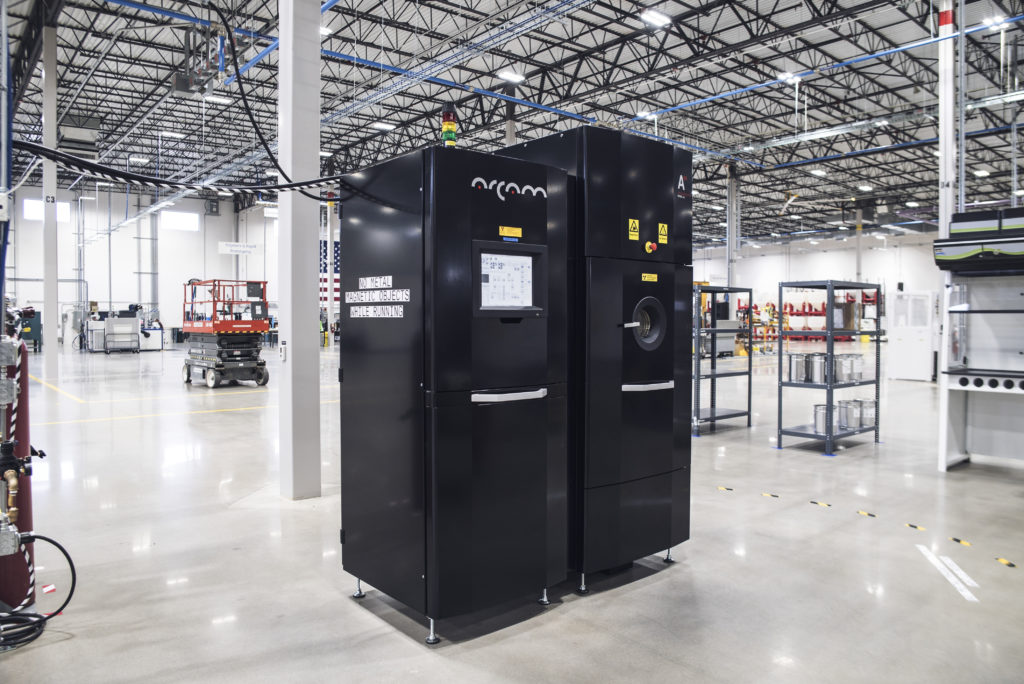 An Arcam 3D printer at GE's Center for Additive Technologies Advancement. GE acquired a majority stake in Arcam last fall. The machine uses an electron beam, which is more powerful than laser. The beam enables the machines to print faster and fuse layers as thick at 100 microns, twice the width of what a laser can print. It also can grow parts from wonder materials like titanium aluminate (TiAl), which is 50 percent lighter than steel but very hard to shape. Image credit: Mark Trent for GE Reports

After the meeting with Joyce, things started to move briskly. One group focused on getting the 3D-printed nozzle ready for mass production. It would go inside the LEAP, one of the bestselling jet engines in CFM's history. As of last month, CFM has received orders for LEAP 12,200 engines valued at $170 billion at list price. GE opened a 3D printing factory for the nozzles in Auburn, Alabama, and the first LEAP-powered Airbus A320neo started ferrying paying passengers last summer.

Meanwhile, GE's engineers had already moved on to the next challenge. A different team decided to create a brand-new advance turboprop engine, or ATP. Using additive manufacturing, they consolidated 855 components into just a dozen parts. The simpler design reduced weight, improved fuel burn by as much as 20 percent and achieved 10 percent more power. Using 3D printing for rapid prototyping, the team was also able to cut development time by a third. Last summer, Textron Aviation picked the engine to power its new plane, the Cessna Denali.

In 2016, GE expanded its additive portfolio and spent more than $1 billion to buy controlling stakes in two leading manufacturers of industrial 3D printers: Sweden's Arcam AB and Germany's Concept Laser. While Concept Laser's machines use lasers to shape components from metallic powder, Arcam uses an electron beam, which is more powerful. It enables the machines to print faster and fuse layers as thick at 100 microns, twice the width of what a laser can print. It also can grow parts from wonder materials like titanium aluminate (TiAl), which is 50 percent lighter than steel but very hard to shape. An additive factory in Cameri, Italy, is already printing TiAl turbine blades for the GE9X, a jet engine even larger than the GE90 (see video below).

[embed width="800"]https://www.youtube.com/watch?v=MXZNGmnTlzA[/embed]

But GE and Ehteshami are just getting started. Former GE Chairman and CEO Jeff Immelt wrote in his annual letter to shareowners that the company believed "the long-term market potential for additive manufacturing [was] huge at about $75 billion. We plan to build a business with $1 billion of revenue in additive equipment and service by 2020, from $300 million today," he said. The Arcam and Concept Laser investments are GE's first steps to grow its 3D printing base outside GE and across multiple industries, Ehteshami says. He says that applications for Arcam and Concept Laser machines will include aerospace and the auto industry, as well as medical implants and jewelry.

Several GE businesses, including Aviation, Oil & Gas, Power and Healthcare, are already benefiting from additive manufacturing. Working closely with engineers at GE Global Research, who built one of the first laser-powered 3D printers in the early 1990s, GE Additive recently opened the Additive Training Center (ATC) near Cincinnati. The 130,000-square-foot facility holds some 30 machines that print metal and as many as 40 machines that print plastic. (GE has a similar facility, called the Center for Additive Technologies Advancement, near Pittsburgh).

Several times a year, the ATC holds a "manufacturing boot camp." It trains hundreds of engineers, who then fan out across GE to spread the additive gospel. "We pay them to play with the machines," Ehteshami says. "We give them a real problem and tell them 'go figure it out and print it.' "

The ATC center helps manufacturing engineers master the machines, but it also trains materials specialists to reshape supply chains. "Today, there are hundreds of big planes flying between cities around the world and carrying machine components," Ehteshami says. "Tomorrow, you won't need to do all of that. You'll just print what you need."

Ehteshami calls his additive awakening an "epiphany of disruption." Says Ehteshami: "Once you start thinking about it, you realize both intellectually and emotionally 'Oh my God, if I don't start moving, somebody else will.' You are excited because you are an engineer, but you are also afraid because you are a human being. Both of these feelings start pulling at you to say: 'I've got to go, I've got to go.' And you start running."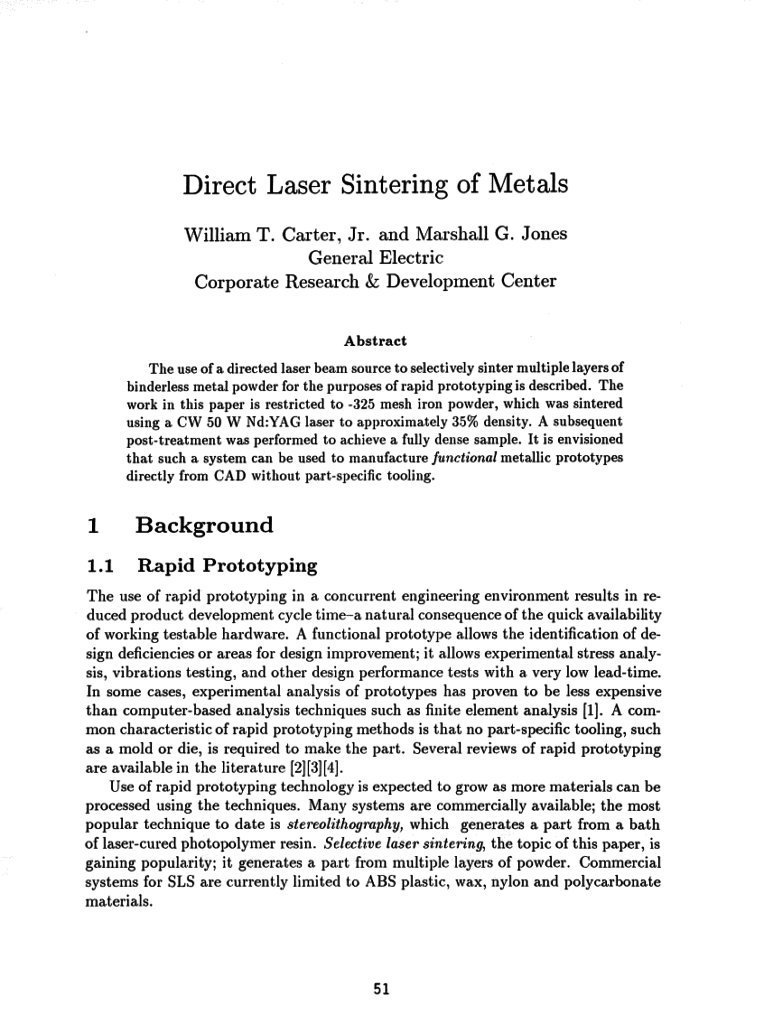 In 1993, a pair of engineers working at GE Global Research published a paper describing their prototype of a 3D metal printer using selective laser sintering (SLS), an approach similar to the one GE now uses to make the nozzle tips. The team included Bill Carter and Marshall Jones, a laser pioneer who will be inducted into the National Inventors Hall of Fame this spring. Although the SLS method had been patented by the University of Texas in Austin, Carter's and Jones' printer may have been the first such machine to sinter metal powder directly with laser. Image credit: GE Global Research
tags