For the oil & gas industry, collaboration means competitiveness in tomorrow's low-carbon reality.


The future of energy is heavily dependent on the collective ability — and determination — of the oil and gas industry itself to evolve and stay competitive in tomorrow's low-carbon reality.

And to stay competitive — over the longer term — we need to drive simplification, standardization and productivity, but also radical innovation. The challenge is too large for any one company to tackle alone.

Big, new ideas do not come easy. Industry players will need to draw on each other to drive cost reduction and invent new commercial technologies to deliver efficiency, increase margins and reduce the environmental footprint of energy production.

For decades, Statoil has demonstrated the value of close collaboration with suppliers, institutions and academia. It is in our DNA to learn, share and collaborate.

Technology — A Key to Remaining Competitive in a Low-Margin, Low-Carbon Reality

Together with partners in the industry, we are innovating the way we work and applying existing technologies in new ways. Optimization, however, is not sufficient to increase our competitiveness. More targeted and radical technology development will be essential to secure opportunities in both the short and long term.

It was in this spirit that we established the Powering Collaboration program with GE, a concrete industrial response to accelerate the development and implementation of more economically and environmentally sustainable solutions.

Powering Collaboration brings together our brightest minds to address real industry challenges with concrete commercial solutions. It draws on Statoil's and GE's collective competence, blending GE's broad industrial and digital capabilities — ranging from oil & gas to power & water to renewables — with Statoil's deep operational insight and global experience as an oil and gas producer. This partnership was recently awarded the Petroleum Economist's Cleaner Energy Initiative award.

GE and Statoil — Triggering Broader Collaboration

Our ambition with Powering Collaboration is that, together with GE, we can also trigger broader collaboration and innovation — to bring solutions from other industries to our operations.

Having just announced the water challenge winners at the GE Oil & Gas Annual Meeting in Florence, I am reflecting on the first year of this collaboration. We are facing some of the industry's biggest challenges head on. We are working together on more than 20 concrete projects deeply rooted in today's changing realities and continue hunting for the low-cost and low-carbon solutions.

Business as usual is not an option — we need to create a company and an industry that is competitive, at all times. Shaping the future of energy is up to us, and the best way to predict the future is to shape it ourselves.

(Top image: A Statoil hydraulic fracturing pad near Williston, ND. Courtesy of Tom Paine AP/Statoil)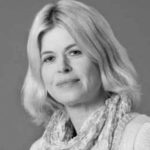 Elisabeth B. Kvalheim is Chief Technology Officer at Statoil.
All views expressed are those of the author.
tags