When executives of two high-energy Kiwi businesses were nominated to jump off Auckland's Sky Tower in the 2018 Drop Your Boss fundraiser for the Graeme Dingle Foundation, there was bound to be a little rivalry — and a lot of fellow feeling. Attracting donations for programs that help New Zealand children from disadvantaged backgrounds to meet their potential was a powerful incentive for Marc England, CEO of Genesis Energy, and Kevin Hart, CEO of GE in NZ and Papua New Guinea, to suit up and step over the edge of the Tower's 200-metre (656 feet)-high platform.
Yes, they were harnessed and wired for a very gentle landing, and yes, it's a thrill-seeker's adventure activity, the safety of which has already been tested by many. But the challenge was envisaged by Sir Graeme Dingle, the famous New Zealand mountaineer, author and humanitarian, to place business leaders somewhere in the ballpark of those children who face many obstacles. It's an opportunity for executives to support kids who need a little help to find their self-belief and go on to live their lives to the full.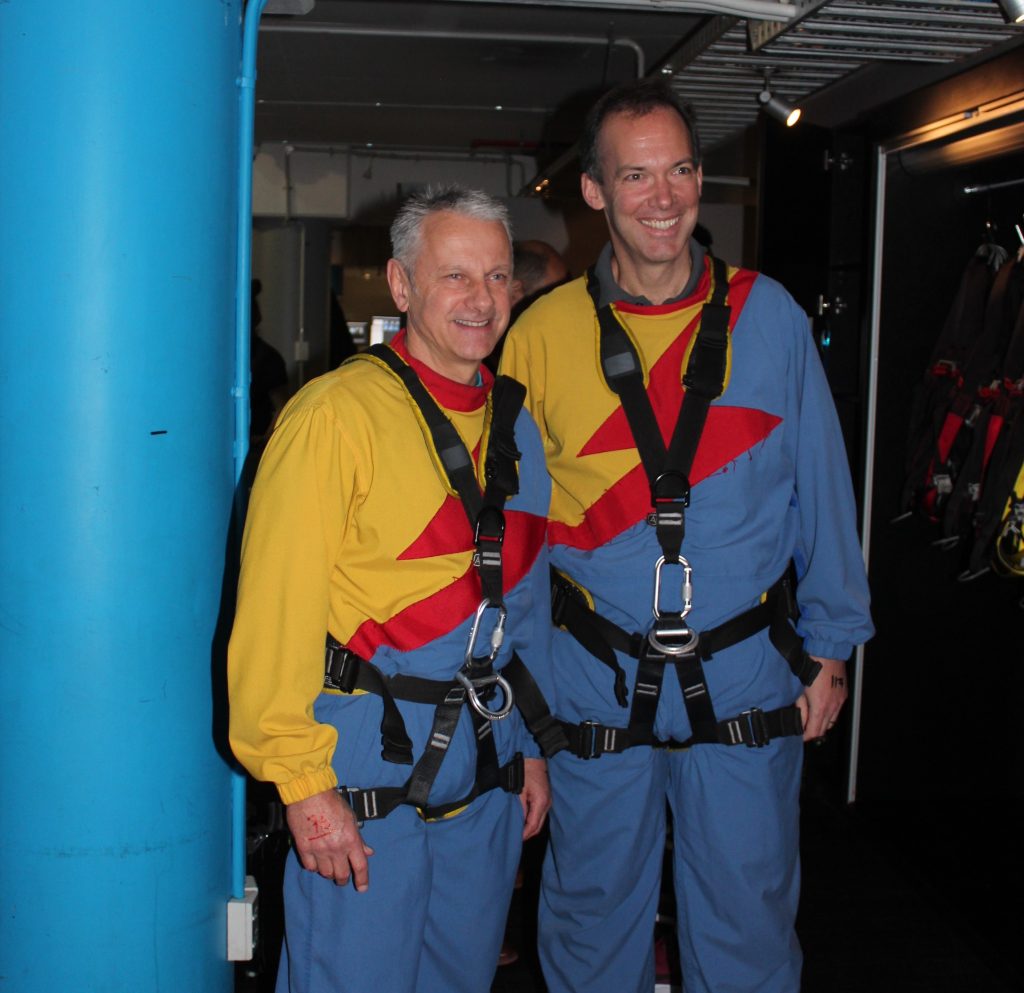 Top image: Kevin Hart, CEO of GE in New Zealand and Papua New Guinea, makes his leap from Auckland's Sky Tower,the highest building in the Southern Hemisphere. Above: Hart and Marc England, CEO of Genesis Energy.

Paula Sadgrove, Principal of Mercer Primary School, in rural South Auckland was the first fundraising jumper on May 9. She had seen the benefits for children at Mercer, who had been participating in the Foundation's KiwiCan program designed for children aged between five and 12 for two weeks.

Sadgrove hopes the leap that she and others took will inspire people to support the program and her students. The donations pages of Sadgrove, England and Hart (and many others) are open until May 31. (Stump up and vanquish that inner Fear of Missing Out!)

Of her dive from the highest building in the Southern Hemisphere, Sadgrove says: "At one point when my toes were hanging off the edge there was a brief moment of fear, but when they let me go, I was just loving it."

GE Reports asked England and Hart, who were both "Dropped" into the challenge by one of their employees, for their view from the top, their childhood fears, ongoing challenges, and the power of jumping off the Tower.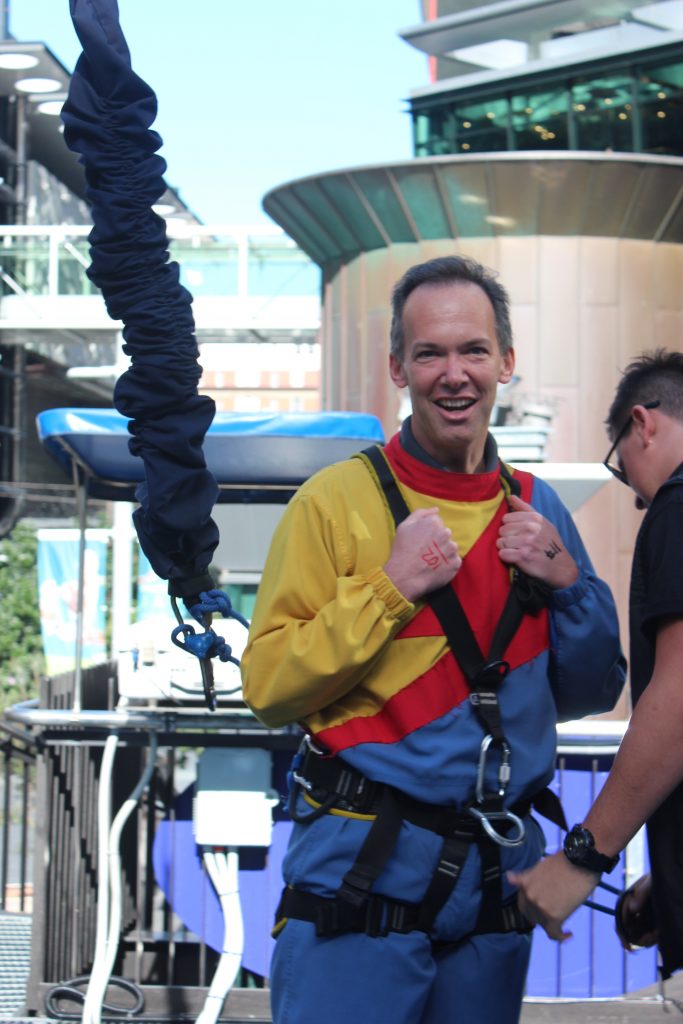 Marc England, CEO of Genesis Energy

GE Reports: What were you thinking as you prepared to jump?

Marc England: I was thinking of the several hundreds, if not thousands of people who'd done it before me and how they had all felt. And my second thought was, "How can I do this better than Kevin?" I had the advantage of seeing him go first, and he jumped forward. Part of our mission at Genesis Energy is to "Reimagine energy", so I reimagined jumping off Sky Tower and got permission to jump off backwards. Instead of the wonderful view of the Hauraki Gulf, I was watching the Tower as I fell.

GER: What was the greatest fear you had to overcome as a child?

ME: Spelling things the wrong way. I had partial dyslexia as a child and that's one of the afflictions that the Graeme Dingle Foundation supports. I had chronic spelling difficulties, and sometimes still do, although technology has come to my rescue in the form of spelling checkers.

GER: What challenges are you facing in your professional life?

ME: As in many industries, the energy sector is changing fast. Technologies are coming to our sector that didn't exist and consumers want to engage differently, which is why we're reimagining energy. The constant challenge is to create new paradigms for how consumers engage with energy and to meet their needs with a combination of technological tools and great user interfaces.

You can't assume that you know what customers want, and they don't necessarily know what they want either, so you have to work with them and adjust in response to feedback. Corporates have to have confidence to have a go, and to know that there is no real failure, there are just learnings that come from things not going to plan.

I think that applies to human beings at all stages in life — you have develop the confidence to have a go and be willing to learn along the way.

GER: What do you think is the power of the Drop Your Boss Event?

ME: I think the power of an event like this for those supported by the Foundation is that they realise that people care. If they're having a tough start in life and trying to get themselves into a better position, I hope they get a warm feeling from the fact that there are corporate leaders out here who care to try to raise money to help.




Kevin Hart, CEO of GE in New Zealand and Papua New Guinea

GE Reports: What were you thinking as you prepared to jump?

Kevin Hart: I've always been terrible with heights, but when I was nominated I just thought it was a great initiative. Stepping out on the ledge is the worst part. You're 200 metres up, overlooking the whole of Auckland city, and you walk out to the edge of that platform which is see-through metal mesh, so if you look down it amplifies your fears. I decided I would just look straight ahead to the horizon. You're hooked up, it's very safe, and you realise the terror is all in your mind.

GER: What was the greatest fear you had to overcome as a child?

KH: It was fear of the unknown and of new environments. I was about five when I started school and about 18 months in I had to switch schools. My new school had been built in the late 1800s. It was a great school, but it was a very intimidating environment — an enormous old building that smelled of institution. I remember just trying to get past that environment and focus on the people around me.

GER: What challenges are you facing in your professional life?

KH: These days I relish a challenge, whether it's a new job or a new activity. Some of that has been driven by my sporting career [Hart has competed in Judo in three US Open competitions and numerous other international events], which has given me lots of challenging experiences that I've thoroughly enjoyed. At work I've been presented with some pretty intimidating opportunities over the years, but rather than looking at it like Mt Everest and wondering, "How I'm going to climb that?" I've focused on getting tackling each challenge one step at a time. Once you get to the first base camp, you can probably get to the second base camp. And before you know it, you've climbed the mountain and it wasn't as daunting as you first thought.

GER: What do you think is the power of the Drop Your Boss Event?

KH: I think it shows our young people that they're important and listened to and cared about. I hope it shows them that leaders out in the business community believe in them and believe that what they're doing is worthwhile — we support them.

The other thing is hopefully it demonstrates to them that, even though we've reached a certain level in our respective careers, we continue to face challenges and fears. Jumping off the Tower was such a small thing to do compared to what some of these kids are facing, but if it can demonstrate that we're all human beings, and we all have fears and we all face challenges, it can put us on a common playing field. I hope it inspires them to keep positive and keep developing their skills, and have confidence in themselves.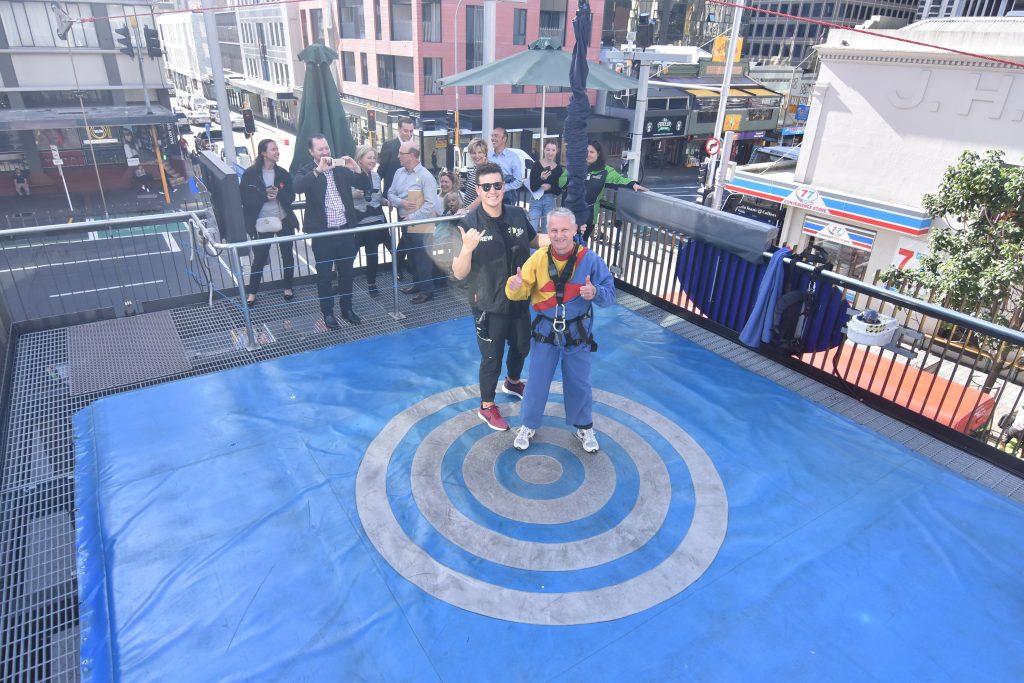 tags