If a bearing starts to wobble in Korea, will it be felt in Kuala Lumpur? The answer, increasingly, is yes. GE has been using software to monitor big machines remotely, detecting bad vibrations, pesky bearings and other potentially dangerous anomalies in in jet engines, oil rigs and other equipment before they can spell trouble.
The latest application of the technology is keeping its digital eyes on power plants in Asia and Australia. GE's Power Services business recently opened a Remote Monitoring and Diagnostics Center in Kuala Lumpur, Malaysia, to help utilities prevent unplanned downtime and keep electricity on.

The center uses hundreds of proprietary algorithms to analyze data supplied by sensors deployed on some 200 turbines, boilers, generators and other technology working across 10 countries in Asia. When the system spots a problem, it starts ingesting data every millisecond for two minutes before and after the incident to troubleshoot the concern and suggest preventive maintenance.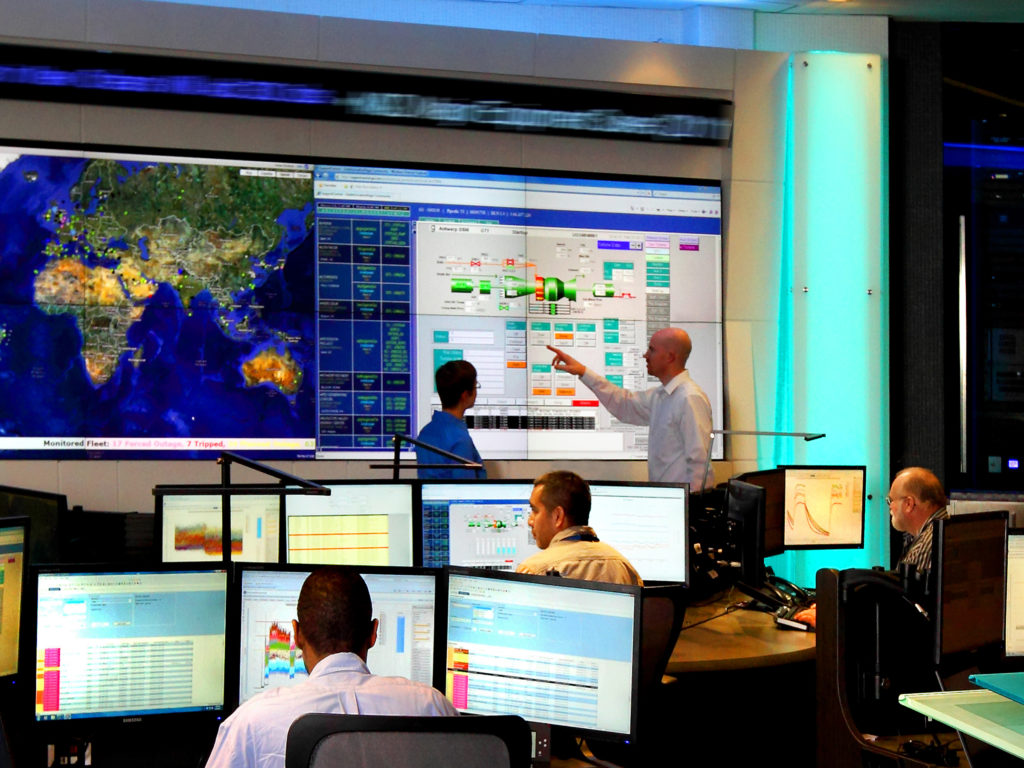 Above: GE Power Generation Services's Monitoring and Diagnostics Center in Atlanta, Georgia, is already remotely watching power plants around the world. Image credit: GE Power. Top: GE is supplying "ultra supercritical" steam turbines for Malaysia new power plant in Manjung. Image credit: GE Power

GE says the software can provide more than 150 different ways of early warning and reduce maintenance costs by up to 30 percent. It services power plants from South Korea, Japan, Taiwan and Australia. "We can zoom in on the problem's root cause, as well as help eliminate areas that didn't cause the issue," says Partha Sarathy, engineering leader for Asia Pacific GE Power Services.

Alstom, which GE acquired last year, first opened the center in November 2013 to monitor and service combined-cycle power plants. (They harness gas and waste heat to generate electricity.) GE has expanded it to include the monitoring of heavy-duty gas and steam turbines and fast and flexible power plant with jet engines technology at their core — GE calls them aeroderivatives.

GE said the center has already sent out more than 300 early warnings globally and prevented 28 forced outages in 2016. Most recently, the center helped identify and resolve a gas-valve operability challenge at an Australian utility and limit the resulting power-plant shutdown to one day, Sarathy said.

The software can also oversee machines built by other manufacturers. "We believe strongly in the Industrial Internet," Sarathy says. "We are using data to push the frontiers of thermodynamics instead of merely identifying inefficiencies and problems."


Categories
tags