When a massive heat wave hit Buenos Aires last December, overworked ACs triggered weeks of blackouts that rolled over the metropolis of 2.8 million. The heat left many residents in the dark – literally and figuratively. People had little visibility on which neighborhoods would be affected and for how long. "The uncertainty and the lack of information were almost as depressing as the blackouts," Celeste Acosta, a local community manager, told Smart Planet.
Acosta and her friends built a website called #AcáNoHayLuz (There is No Light Here) and engaged more than 100,000 people who reported their "power status" over Facebook and Twitter. The information colored a dynamic map showing which areas had electricity. "We just hope that we've planted some seeds out of which other collaborative projects might grow," Acosta said.

As strange as it sounds, many 21st century utilities, including in the U.S. and in Europe, still don't know when customers lose power. Somebody has to call them. Acosta's project shows how software, data and social media can quickly make things better. "The grid is becoming much more dynamic," says Dave Daly, director of advanced distribution management systems at GE Digital Energy. "When you have a stressful situation like a storm moving through, you need as much visibility and situational awareness as you can get."

Daly and his team built a system that plugs the grid to the Industrial Internet, aka the Internet of Things. It can help utilities pinpoint problems, manage the grid better and maximize the use of renewable energy.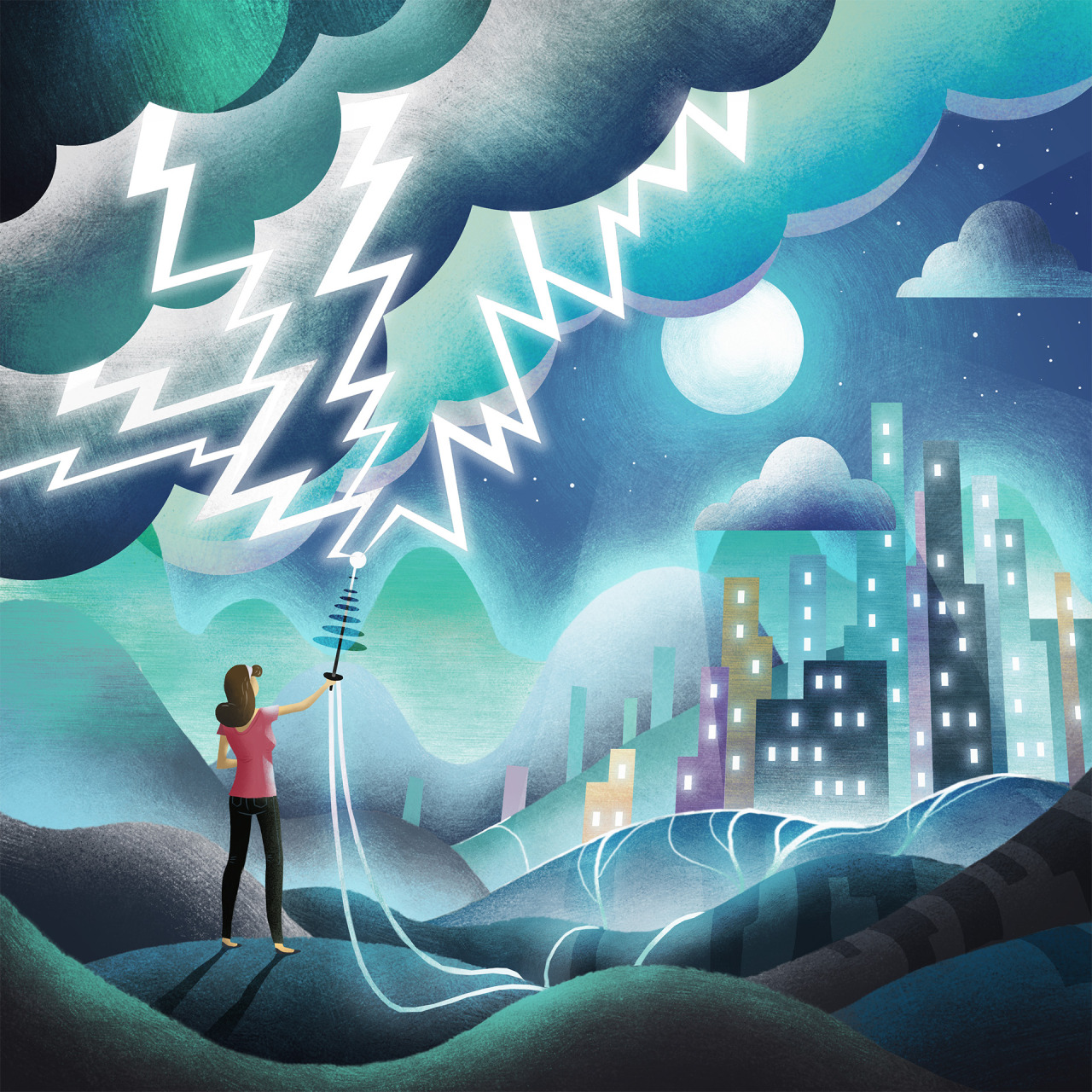 Illustration by Chucco. Top image comes from "Thunderbolt Hunters," a 1942 short science film made by GE about "a new and strange profession of today dedicated to spying on the angry skies and wresting from nature the truth about her thunderbolts."

The technology, called PowerOn Advantage advanced distribution management system, collects data from smart meters, transformers, grid maps, finance databases and even human resources. The system feeds the data to custom algorithms for analysis, and delivers the results in a simple and intuitive form to managers.

Daly's goal is to spot problems before they get out of control and locate the right repair crews as quickly as possible. "It's like eyes across your network," he says. "We rally every asset we have at our disposal. With this system we can identify where the fault is, restore power upstream and downstream, and send the repair crew to the right location. That's critical. We are reducing the response time."

Besides outage management, the system's software brain also handles efficient electricity distribution. Daly says that the new system can help producers and utilities improve their "grid visibility" and increase the share of renewable energy flowing through the wires. "Today there are wind and solar farms as well as homes selling electricity to the grid," he says.

The system's "intuitive, cockpit-like interface" gives workers the right information they need to know at the right moment, Daly says. It also has an app running on mobile devices that allows workers in the field to access data, communicate with each other via virtual chat and SMS messages.

"Right now a systems operator may be sitting in front of nine screens and three keyboards," Daly says. "We are simplifying that and bringing everything together, the data as well as the displays."

Explore this PowerOn infographic for more information:



Categories
tags