Drilling down into the ocean's floor for oil is challenging even in the best of times. It involves installing and operating massive pieces of equipment in greater and greater depths, crushing pressures and extreme temperatures. It's difficult, dangerous and expensive. The oil market slump of 2015-16 added an additional squeeze. "Today, anything we can do to increase the availability of the equipment goes a long way," says Chuck Chauviere, president of drilling systems at GE Oil & Gas. "Every bit of productivity helps."
He means that literally. Chauviere's business has started deploying software, data analytics and machine learning systems on a key piece of drilling equipment called the blowout preventer, or BOP. Transocean, one of the world's largest offshore drilling companies, recently signed a $180 million service agreement to monitor BOPs located on seven of the driller's rigs with GE software. "This agreement builds on the new service model we introduced last year to address today's industry shift toward maximizing productivity and lowering operating costs while also maintaining operating flexibility," says GE Oil & Gas President and CEO Lorenzo Simonelli. "When cost and risk are at the top of operators' minds, we share the responsibility by investing in equipment uptime and performance."

BOPs are as tall as a six-story building, weigh hundreds of tons and protect new wells during construction. "The BOP stack is on the well to ensure that in the event you get a shallow gas kick or encounter pressure in the formation you weren't expecting, you can manage that," Chauviere says.

The machines are also very expensive when idle. Chauviere says that drillers can face losses as high as $500,000 per day when a BOP is out of commission. He says that 10 days may pass from the point workers discover a problem, pull up the BOP to the drill ship, fix it and turn it back on. "It can get expensive," he says.

The GE software uses a combination of maintenance and operations data, and it also draws on information supplied by an industrial-grade ultrasound scanner located in the bore of the BOP and developed by GE Oil & Gas' Digital Solutions unit. The scanner can monitor the structural integrity of BOP parts as well as the volume of fluids passing through the machine.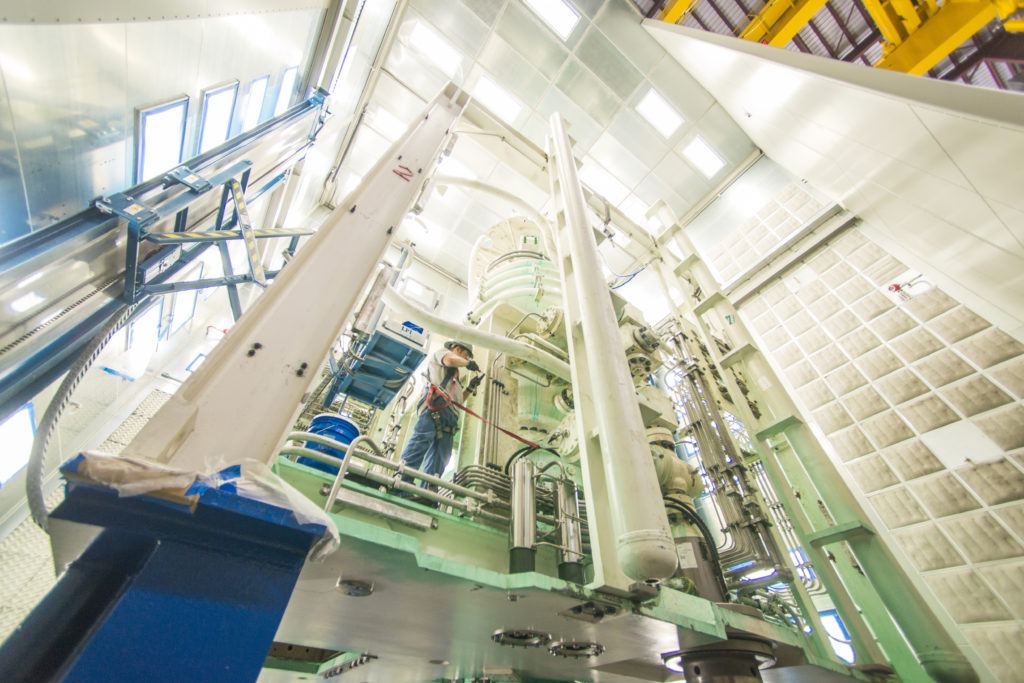 Top and above: Chauviere says that drillers can face losses as high as $500,000 per day when a BOP is out of commission. Images credit: GE Oil & Gas

Some of the preliminary analytics take place on the BOP itself — what GE calls "edge computing" — and the results then travel to the cloud, where they join the rest of the data for further analysis.

Once in the cloud, the system can run apps built on Predix, GE's operating system for the Industrial Internet, compare results across an entire fleet of BOPs and suggest ways to optimize operations. Chauviere says that the system gives customers the ability to scale the savings and efficiency. "We want to identify areas where we believe there are some productivity opportunities," he says. "We want to make the offshore business as competitive as possible."

The result is a shift from a set maintenance schedule to "condition-based monitoring and maintenance" that allows drillers to deal with potential problems proactively and minimize downtime. But there are also long-term benefits that could dwarf the short-term gains. Right now, regulators require BOP makers like GE Oil & Gas to re-certify their equipment every five years. This means taking the machines back to the factory, taking them apart and then putting them back together — a process that can take the machines out of commission for 60 to 90 days.

The new software system enables operators to bypass these pit stops by continuously monitoring the machines and keeping them certified for a decade or longer without significant service interruption. Says Chauviere: "This is where we add value."
Categories
tags