Thomas Edison was famously fond of failures, using them as guideposts to new solutions. But the GE founder wasn't the only person in the company espousing this lemons-to-lemonade philosophy. Take Sanford Moss, a bright engineer from Cornell University who joined the company in 1904 and proceeded to develop one of the first gas turbines. Problem was, the machine didn't work. Undeterred, Moss shrunk his design and built a turbosupercharger, a device that squeezed the air entering an aircraft engine and allowed planes to retain power at high altitudes.
The first plane using the machine took off for the first time on July 12, 1919, eventually reaching a record speed of 137 mph at 18,400 feet, compared with 90 mph without a supercharger. Planes equipped with Moss' design later went on to set several world altitude records.
The success earned Moss a spot in the National Aviation Hall of Fame and launched GE's aviation business, which is celebrating its centenary this week on the eve of the inaugural flight. GE Aviation is now a $30 billion business — based on 2018 revenues — making engines for supersonic military jets as well as the world's largest and most powerful commercial jet engines. According to company statistics, every two seconds an aircraft powered by GE technology takes off somewhere in the world. That translates to more than 2,200 planes aloft at any given moment.
And the company is hardly standing still. GE Aviation is developing a jet engine for the next-generation civilian supersonic jet and thinking about creating engines for hypersonic planes that zoom faster than 3,500 miles per hour, or Mach 5. At that clip, which is about seven times the typical speeds commercial planes travel at today, passengers would be able to travel from New York to Sydney in less than 3 hours.
When do we get to fly on a jet like that? "We're still decades from reaching the point where hypersonic air travel is practical," says Narendra Joshi, advanced technology leader at GE Research, who has been exploring hypersonic air travel. "But it's technical advances like ceramic matrix composites and others within GE's technology portfolio that have us believing it's not a question of if, but when it will happen."
We recently talked to Joshi about his work. Here's an edited version of our conversation, which also appeared on LinkedIn.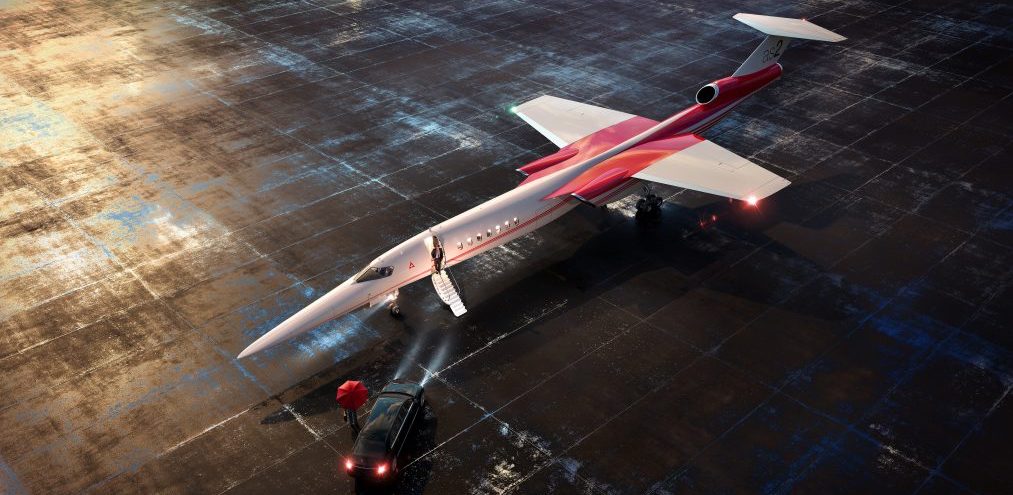 Aerion AS2 are getting ready for takeoff. Hypersonic planes are next in line. Top and above images credit: Aerion.
GE Reports: Tell us about your work.
Narendra Joshi: My job is to imagine what the future could be 100 years from now and to then make it possible. Today, I am leading a multidisciplinary team at GE's Research Lab to develop the fundamental technologies that will enable not only robust supersonic commercial air travel but someday also allow us to travel at hypersonic speeds.
GER: What are some of these technologies?
NJ: The pursuit of a hypersonic age in aviation really comes down to five keys: high-temperature materials, heat management technologies, engine design, advanced vehicle controls and technologies controlling emissions.
GER: Let's start with materials.
NJ: For jet engine makers, we've been addressing the challenge of developing high-temperature materials to withstand the volcanic-like temperatures inside the engine for decades. Take ceramic matrix composites (CMCs). Parts from CMCs, which are already inside jet engines like the CFM LEAP engine, are just a third of the weight of their comparable metal components but just as durable as metal. They are able to handle temperatures several hundred degrees hotter than the most advanced superalloys. This has translated into a 1.5% increase in efficiency for our new engine platforms with these components, which equates to billions of dollars of fuel cost savings for the airline industry.
But with hypersonic travel, that challenge exists for materials on the outside of the plane as well. When you're traveling at Mach 5, the air around the plane will heat up in excess of 1,500 degrees Fahrenheit. It will cause the plane to glow red on the outside. We believe continued advances in new materials like CMCs will help us address this issue.
GER: How do you tame this heat?
NJ: In today's jet engines, we address the hotter, harsher operating environments with a multipronged approach of higher temperature materials combined with advanced cooling systems and thermal barrier coatings for parts to handle and manage the heat. At GE Research, we're now combining these areas of expertise with our experience in 3D printing and design to develop whole new designs and architectures in thermal management that can support high temperatures inside the engine and outside the hypersonic plane.
GER: What are the engines going to look like?
NJ: They will be different from jet engines. For nearly five years, GE has been developing a new combustion technology called rotating detonation combustion (RDC) that, along with the conventional jet engine, is one of the few promising approaches being explored to deliver enough thrust to travel at hypersonic speeds.
GER: OK, so we will have cool new planes and engines. What else will change?
NJ: I can't even begin to imagine what steering a plane would be like at hypersonic speeds. It will require new advances in the actuation and controls systems of planes to ensure safe travel. Something that works at the low speeds of takeoff and high speeds at cruise. For this challenge, we are exploring advanced applications that involve synthetic jets and cold plasma that could provide solutions.
GER: What the impact on the environment?
NJ: GE researchers already have accumulated decades of experience developing technologies to reduce noise and pollutants to make aircraft engines quieter and less polluting. We have worked on programs with partners like NASA and the FAA to address this challenge with supersonic flight. We have deep expertise in computational fluid dynamics, acoustics and combustion that we can apply to the challenges hypersonic travel will present.
A hundred years from now, it's hard to fathom just how different the world will be. But I bet hypersonic air travel will be as commonplace as the planes that fly today. The only difference is that travel won't just be confined to Earth's atmosphere. Our reach will be much greater.
Categories
tags