Fresh out of a master's program at Cornell University, Emma Renner is working these days on wind turbine engineering at GE Research in Niskayuna, New York. But you can forgive her if her mind occasionally wanders off into a different topic: dominoes. Renner, 24, is part of a team that is competing in a new Fox show called "Domino Masters," in which domino artists from around the country compete to create the most impressive topple in the time allowed. (For the uninitiated, "topple" is domino-speak for when they all fall down.)
Renner's team, called Brains and Brawn, earned top accolades on the show's March premiere with their take on the episode's sports-themed challenge. In 16 hours, they designed and erected a winding array of thousands of dominoes representing the story of an underdog baseball player rising to the big leagues, complete with a working scoreboard and an elegantly constructed domino stadium that comes crashing down in the grand finale. They moved on to the quarterfinals with a stunning treasure hunt display that culminated in a pulley-rigged wooden chest dumping doubloons onto an X made of dominoes.
It was a nerve-racking experience, for sure, Renner says, yet in many ways analogous to her engineering work at GE. Whether the challenge is to tell an epic tale in tiles or power an airplane with something other than jet fuel, the process is the same, she says: "Let's brainstorm a bunch of different out-of-the-box ways we can make that happen — and then let's make it happen."
That just about sums up Renner's approach to life so far. While studying mechanical engineering at Cornell, she entered an accelerated program where she obtained a master's in systems engineering in December 2020. The following spring, she joined GE as part of the GE Research Edison Engineering Development Program, a multiyear rotation for engineers who have recently completed a master's degree. She spent her first nine months in the thermosciences group, which seeks to improve the aerodynamics, combustion and heat management in industrial products from jet engines to gas turbines. Her second rotation is in the controls-and-optimization group, where she works on systems engineering and wind turbine controls. She learned about the Edison program when scientists from GE Renewable Energy visited her wind energy class.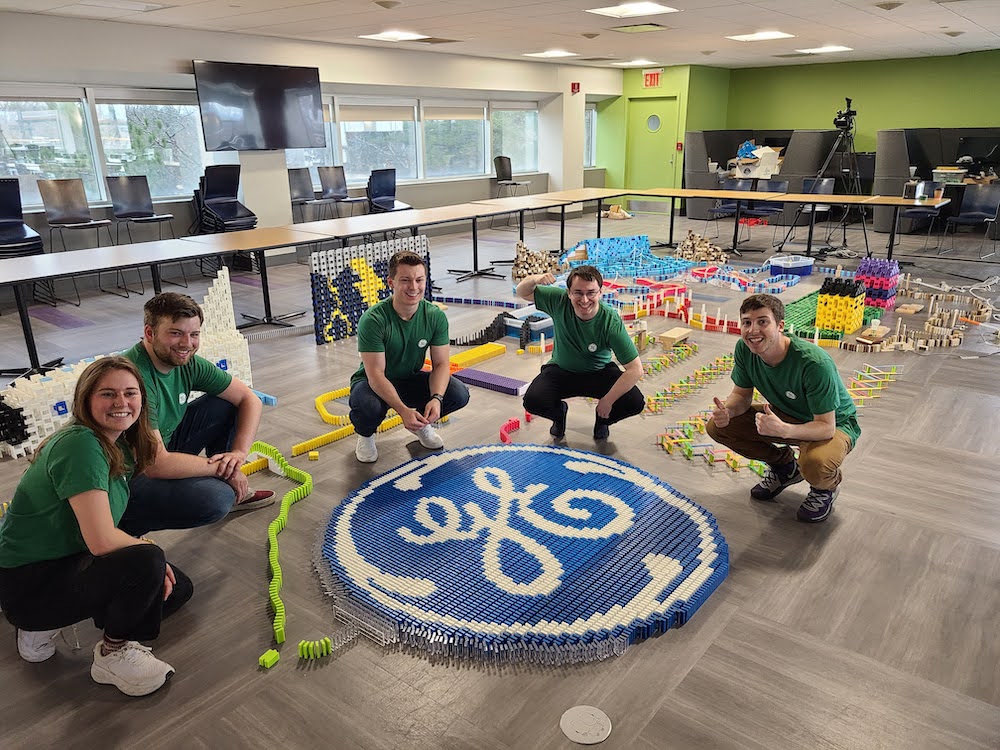 The interplay of design and creative thinking that fuels her love of dominoes is also what drew Renner to systems engineering. Wind power, in particular, offered a tantalizing combination of her interests in systems engineering and social equity, she says. Renner sees engineering technology as a powerful tool for social justice, one that can bring sustainable energy and economic prosperity to under-resourced areas. The key, she says, is engaging with the community to ensure that their needs are being met and to foster trust and understanding. Installing a wind farm on farmland isn't just about generating electricity, after all, she notes. It's about energizing the lives and livelihoods of the people who live and work there.
"One of my long-term goals is to be a liaison for renewable energy in more rural or poorer communities," Renner says. "It's a large initial investment — that community has to trust you that this makes sense. It's important to connect with communities [to say], 'Here's what we're doing to help, here's why we're doing it.'"
Renner's other passion — dominoes — was ignited by her friend Chris Wright a few years ago when they were mechanical engineering students at Cornell. It quickly became her top pandemic pastime. And it became more serious when Fox invited Wright to compete on the show and he asked Renner to join his team.
Every good topple tells a story, she likes to say. When setting up a complex arrangement of tiles, it's crucial to think about how each element impacts the next, mechanically and structurally, Renner says. But just as important is how the cascade creates a narrative of change from the flick of the first domino to the final fall. "The topple should tell a more full story than just the dominoes sitting there," she says.
In March, Renner used dominoes as a unique way to connect with her GE Research community. She, Wright and three other contestants gave a crash course in domino arts to GE families and members of local Big Brothers Big Sisters at the Niskayuna Research campus. Then 250 people gathered to see a fantastical display of nearly 16,000 dominoes representing various facets of GE's business. A model wind turbine started a series of chain reactions that turned on light bulbs in domino houses, sent waves through a miniature offshore wind farm and dramatically displayed the GE logo in a four-foot-wide field of blue and white.
Interestingly, this is not the first time the GE logo has been rendered in toppling tiles. In 1980, domino artist Scott Suko, another competitor on "Domino Masters," pulled a similar stunt in a 16-millimeter promotional film for GE's Information Services business.
For Renner, who has a handful of dominoes on her at all times (yes, even at work), the connection between GE and dominoes is no mere coincidence. Says Renner, "Dominoes is really cool because it is a combination of art and engineering."
Categories
tags