From the moment Mike Ledwidge wakes up in the morning, the global clinical marketing specialist for GE Healthcare is solidly booked in Skype meetings from his Wisconsin home, helping to support GE Healthcare's LOGIQ ultrasound systems. "We're busier now than we've ever been," he says.
By the afternoon, he's cruising around Lake Mendota to GE Healthcare's plant in nearby Madison. There, he works the second shift as a volunteer custodian. He says it's his contribution to the fight against COVID-19, the disease caused by the novel coronavirus that's created a global pandemic.
The Madison plant expanded its operations in March to begin producing ventilators around the clock to meet the demand from hospitals. The sickest COVID-19 patients may need to be on a ventilator for days or weeks to allow their lungs to recover, and the machines continue to be in short supply in some places.
Ledwidge learned about the need to quickly staff up the plant from a colleague, who forwarded a midnight email about the volunteer opportunity. Immediately, he emailed his boss on the West Coast: "I'd really love to do this."
Two days later, he was going through orientation at the plant. "I said, 'Wherever you have the most use for me, or whatever is the most challenging job to fill, that's what I'll do,' " Ledwidge recalls. He was assigned to the team of janitors and started work the next day. That was more than four weeks ago.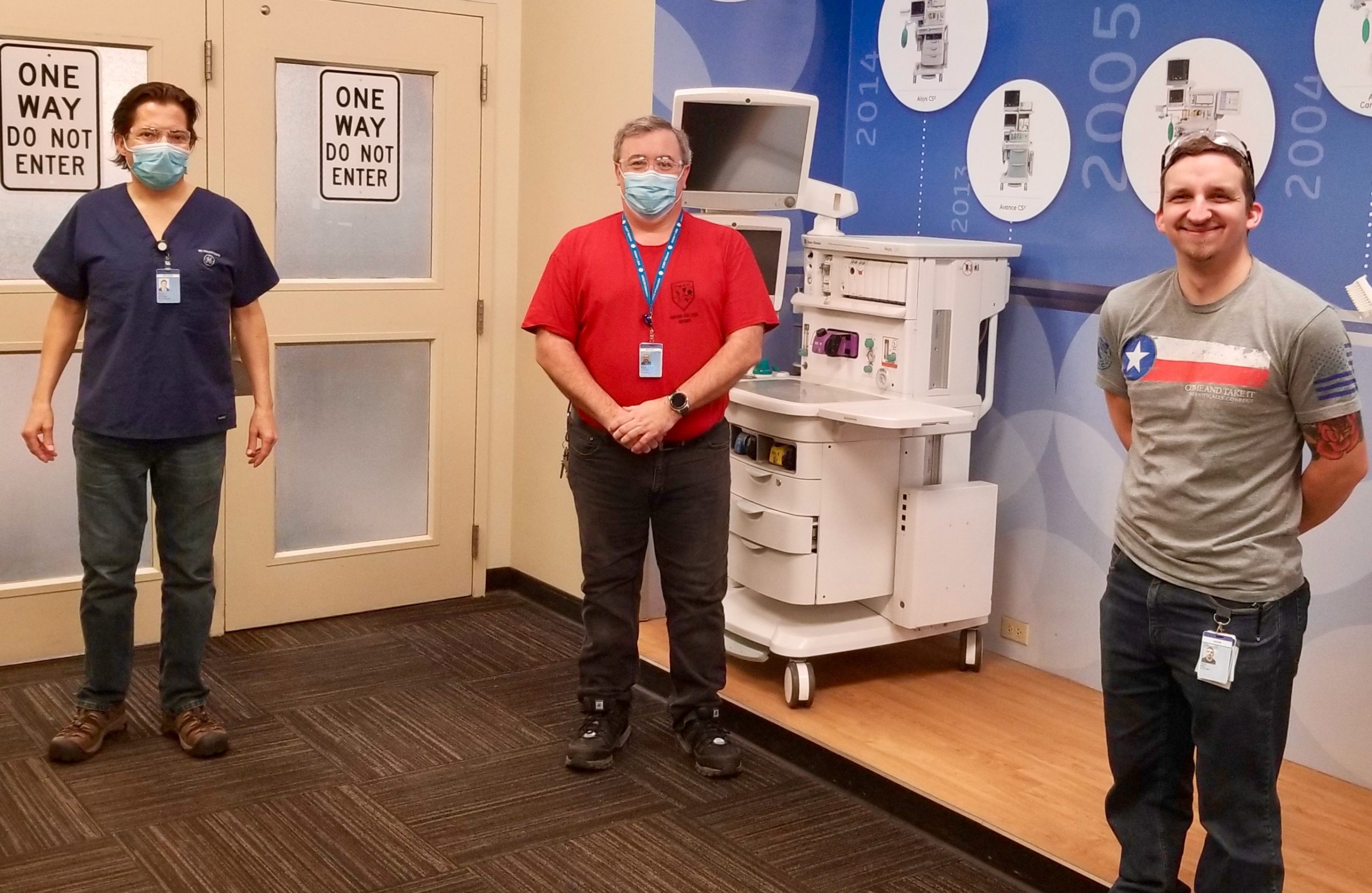 When Mike Ledwidge saw a company email seeking volunteers at GE Healthcare's plant in Madison, Wisconsin, the marketing specialist immediately raised his hand. He'd help any way he could, he said. For the last month, that's meant working the second shift as a custodian at the facility, which makes ventilators — critical equipment for helping the sickest COVID-19 patients. Top and above image credits: GE Healthcare.
When he began working in Madison, he says, the custodians were more focused on traditional janitorial chores: cleaning the bathrooms and taking out the trash. But Ledwidge, who worked with ultrasound in clinical settings for more than 20 years before joining GE Healthcare, recognized that he could apply his training to help keep plant workers safe and healthy. In his regular job, using his background in sonography, he works closely with GE customers and hospitals to train them on how to properly clean and disinfect their ultrasound systems.
Ledwidge has transferred that knowledge to the manufacturing plant, where he persuaded the custodial team to reimagine their work, establishing a rigorous disinfecting schedule.
"We start off by disinfecting all the main areas: doors, time clocks, railings, tables, vending machines in the cafeteria, drinking fountains, bathrooms," he says. Then, the team of three goes through the entire plant, top to bottom, and disinfects all the common areas. After that, they check the garbage and clean the floors. Following the dinner break, it's time for another thorough cleaning. Before their shift ends at midnight, they go over everything one more time before the third shift comes in to begin their workday.
"From what I'm told, from the manufacturing floor, they can see us cleaning and it helps with their mindset," Ledwidge says. "They can be more at ease and focused, knowing that we're trying to keep them safe."
For his part, Ledwidge wears a mask and gloves, and he's constantly using disinfectants as he moves through the plant.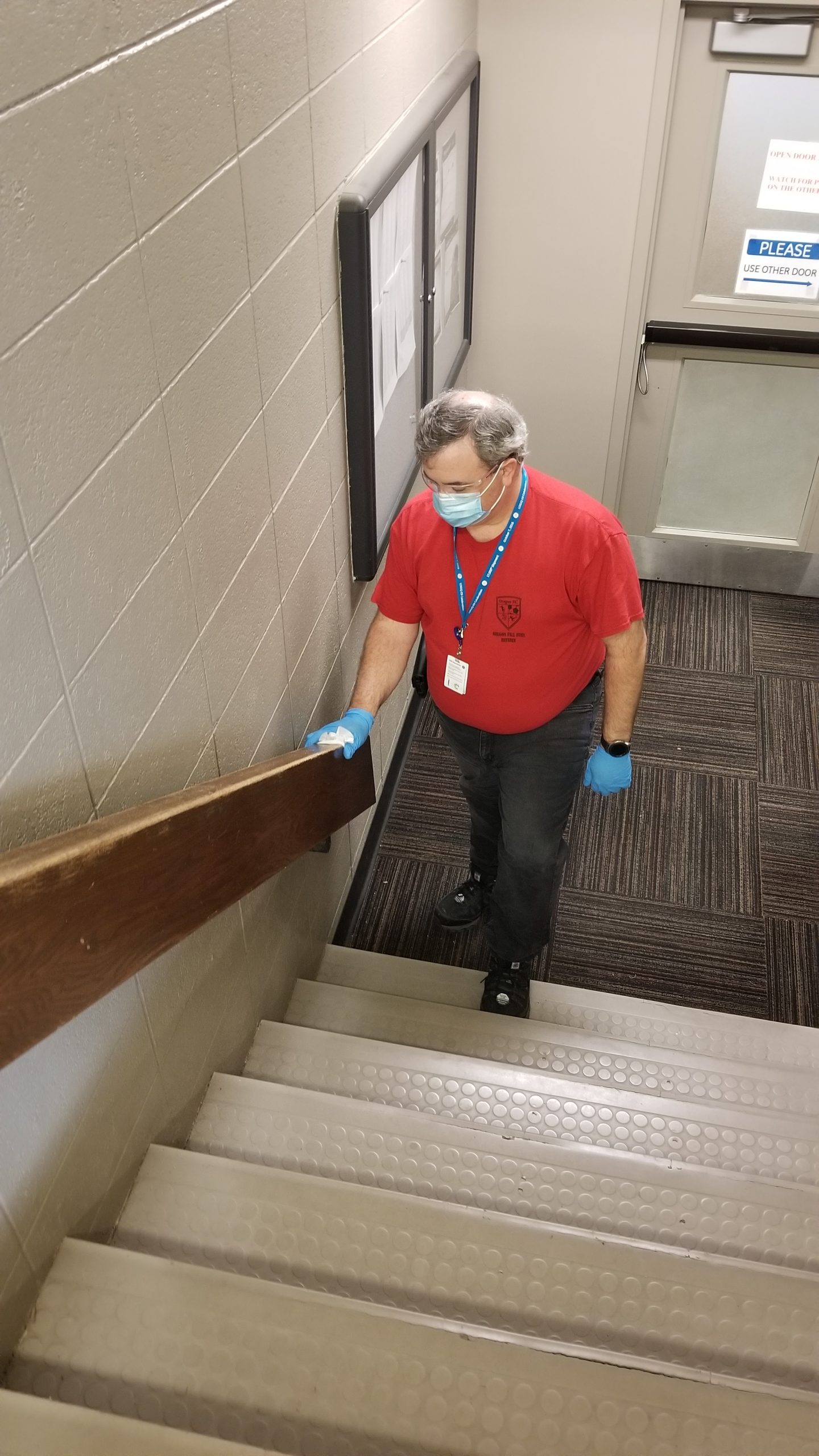 Doors, drinking fountains, railings — no surface escapes Ledwidge and his team's attentions. "From what I'm told, from the manufacturing floor, they can see us cleaning and it helps with their mindset," Ledwidge says. "They can be more at ease and focused, knowing that we're trying to keep them safe." Image credit: GE Healthcare.
After his midnight shift ends, he drives home, arriving about 25 minutes later. He might respond to a few more emails from his day job before he finally gets to bed. "It's a little tough," he says of the schedule. "I'm a little more tired."
His boss has been supportive. Occasionally, he'll miss a call — the other day, he declined to join a 5:30 a.m. virtual meeting in favor of getting a few hours of sleep — but with the help of colleagues, he's been able to keep up.
Family time is a little more limited. His wife, Stephanie, son, Patrick, and twin daughters, Shaylee and Makenna, who are homeschooling while Wisconsin schools remain closed, all understand why he's making the sacrifice.
"People are away from their families for six weeks at a time, traveling from different states," he says. "I can at least go home and see my family. I'm proud to work for GE and proud to do something to help with this COVID-19 pandemic."
Categories
tags