When Dr. Edward Scott started his career as a hematologist in the 1970s, he diagnosed blood cancers like leukemia and lymphoma, treating them with traditional methods such as chemotherapy, transfusions and bone marrow transplants.
But as medical technologies evolved and treatments became more targeted, he found his company was spending more and more time isolating and capturing components of the blood called mononuclear cells, which are critical to the immune system — and an integral component in today's cutting-edge cell therapies.

Now president of Key Biologics, based in Memphis, Tennessee, Scott supports customers with the cellular raw materials they need to develop the latest medical discoveries. Since 1999, the company has provided research- and clinical-grade human cells and blood products to pharmaceutical, biotech, medical device and academic institutions around the world.

Cell and gene therapies, especially for treating cancer, are rapidly changing healthcare. One cancer treatment, called autologous T-cell therapy, for instance, targets cells that are harvested from the blood, genetically modifies them and ships them to a lab where they're cultured into millions of new cells that are then frozen and shipped to the patient's location. There, they are injected into the bloodstream to attack unwanted cells like leukemia. As cell therapies have progressed, Key Biologics' business has grown exponentially, driving the need for better ways to deliver and store these raw materials.

"The quality of the raw material determines the quality of the product that's being returned to the patient," Scott says.

New technology is now helping Key Biologics ensure that the cellular raw materials it provides are of the highest quality. The company recently installed a cryogenic cooler from Asymptote — part of GE Healthcare Life Sciences — called the VIA Freeze Quad. The controlled-rate freezers cool cellular material from room temperature to below -238 degrees Fahrenheit, ensuring researchers and manufacturers get high-quality materials to use for cell therapies.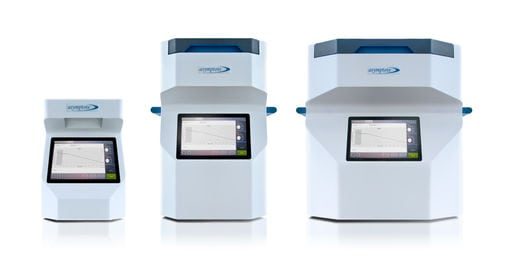 thawed, manufactured, refrozen in doses and shipped back to the patient.

Ultimately, the new freezing technology will allow Key Biologics to freeze materials before customers need them. "Customers could order when they need it and get it the next day, which allows much more flexibility," Scott says.

The VIA Freeze Quad also allows Key Biologics to freeze entire bags of materials — not just vials — which opens up new research possibilities. The company is able to prepare up to 192 cryovials worth of materials from one donor in one sitting, cutting the cost of operation and giving the company the ability to build up an inventory of raw materials. This could help support challenging types of research, such as when donors are needed with specific blood types or infectious disease histories.

"I see cell therapy as a new, exciting and potent way to treat diseases for which there's not, in many cases, a viable alternative," Scott says. "We're pleased when one of our clients has success. It's exciting for us to play a small role in that."

A version of this article originally appeared on The Pulse, GE Healthcare's newsroom.
Categories
tags