The Scheid family has been farming grapes in the lush agricultural region of California's Salinas Valley for almost half a century. They own 12 estate vineyards on a 70-mile stretch just miles from the ocean. Every year, they harvest enough pinot noir, chardonnay and other varieties from their 4,000 acres to fill more than a million cases, wines that find a home on the shelves of national retailers like Kroger and Whole Foods, as well as a multitude of restaurants.
But Scheid Family Wines recently started harvesting a new resource: wind.
In 2017, the Scheids pulled out roughly 2 acres of pinot noir vines and replaced them with a GE wind turbine. The 1.85-megawatt turbine stretches nearly 400 feet into the sky and draws upon the westerly winds that gust through the vineyard daily as they make their way down the valley from the cold Monterey Bay. "It's a huge money saver," says Kurt Gollnick, Scheid's chief operating officer, adding that the savings quickly allowed the business to quickly recoup the loss of its grapevines.
The winery contracted Foundation Windpower to install and maintain the turbine, and in seven years, Scheid will have the option to buy the turbine from the wind energy equipment company. Gollnick says Scheid pays Foundation Windpower a rate that is 25 percent less than what they would be paying to their local utility. As a result, the business is saving approximately $50,000 per year in energy costs. "But to me, the sexiest part of the product is the sustainability," Gollnick says.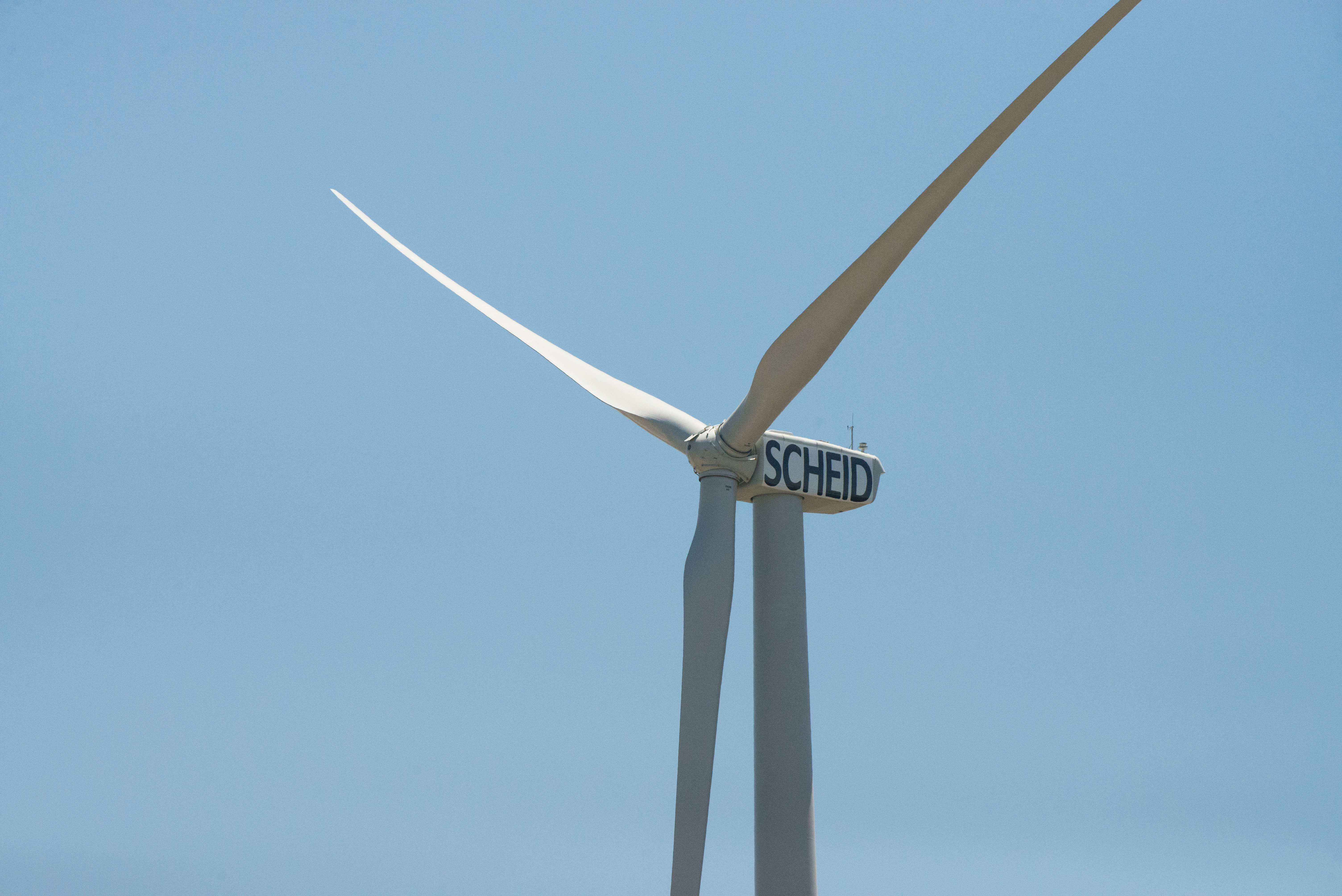 Besides having sufficient capacity to meet the winery's energy needs, on a windy day the turbine can throw off enough excess juice to power 125 homes in the nearby community. So far, the turbine has generated 4.65 million kilowatt-hours, enough to offset 3,645 tons of carbon dioxide emissions.


This, Gollnick says, fits into Scheid's efforts to make the winery more sustainable overall. They consume 50 percent less water than a typical winery of this size by recycling all the water used in production. They keep barn owls to manage pests, plant a variety of cover crops (such as wildflowers or grasses) between the grape rows to prevent weeds and erosion, and have installed skylights and automatic light sensors to cut down on electricity use. And they compost all of their grape pomace, stems and seeds to use as fertilizer in the vineyards.




Scheid appears to be the first vineyard of its size in the country to experiment with wind power. "We have turbines at breweries, water plants, a grocery store, a dairy farm and prisons," says Robert Balletti, an account manager at GE Renewable Energy. "This is our only winery."




Gollnick says Scheid spent some time looking into solar, but it wouldn't work for their winery — the panels would get too dusty from the winds and too sticky from the ocean's humidity. The problem with solar led them to wind. He says they are now considering battery packs to further increase the energy and cost savings they get from their turbine. All of these moves, he says, are good for the environment and good for customers.




"Our carbon footprint in wine should be smaller, but we're not going to get there unless millennials demand sustainable products," he says, unabashedly plugging his juice. "We have wind-powered wine!"
Categories
tags