Speaking at a press conference before the Paris Air Show on Saturday morning, Gaël Méheust, president and CEO of the jet engine maker CFM International, told a room full of aviation reporters that its next-generation LEAP jet engine was "a big success." He might have added: "You haven't seen anything yet!"
On Monday, the first day of the show, CFM said that it had signed the largest single jet engine order in history. The company will supply the fast-growing Indian carrier IndiGo with its LEAP-1A engines to power 280 Airbus A320neo and A321neo aircraft. The contract, which includes spare engines and an overhaul support agreement, is valued at more than $20 billion U.S. at list price. The airline also signed a long-term service agreement with the engine maker.

"We are pleased to partner with CFM for our next batch of Airbus A320neo and A321neo aircraft," said Riyaz Peermohamed, IndiGo's chief aircraft acquisition and financing officer. "The CFM LEAP engine will allow IndiGo to maintain its strong focus on lowering operating costs and delivering fuel efficiency with high standards of reliability. This new partnership will allow IndiGo to continue to provide affordable fares to its customers."

On the eve of the Paris Air Show, orders and commitments for LEAP engines valued at more than $255 billion.

IndiGo previously used jet engines from a CFM competitor to power its fleet of Airbus "neo" jets. "We believe they made the right choice by selecting the advanced LEAP engine for their A320neo family aircraft," Méheust said.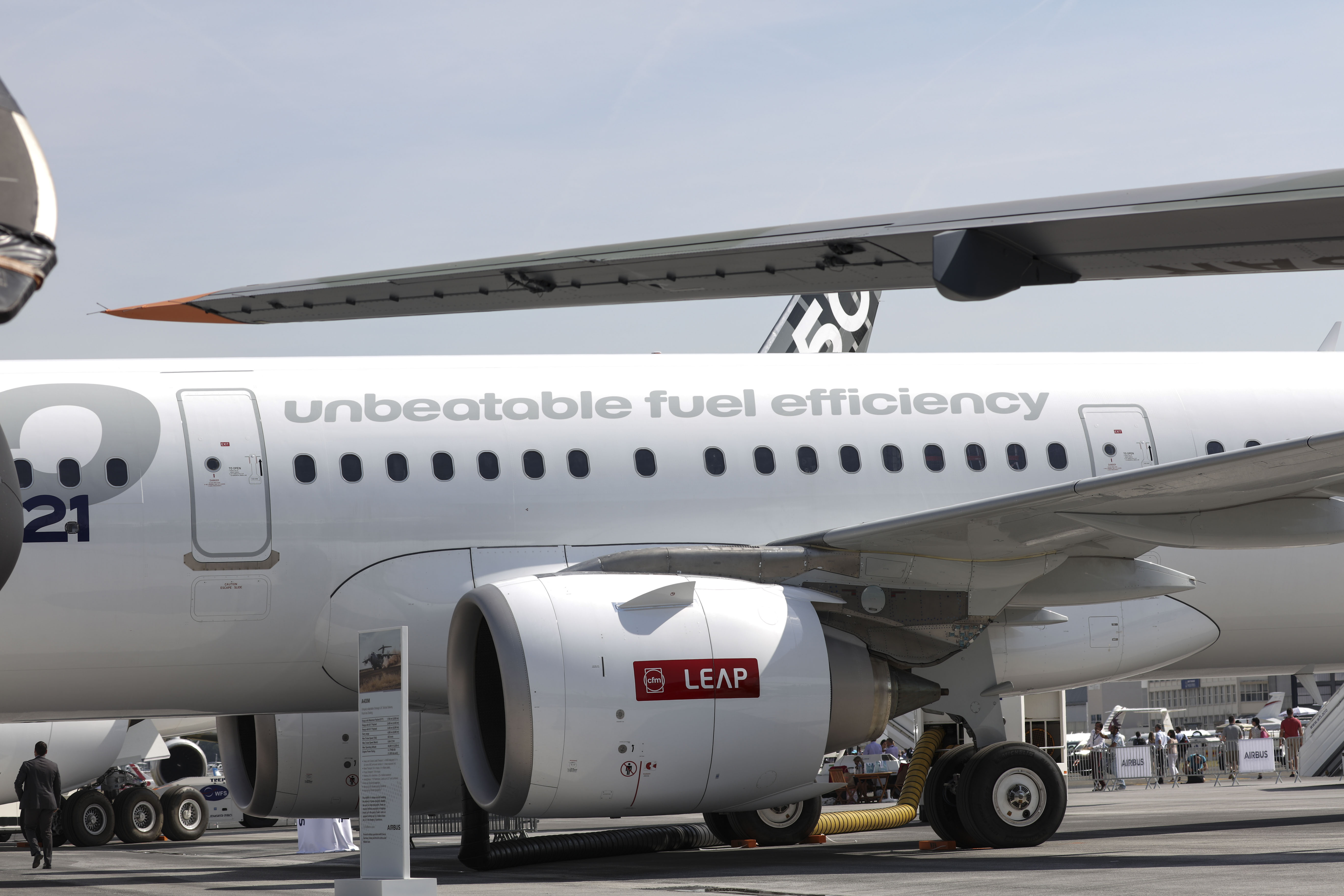 3D-printed fuel-nozzle tips and parts from space-age materials called ceramic matrix composites (CMCs), which help it save fuel, lower emissions and achieve other performance benefits.

Méheust said that the LEAP engine has 15% percent better fuel efficiency than its predecessor and best-in-class utilization — a key measure of (essentially) how often the engines are available to make money.

For example, the LEAP engine's utilization rate, which has been at 96% since it entered service in 2016 — six points higher than the engine's competitors. "You take the number of days the plane is available for commercial business and you divide it by the number of days of the year," said Sébastien Imbourg, executive vice president at CFM. "The closer you are to 100%, the better you are." That six-point advantage represents about 20 extra days of operation, or $2 million per airplane per year in extra revenue, according to UBS.

A 50-50 joint venture between GE and Safran Aircraft Engines, CFM has been in the jet engine business since the 1970s. Today the company stands in a unique place in the world of jet propulsion, with total CFM orders surpassing 50,000 engines, of which nearly 35,000 have been delivered. These engines power 20 different aircraft, mainly commercial but also cargo and military, for more than 600 operators around the world.
Categories
tags