When William "Mo" Cowan was named GE's president of global government affairs and policy in August, he came with a unique perspective, forged through experience that few can claim: He had served for a time as a U.S. senator, filling John Kerry's empty seat when Kerry became secretary of state. Cowan had also served in a number of key positions for former Massachusetts Gov. Deval Patrick, including as his chief of staff. Through his public service, Cowan learned many things, but key among them was this: When constituents speak up, policymakers tend to listen. "I saw firsthand the importance of community engagement," he wrote in a recent LinkedIn post.
Cowan now has at his disposal a powerful tool to amplify that engagement. The company just relaunched GE Voices, an online hub where employees, suppliers and others connected to GE can learn more about — and speak up about — some of the key policy issues affecting the company today. Subscribers — there are more than 75,000 of them — can access explainers to see how hot policy issues like tax reform and tariffs affect them personally.

Front and center on the site is an interactive map showing the company's broad presence in the United States. The first thing you'll notice is that the GE family is everywhere you look, with dots representing GE's manufacturing and research facilities, suppliers, educational partners and venture companies stretching from Maine to Florida, New York to California, Alaska to Hawaii. There are dots in all 50 states. Each of them represents not only a physical location — a manufacturing plant in Texas, say — but also the bonds GE has with a particular community.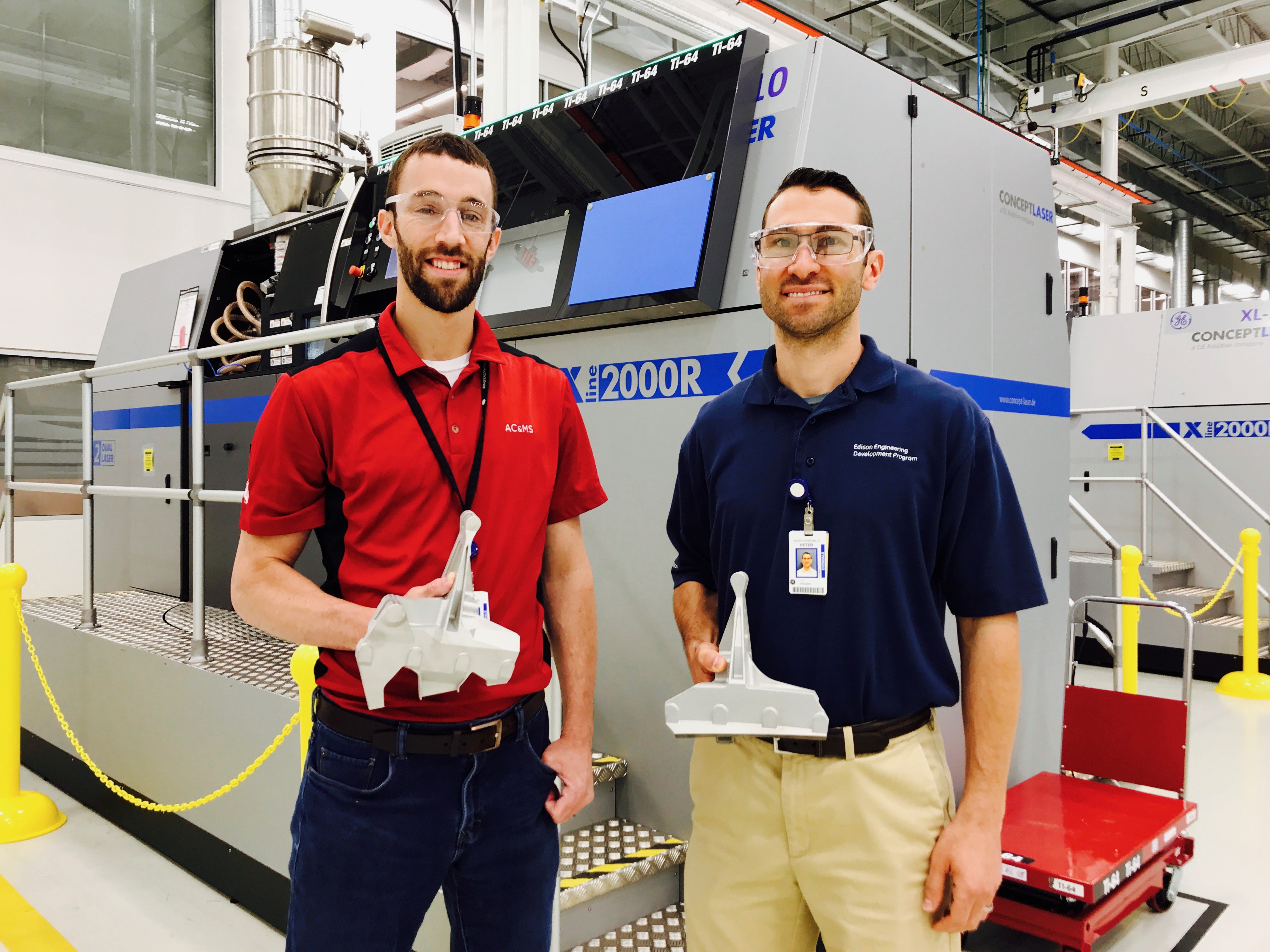 3D printed brackets for the GEnx-2B engine developed GE Aviation's Additive Technology Center in Ohio. The GE unit will start mass-producing the brackets on Concept Laser 3D printers in Auburn, Alabama, in October. Images credit: Tomas Kellner for GE Reports. Top: Front and center on the GE Voices site is an interactive map showing the company's broad presence in the United States. Image credit: GE Voices.

Those bonds come through jobs, educational partnerships and charitable giving. Visitors can download the information on printable fact sheets for later use. The idea is that information interesting to members of the GE family will also be useful to policymakers whose decisions can affect all of these constituents. "GE's reach overlaps with the communities that have shaped my own path in life," Cowan noted. "In North Carolina, where I grew up, we have facilities up in the Asheville mountains all the way east to the coastline in Wilmington. And in the Boston area, where I've spent most of my adult life, GE employs nearly 5,000 people who make just as many contributions to their local communities as they do to GE."

Digging deeper on the site, GE Voices aims to show why all of this matters — how someone who works at GE Aviation's cutting-edge additive manufacturing facility in West Chester Township, Ohio, shares common interests with scientists at a GE Global Research in Niskayuna, New York, and the suppliers in between, and how all of these individuals are affected by broader government policies.

Readers who want to learn more about trade policy or regulatory reform can sign up through GE Voices to receive background information and up-to-the-minute news. There are also updates focused on local communities, for those who want to see what's going on in their home state.

The new GE Voices site is designed to facilitate two-way conversations, so individuals have an opportunity to let the company know what they think. The policy information comes with opportunities for action, too. GE Voices members can click on a link to connect them directly with their federal legislators' offices. As more individuals become engaged, GE supporters' voices are amplified.

It all gets back to Cowan's key principle: Community voices matter. "Not only does GE develop products that are made in America," Cowan said, "but also the company's impact on individual communities has helped make America into a stronger version of itself, powered by a commitment to local communities."
tags