What's it like working as a software game developer, and what exactly does a synthetic life designer do? Boston public high school students will be soon able to learn the answers to those questions and others through experience. That's because a new mobile education lab will soon travel through Beantown, allowing kids to interact with computer-assisted design, 3-D printers, laser cutters and other tools and machines they won't find at home and in their schools.
The GE Foundation — which is funding it— calls the project the GE Brilliant Career Lab, a first-of-its-kind interactive mobile technology lab experience aimed at preparing students for STEM careers. The lab's name is evocative of GE's Brilliant Factory concept — a facility that uses equipment such as lasers, robots and sensors, as well as data and analytics, to constantly get better. "This is a hands-on experience with an engaging curriculum where students can, for example, use technology to create a wearable device," says Kelli Wells, executive director of education and skills at the GE Foundation. "We are showing students what their future could look like and what jobs are out there so they can start to think about their options."

Tommy Chang, superintendent of the Boston Public Schools, says the new lab will, "bring valuable, educational tools to Boston public school students that will help prepare them to enter the workforce." Students can explore five different career paths in the lab. As a Wearable Devices Engineer, they can explore how sensors in clothing and on small devices can track personal health data. They will learn about designing virtual surgery equipment by looking at the work of a synthetic life designer. Other students can interact with programming tools to understand what it's like to be a software game developer, and they'll experience being a machinist by operating laser cutters and milling machines. They can also see how airplane mechanics use such tools as 3-D printing machines to service planes more efficiently.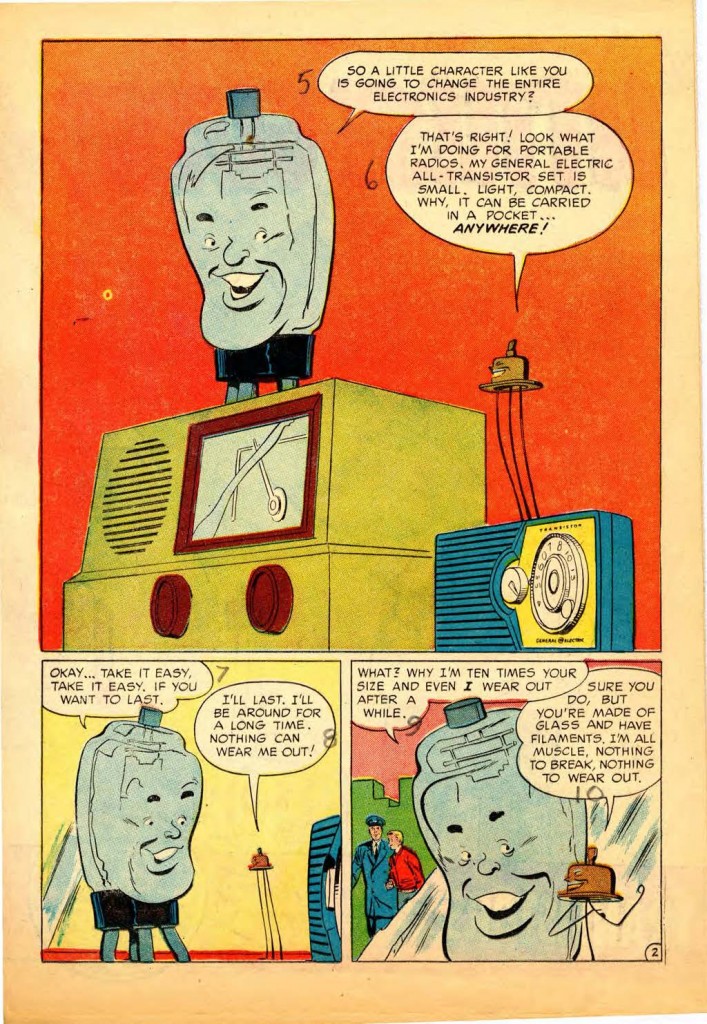 The brilliant lab isn't GE's first foray into STEM. The company published comics in the 1950s to get kids interested in science. Image credit: Museum of Innovation and Science Schenectady

The lab is a key part of the GE Foundation's $25 million investment to support students and educators in Boston and "create the next skilled, digital workforce." Wells says the curriculum was developed with the help of MIT's Fab Foundation and that more career paths will be added. GE and Fab hope to expand the program globally by developing an open-source curriculum available to schools anywhere that have labs equipped with maker spaces, she says.

In addition, students across the United States can learn about careers in STEM at a new website that the GE Foundation developed with the nonprofit College For Every Student. There, students take a 60-question assessment to see what careers most suit them. Then they can explore which classes they should take to qualify for certification or college courses that will set them on a certain career path.

"Students might say they want to be an engineer, but they have no idea what's the real difference between being an electrical engineer and a mechanical engineer," Wells says. "This is a place where students can dig in and really explore what they want to do in their careers and what their options are."

The website offers online courses in workplace skills — such as learning about diversity, teamwork, self-awareness and mindfulness, navigating the workplace and critical thinking. Wells says students will receive badges for their resumes to prove they passed the courses, which were developed with education experts and GE's leadership training center in Crotonville, New York.

Lessons in synthetic life, software and leadership should be a solid start as they get ready to step out into the real world.

You can find out more about STEM on our dedicated page.


Categories
tags