It is the one substance that doctors worldwide agree is critical for any COVID-19 patient struggling with reduced lung capacity: oxygen. And in many developing nations, bottles of it can be too expensive and in achingly short supply.
But there's good news from East Africa: People suffering from COVID-19 in Ethiopia's Amhara region have supplemental oxygen from two new generation plants in the towns of Bahir Dar and Dessie. In an extraordinary case of uncannily good timing, the plants were commissioned last year, thanks to a collaboration between Assist International, a nonprofit that has been building schools and healthcare facilities in Africa for more than two decades, and the GE Foundation. The effort is part of Safe Surgery 2020, a partnership with ministries of health, academia, NGOs and surgical teams in low-income areas, to help get more patients the surgical care they need — quicker, safer and more affordably. The factories are capable of bottling roughly 240 canisters of supplemental oxygen per day, supplying more than 90 hospitals in the area, says Jim Stunkel, Assist International's director of program operations, who has previously overseen the development of similar oxygen plants in Rwanda and Kenya.
Bottling oxygen may seem like a simple task, but the process is far from straightforward. The gas accounts for just 21% of the air around us. (Air's other components include nitrogen (78%) and a smattering of other gases, including carbon dioxide.) Bottling oxygen begins with adsorption, a process that isolates the oxygen from the other gases. At very high pressures, some gases have a tendency to adhere to particular solids (a little like water vapor forming dew on blades of grass, though that process is driven by changes in humidity and temperature). Most oxygen-bottling plants, including those that Stunkel helped install in Ethiopia, rely on pressure swing adsorption, a process that pressurizes air to 80 pounds of force per square inch — about 5.4 times higher than the air we breathe — and then delivers it to the oxygen generator. Under pressure, nitrogen clings to the Zeolite particles inside the vessel, but oxygen doesn't; in this way, the oxygen is separated from the ambient air. The isolated oxygen that flows out of the generator, which at 90% to 95% purity is suitable for medical use, is then pressurized into medical-grade steel cylinders.
Assist International has been pushing for years to build oxygen plants in Africa. Stunkel says the group was inspired by a 2015 resolution from the World Health Organization that said essential surgery should be part of universal healthcare in Africa and surgeons there needed access to more bottled oxygen. The next year, Assist International formed a partnership with the Amhara Regional Health Bureau of Ethiopia's health ministry to build and manage the new oxygen plants.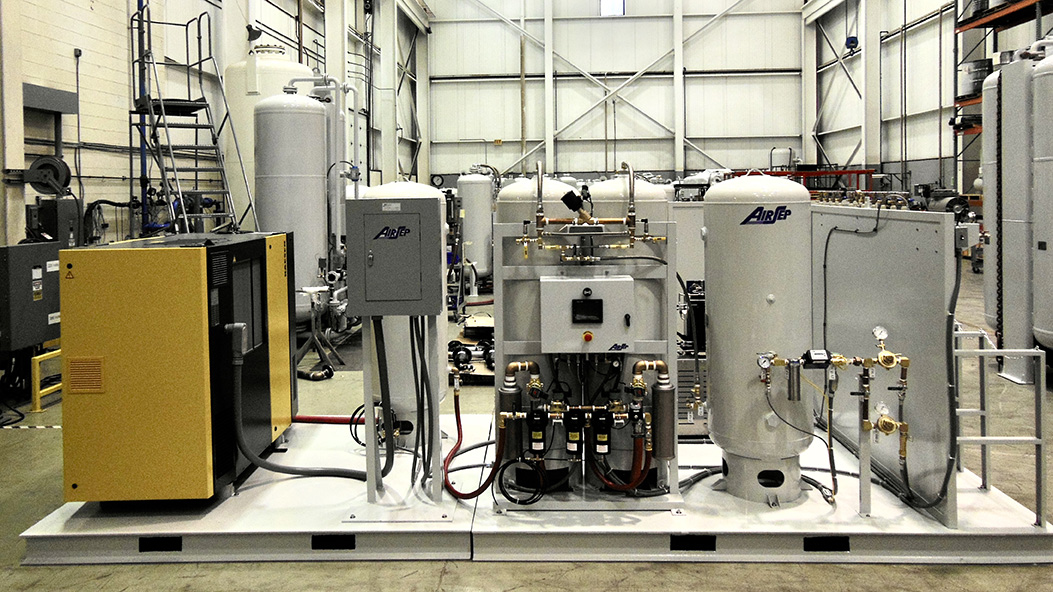 The Ethiopian plants opened in April 2019. Armed with supplemental oxygen, Stunkel says, doctors in the country were already "seeing a reduction statistically in mortality rates directly related to pneumonia and other things that can be solved just by the availability of medical oxygen."
But the plants proved to be even more critical as COVID-19 spread around the world and patients suffering from the disease began to show up in Ethiopian hospitals. The oxygen the plants produced allowed healthcare workers in the region to administer supplemental doses of the gas at a time of the greatest need.
Assist International aims to transfer management of the oxygen facilities by 2023 to a local group, to be chosen by local health officials and the government. Assist International is also helping create a long-term management plan for the plants. Says Stunkel: "The concept of providing aid to countries that are in need is critical, and the sustainment plan is key to long-term success."
Categories
tags