When the Czech-born industrial design maven Arthur N. BecVar ran appliance design at GE in the in the 1950s, he warned his team that consumers were too smart to settle for fancy styles and urged them to focus on "materials usage, energy conservation … and human factors." His vision got firm outlines in 1960, when BecVar asked his team to design and build the kitchen of the future. They've got a lot it right. They nailed the induction cooktop, the refrigerator ice dispenser and the freezer. Even their ultrasonic dishwashers are about to enter the kitchen.
BecVar's kitchen of the future from 1960 got many things right. His automatic plastic dishmaker even anticipated 3D printing.

Now BecVar's successor, Lou Lenzi, and his team are looking to the year 2025, when the always-connected world but also ecological and health issues like water scarcity and aging population come calling. "This isn't about the Jetsons or pie in the sky," says Lenzi. "It's about reality-based innovation that will be possible over the next decade."

Lenzi says that the project, called Home 2025, explores the intersection of society, culture and technology, and everyday life. "We conceptualized how we will prepare meals, wash clothes, and interact with information as families over the next dozen years."

Lenzi says that some of the key themes that emerged include the death of the single-purpose appliance, automated food delivery, and biometric machines that can dispense medication and give more independence to older consumers. This means, for example, that laundry machines will wash, dry and store clothes in "convenient pellets," then "revive" them for immediate wear, and dispense them in "compressed form" for travel.

Can somebody press fast forward, please?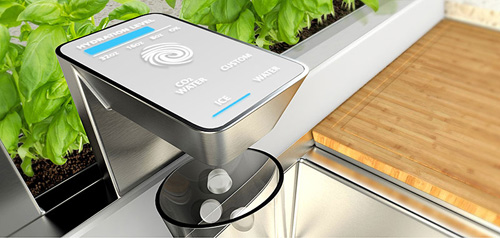 The smart faucet in GE's Home 2025 not only dispenses filtered water, but also ice and carbonated water, vitamins and various beverages. Just place your finger on the faucet and the built-in hydration sensor lets you instantly see your hydration level.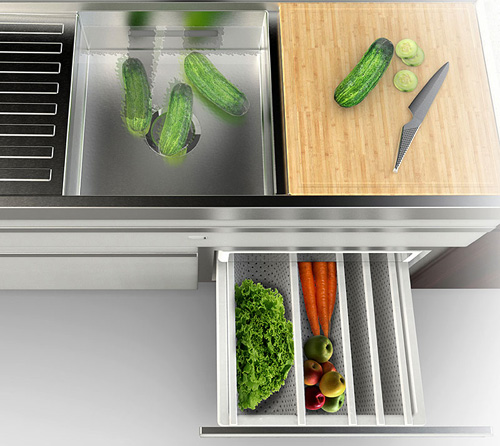 Save space and time in GE's Home 2025. A cutting board doubles as the dishwasher lid, and sliding mesh dividers in the prep area keep produce cooled and easily accessible.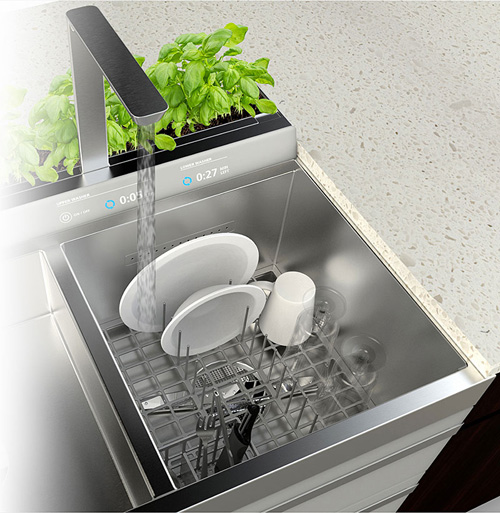 With the in-sink dishwasher in GE's Home 2025, wash small loads in just 5 minutes. Integrated sensors in the sink alert you when chemicals or bacteria are present in your produce, so you can keep washing your produce until the readout says the contaminants are gone.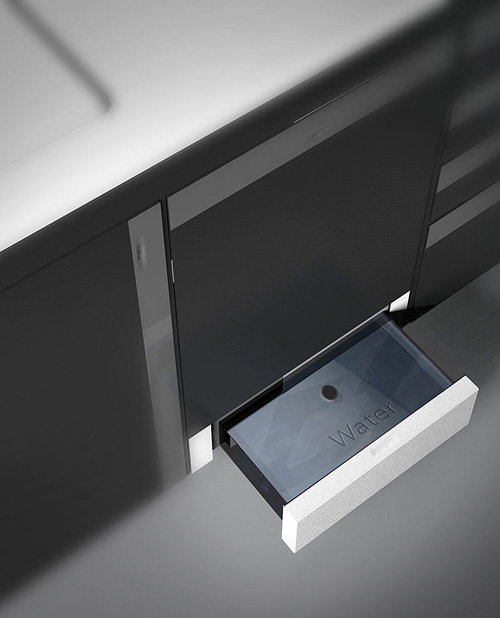 Sustainability will be integral to living in the future, driven by urbanization, frugality and climate change. Household appliances must use minimal water, or be able use recycled water. Advances in filtration and sanitization technology will help keep laundry and dishwasher appliances from getting too thirsty. Gray water from the dishwasher in GE's Home 2025 is recycled back through and can be used for the sustainable growing wall, where herbs and vegetables are harvested.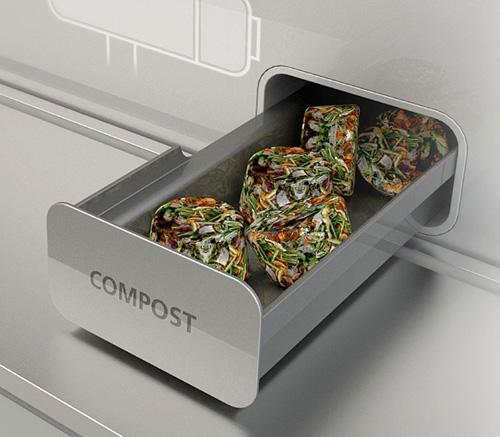 In GE's Home 2025, it's easy to turn your food disposal into compost mode and create compost pellets.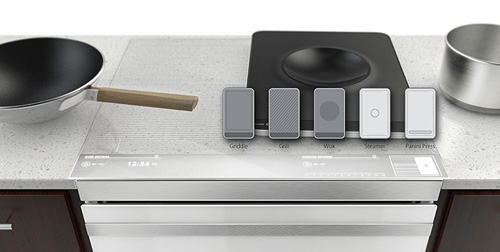 Packed in a 27-inch-wide design, the oven in GE's Home 2025 exhibit combines the efficiency of an induction cooktop, Advantium® Speedcook oven, sensor cooking, and a traditional thermal oven into a single unit. The interchangeable and integrated induction accessories allow for unlimited and exciting culinary exploration, as well as more cabinet space when stored in the integrated storage drawer below. No longer confined to predetermined burner locations, pots and pans can be placed anywhere you see fit. Cooking is now more collaborative and connected when using your smart phone to monitor the status from the comfort of your sofa.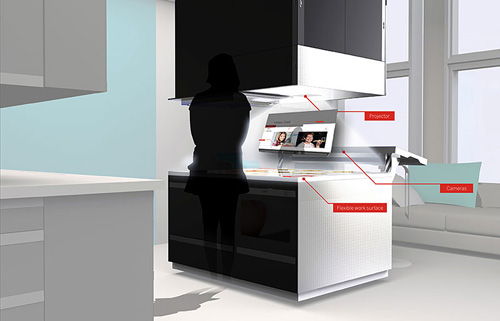 Imagine virtual experts who can help you learn to cook from the convenience of your own home or prepare great meals with friends around the country virtually. In GE's home of the future, improvements to voice recognition, motion plus facial recognition and deep-thinking technology will create "human" simulations of experts in fields like cooking. Sensors in kitchen appliances, as well as virtual cooking tutors will give instructions tailored to your skill level and interests, so meals come out perfect every time. Friends and family can even share a celebrity chef experience with a replica of a famous maestro giving instructions to make it more of a party than lesson.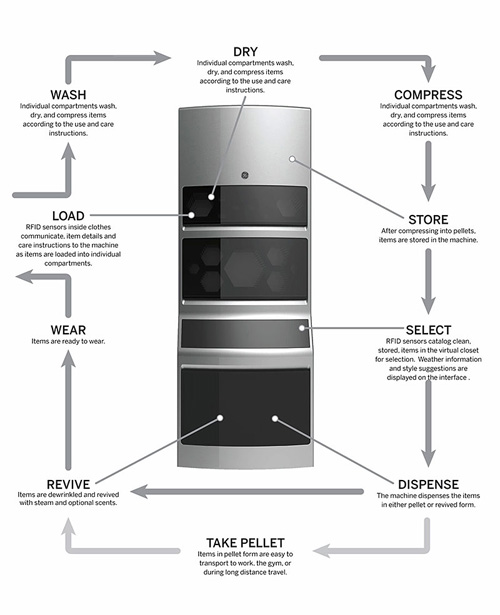 In GE's Home 2025, this innovative laundry machine not only washes and dries, it stores clothing items in convenient pellet form, and then revives clothes for immediate wear or dispenses them in compressed form for travel. Commercial, public compressors and revivers are found in many common areas around the city.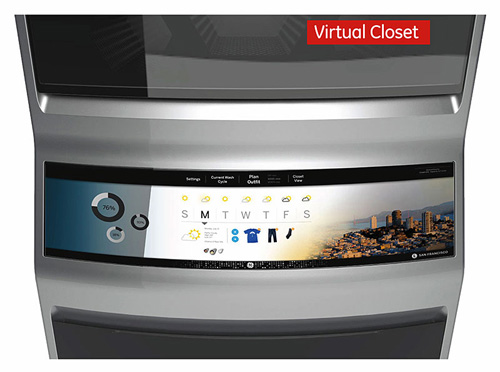 The laundry machine in GE's Home 2025 displays a virtual closet for you to choose items from, even suggesting matching outfits or clothing based on weather. You can even plan your entire wardrobe for the week.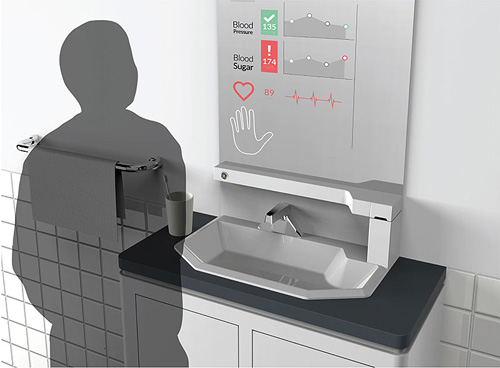 No need to remember what medications to take when living in GE's Home 2025. Just place your hand on the mirror, and the Medical Dispenser reads your vital signs and decides the amount of medication needed for the day. The machine combines, processes and dispenses the medication in liquid form. Medication cartridges can be easily reloaded.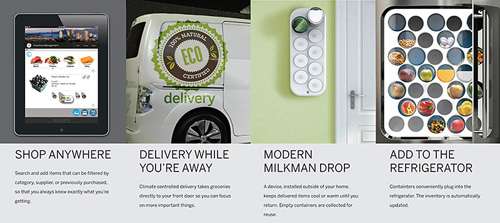 No need to drive to a store and grocery shop with GE's Home 2025. Shop anywhere by searching on your smart device. Then have your groceries delivered directly to your front door, even while you're away. A device installed outside of your home keeps delivered items cool or warm until you return. Containers conveniently plug into the refrigerator, and empty containers are collected for reuse.
tags